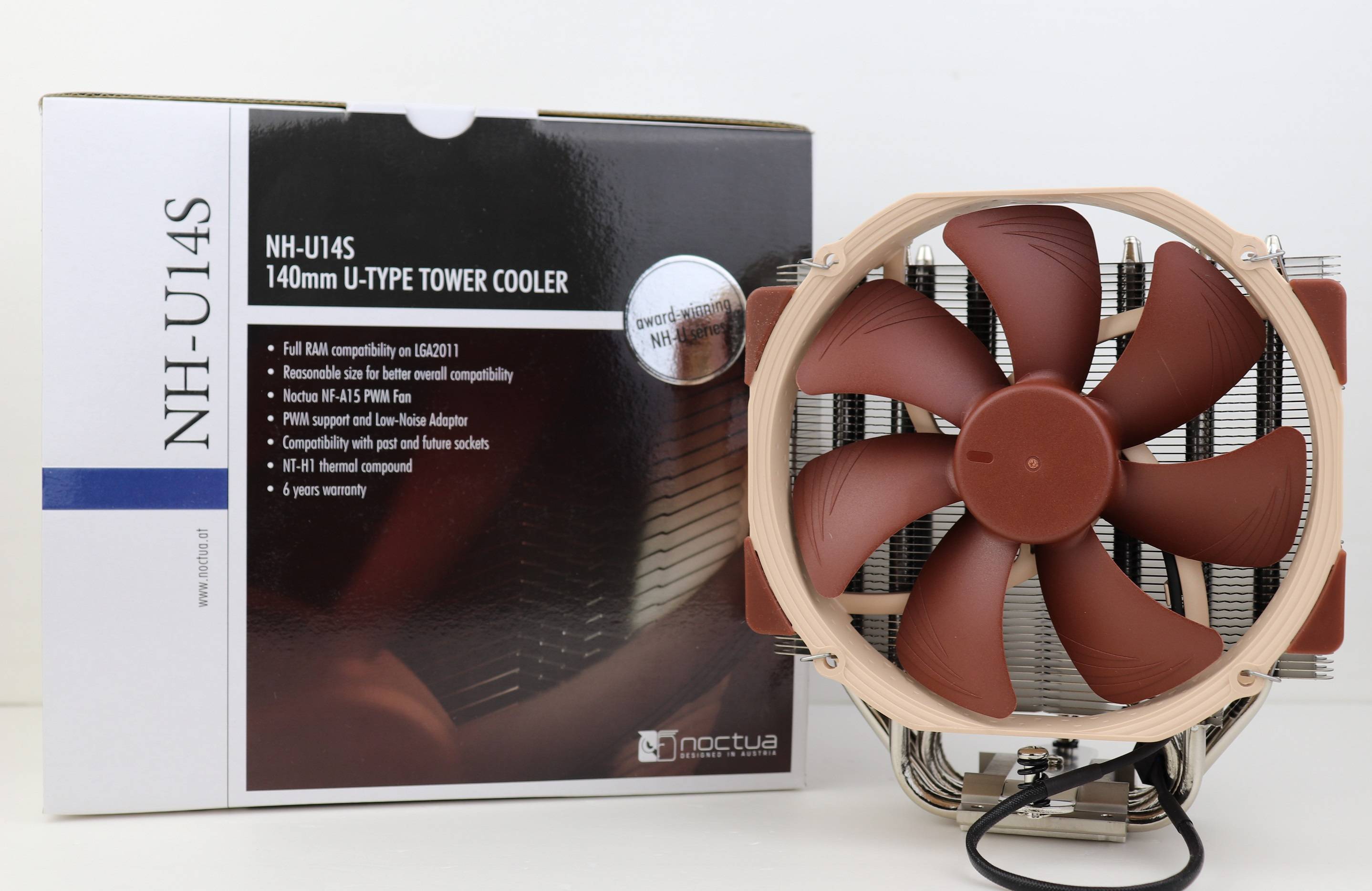 The Noctua NH-U14S is a 140 mm single-tower model in the U-series cooler family. It has a larger heatsink, more heatpipes and bigger fan than the NH-U12S (its review here). It would be interesting to see how these two coolers compare to each other.
Unboxing
The packaging of the NH-U14S is in line with other Noctua coolers. A white and brown background is here to stay. At front, the model name, "Noctua" logo and a partial photo of the cooler can be found. Some key features with explanation are printed clearly at the back.
You can see a few specification lists about the cooler on one side, its heatsink and the NF-A15 fan. It has information like dimensions, weight and CPU socket compatibility. The other side is a brief description of the NH-U14S in various languages.
The cooler and the accessories are packed separately into different cardboard boxes.
The Noctua NH-U14S can be installed on most modern motherboards/CPU sockets, with the SecuFirm 2 mounting system. Not only Intel LGA 115x, LGA2011 and LGA2066 are compatible, but also AMD AM2 to AM4 and FM1 to FM2+ are supported out of the box. There are three user manuals and a long screw driver to assist the installation.
Apart from that, you get a set of additional fan clips and anti-vibration pads for an extra cooling fan. A tube of the NT-H1 thermal paste, a low-noise adapter and a metal case badge are also provided.
Noctua NH-U14S CPU Cooler
The NH-U14S's heatsink has a dimension of 165 mm x 150 mm x 52 mm (HxWxD). It is 7 mm taller, 25 mm wider and 7 mm deeper, when compared to the NH-U12S cooler. Six 6 mm nickel-plated copper heatpipes are used to transfer CPU heat across the aluminum fin stack.
The six heatpipes are bent into three columns each side that go through the whole fin stack. Unlike the NH-U12A (its review here), the heatsink does not have to shift towards either side to offer full RAM compatibility, because of the slimmer footprint.
The nickel-plated copper CPU base is polished to a mirror-like finish.
A NF-A15 PWM cooling fan is included for the NH-U14S, which is a 140 mm fan with 120 mm mounting holes. It can be adjusted to spin from 300 RPM up to 1200 RPM, via the 4-pin PWM header. All four corners have anti-vibration pads installed to prevent rattling noise between the fan frame and the heatsink. The NF-A15 PWM has a rated MTBF of over 150,000 hours.
Review
We have updated our CPU cooler tests to more reflect real-world cooling performance of coolers.
Testing Methodology
To find out how the cooler performs, a total of three benchmarks are included. AIDA64 is used to run a CPU stress test. CPU, FPU and system cache are all stressed to create as much heat output as possible. Also, Cinebench R15 and Cinebench R20 are used to simulate real-world CPU load (like video-editing or rendering). It will be run continuously for three times. The highest CPU package temperatures are recorded. Ambient temperature is around 27°C.
Results will be taken at a 50% fan speed and 100% speed, controlled via the motherboard CPU PWM fan header. Both single-fan and dual-fan configuration of the cooler will be tested.
Performance
Idle temperature of the CPU was around 30°C. The maximum temperature was kept at 56°C in AIDA64 stress test, when both single-fan and dual-fan configurations were set to 50% fan speed. Increasing to full fan speed, it dropped to 52°C and 50°C respectively, about 7.14% and 10.71% better.
In Cinebench R15, the CPU package temperature reached 55°C at its highest point using one fan. Spinning up the fan yielded a 4°C decrease at 51°C. Adding an extra fan further dropped the temperature to 50°C.
The NH-U14S managed to maintain the temperature under 60°C in both setup. It sat at 58°C and 53°C with a single fan, while reducing to 57°C and 51°C with two fans.
Comparison
[visualizer id="2873″]
Compared to other cooler we tested, the NH-U14S performed as expected as a 140 mm-grade air cooler. It outperformed most 120 mm coolers by 2°C to 3°C, like the GELID Sirocco, NH-U12A and NH-U12S. It managed to achieve temperatures close/similar to larger dual-tower cooler, such as the NH-D15S.
Conclusion
The Noctua NH-U14S is a excellent single-tower cooler with outstanding cooling performance. With its default single-fan configuration, you can easily beat most 120 mm/140 mm coolers in the market. It can even compete with larger dual-tower coolers, if you decide to add an additional fan. The installation is simple and quick as usual with the SecuFirm 2 mounting system. The cooler should have 100% RAM compatibility.
The included NF-A15 PWM fan ran smoothly at most RPM ranges. It spins up to 1200 RPM only, which operates extremely quietly with decent airflow.
The NH-U14S comes with a standard 6-year warranty from Noctua. It cost $74.90 USD (MSRP), when it first launched in 2013. At the time of this review, the price is dropped to around $63 USD to $70 USD. For the price, you get a flagship 140 mm cooler, that can keep your CPU as cool as dual-tower coolers from other companies. The NH-U14S is worthy of your consideration if you need more performance than a 120 mm cooler and still maintain the relatively compact footprint.
You can purchase the cooler from your local/online resellers or the links below from Amazon and Newegg.
Thanks Noctua for providing us the NH-U14S for review. (Review Sample)
Feel free to leave comments below, if you have any opinion about this website. Share the website around if you enjoy reading it. Subscribe to our Newsletter or follow our Twitter, Facebook and Instagram.
Support this website simply by shopping in Amazon and Newegg. It will give us small kickbacks, if you use the above affiliate links to make any purchases, which will help us grow.