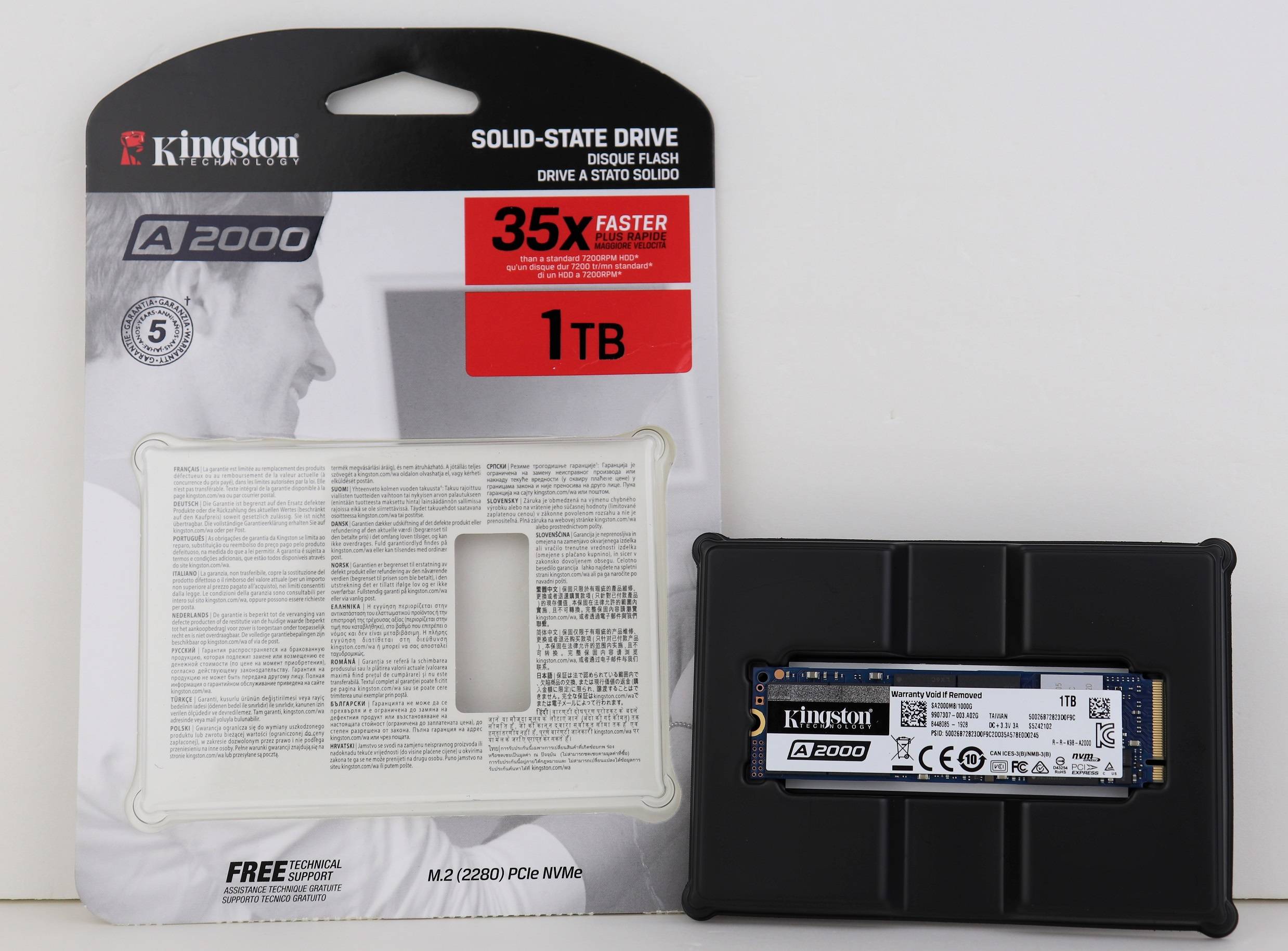 Kingston released the A2000 NVMe SSD in August 2019, which is designed for entry-level users with decent performance and affordable pricing. It will be a solid upgrade over the A1000 SSD (its review here) with a faster PCIe 3.0×4 interface.
Specifications
[table id=244 /]
The Kingston A2000 SSD is available in three capacities, from 250 GB to 1 TB, and only in M.2 2280 form factor. The drive is advertised to reach sequential read/write speeds of up to 2200 MB/s and 2000 MB/s, via the PCIe 3.0×4 interface. All models are rated to last for around 2 million hours with a 5-year warranty.
Unboxing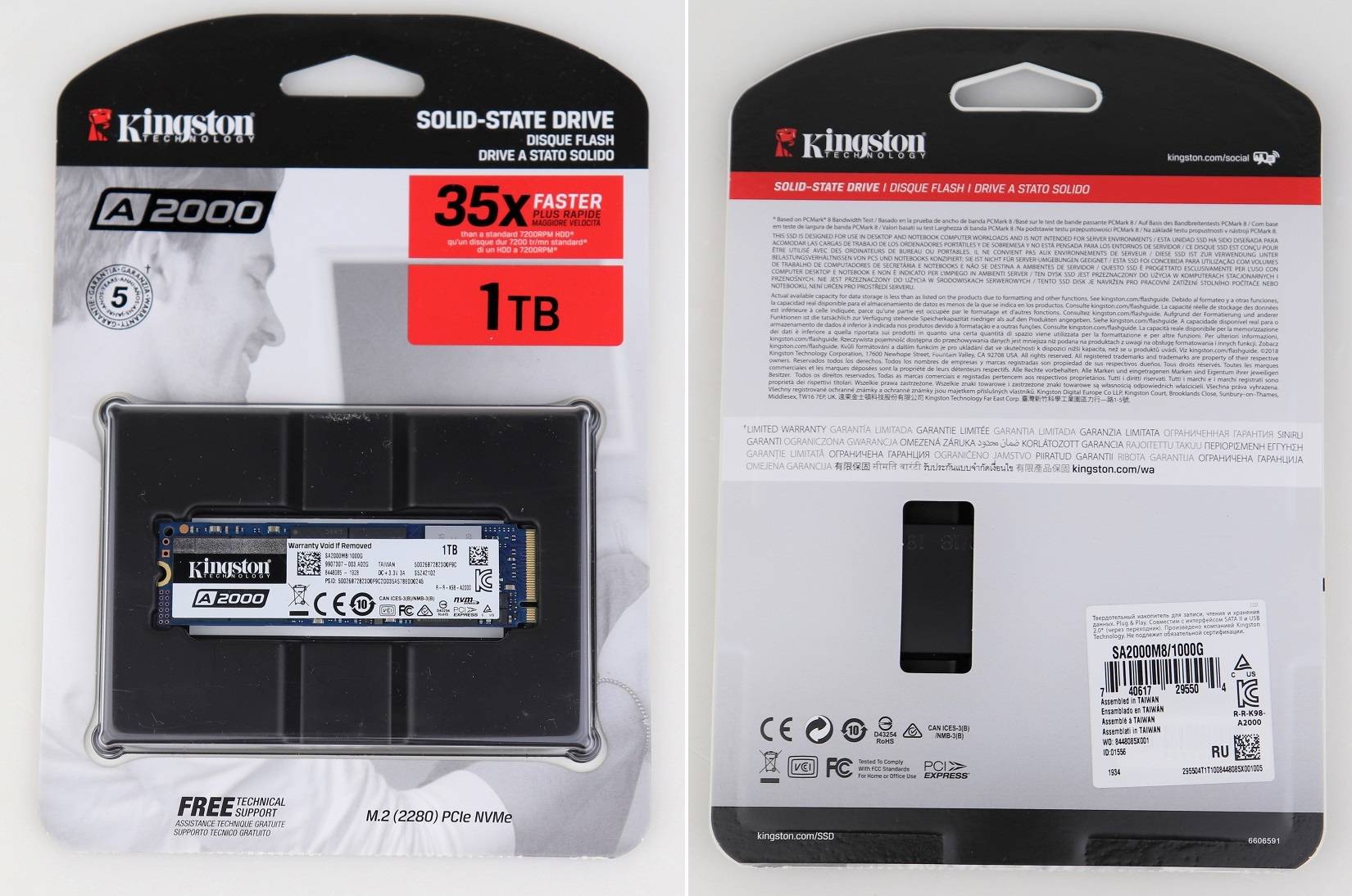 Similar to the KC2000 (its review here) and UV500 SSDs (its review here), the A2000 is a simple cardboard/plastic window packaging design. At the front, you can see the model name and capacity of the SSD. The product sticker provides information, like the serial number, model number and UPC code. Our 1 TB unit has a part number of SA2000M8/1000G.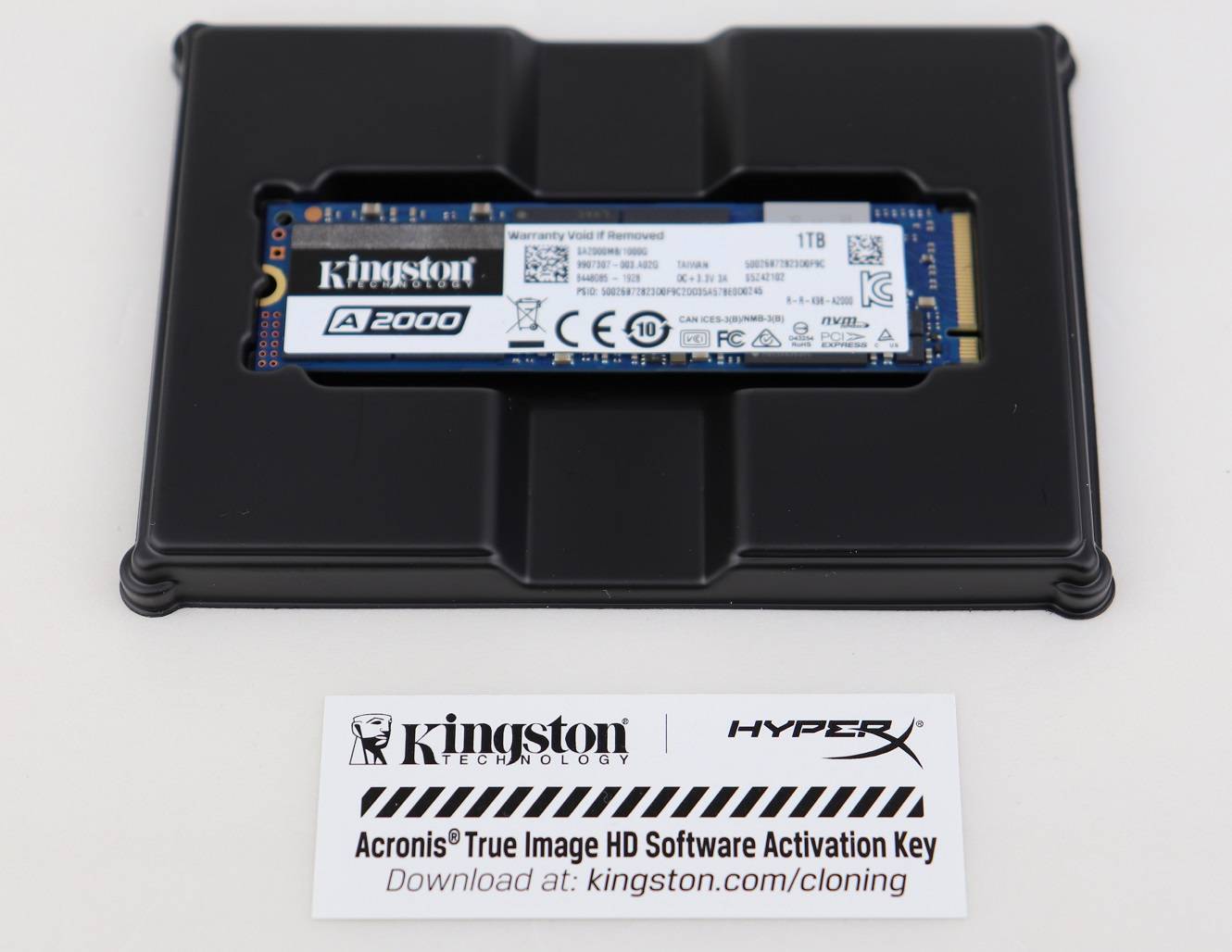 The A2000 is sitting in the middle of the plastic tray, along with the activation key for the Acronis True Image HD software. The software can be used to backup/clone your drives and partitions.
Kingston A2000 PCIe NVMe SSD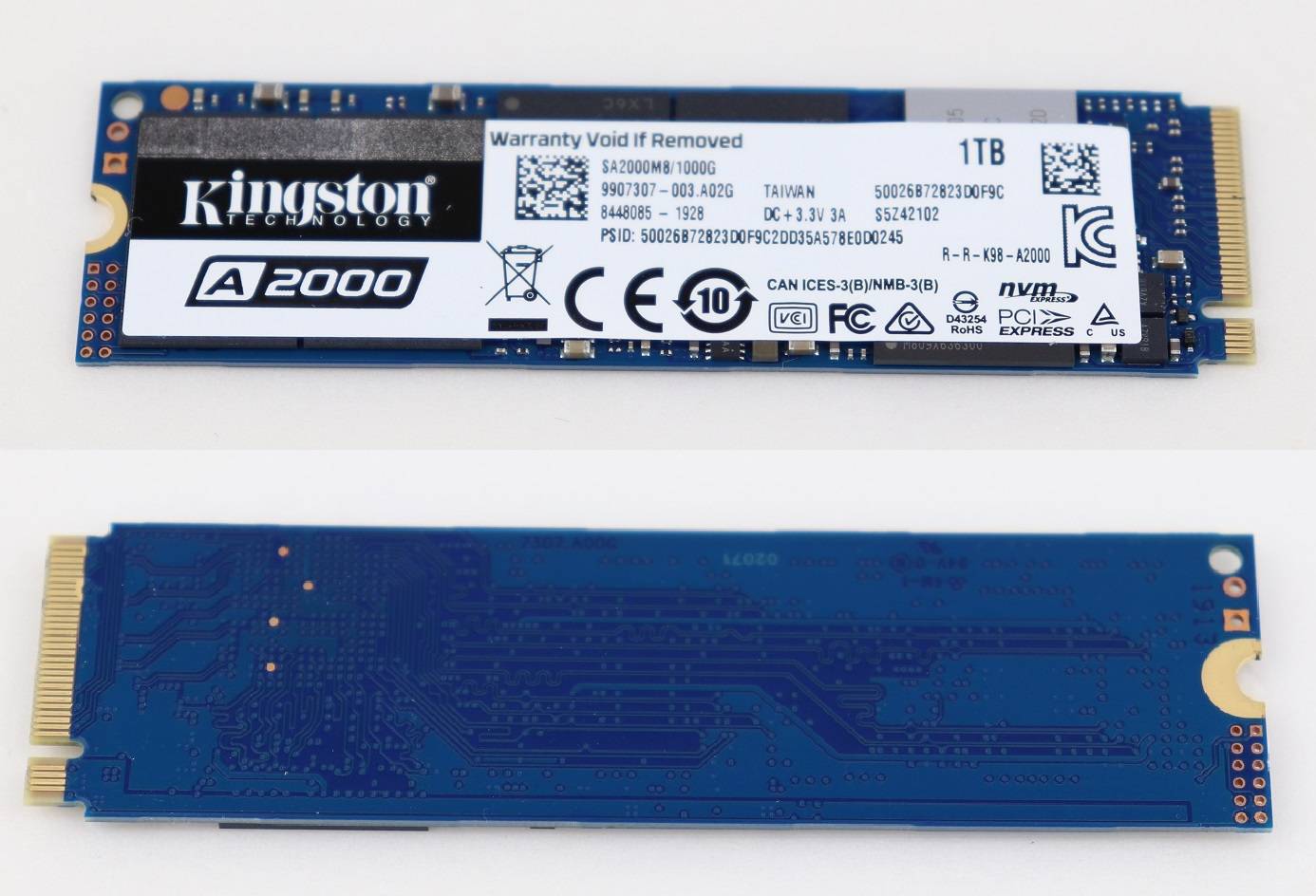 There are no heatsink/heat spreader and LEDs on top of the A2000 SSD. Only one side has components soldered to the printed circuit board (PCB). You get the usual information and logos on the sticker, including the operating voltage and amperage at 3.3 V/3 A.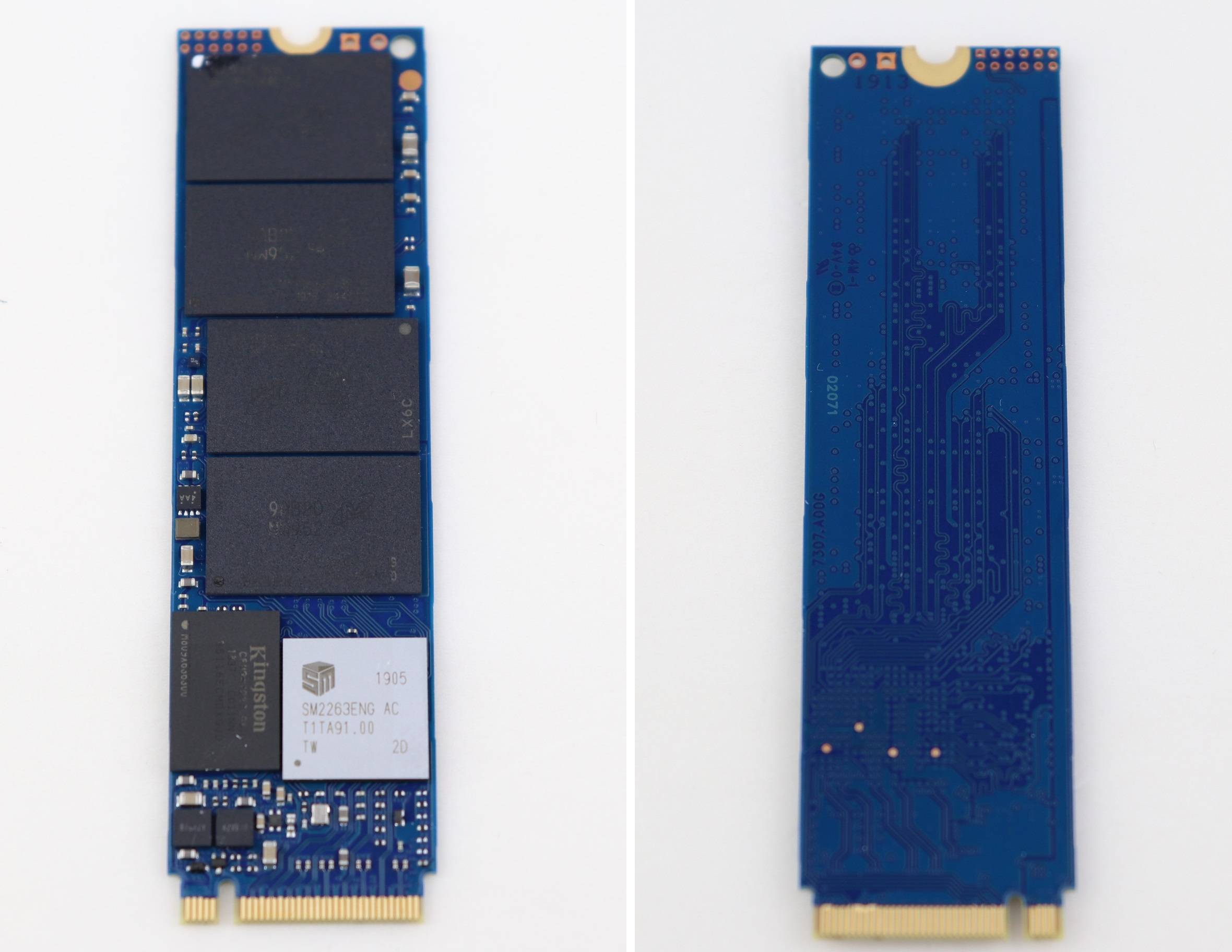 Underneath the sticker is the brain of the drive. The A2000 is powered by the Silicon Motion SM2263ENG 4-channel memory controller. It is equipped with the 96-layer 3D TLC NAND flash from Micron (9AB2DNW952), instead of Toshiba's in the KC2000. Right besides the controller is a single Kingston-packaged DDR3L DRAM module as the cache. The back side of the PCB is clean and will not create clearance issues in small form factor PC builds (SFF).
Also, the SSD is compatible with different security standards and software, such as Microsoft Windows eDrive and TCG Opal 2.0. It has hardware-based AES 256-bit encryption built-in for data protection.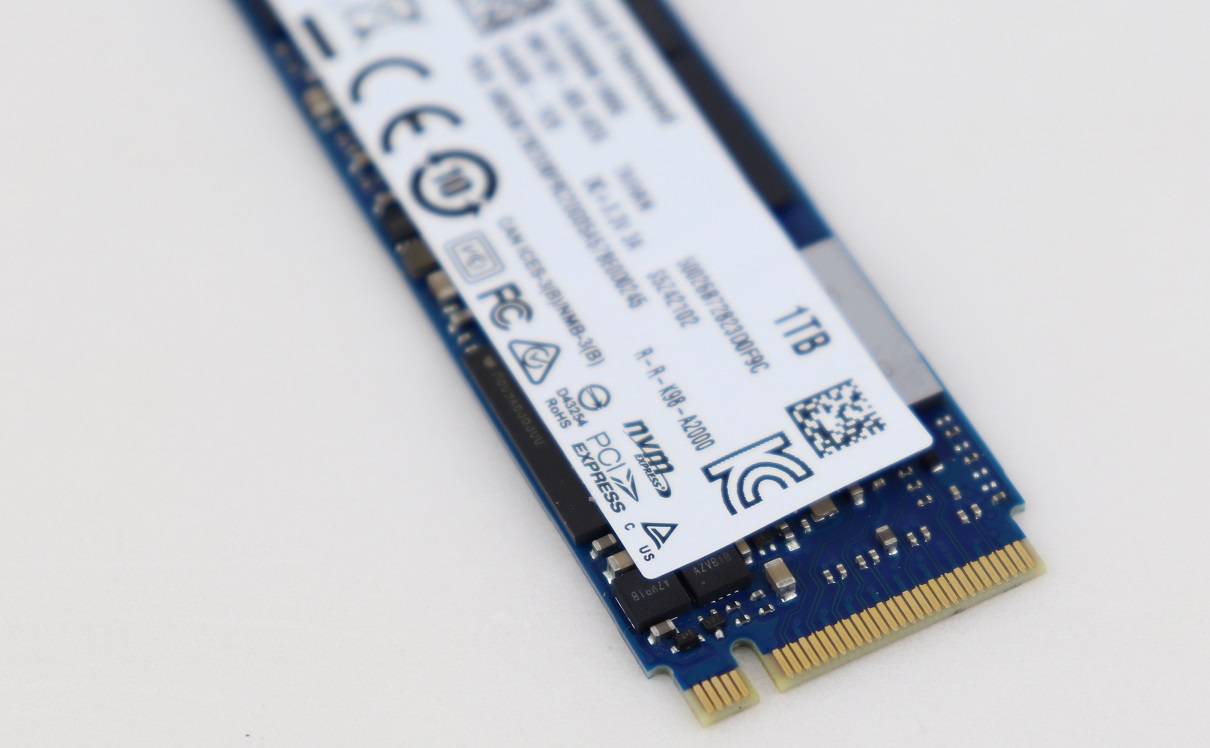 The A2000 uses the M.2 connector (M key) to plug in the motherboard. The maximum theoretical bandwidth of the PCIe 3.0×4 interface is at 32 GT/s or 3.94 GB/s.
Review
Testing Methodology
To test the performance of the solid-state drive, we use four well-established storage benchmarking software. They are CrystalDiskMark, ATTO Disk Benchmark, AS SSD Benchmark, as well as HD Tune Pro.
CrystalDiskMark can measure both sequential and random 4KB read/write speeds with a queue depth of 32. ATTO Disk Benchmark can test how the drive performs across different transfer block sizes, mostly in a sequential environment. AS SSD Benchmark can provide both normal read/write speed and the IOPS performance of the drive. HD Tune Pro can be used to simulate a large file transfer of up to 100 GB.
We also recorded the time to copy three files of 10 GB, 500 MB and 250 MB from a RAM disk to the SSD, to simulate a real-world situation.
Performance
In CrystalDiskMark, the A2000 SSD exceeded the expected sequential speeds, reaching 2276 MB/s in read and 2180 MB/s in write. It also did exceptionally well in random 4K operations, hovering around 430 MB/s and 310 MB/s. For reference, most SATA-based SSDs topped out at around 300 MB/s in similar situations.
Similar figures could be seen in AS SSD Benchmark. The A2000 SSD pushed over 2010 MB/s and 1980 MB/s in sequential read/write speeds. Doubling the queue depth to 64, the random 4K performance improved to around 1100 MB/s.
IOPS number represents how well a drive handles random input and output operations. The A2000 scored 3565 in the benchmark, and achieved 281434 IOPS in read and 293129 IOPS in write.
After the file sizes increased from 32 KB and larger in ATTO Disk Benchmark, the read/write speeds stabilized at about 2200 MB/s and 2100 MB/s respectively.
Using HD Tune Pro to simulate a huge 100 GB file transfer, the A2000 SSD did outstandingly in write with little fluctuation. It managed to sustain a writing speed of over 2000 MB/s. Read performance was slightly worse at around 1500 MB/s.
Three files, sized in about 15 GB, were transferred from a RAM disk to the A2000 SSD. It took 6.37 seconds to finish, which is only 0.21 seconds slower than the higher-end KC2000. Speed decreased to 1.59 GB/s and stayed there for most of the time.
Comparison
[visualizer id="2840″]
[visualizer id="2842″]
[visualizer id="4796″]
Because of the less powerful 4-channel memory controller, the A2000 SSD was limited in sequential read speed. However, the drive did great in write operations, perfect for transferring large piles of data. It also got solid random 4K performance, which was able to match even top-end NVMe SSDs, like the KC2000 and Asura Genesis Xtreme.
Conclusion
The A2000 SSD has very decent performances, as a mid-tier NVMe drive options from Kingston. The controller, NAND flash and cache did an awesome job in maintaining reasonable speeds, when writing large files to the drive. The nice addition of AES 256-bit hardware-based encryption and security software support can help keep your data protected.
The Kingston A2000 SSD costs $99.99 USD (MSRP) for the 1 TB model, with a 5-year warranty. At this price, you would only be able to get a DRAM-less or QLC-equipped NVMe SSD, like the Intel 660p and Crucial P1. However, the drive can be found on Amazon and Newegg for around $130 USD at the time of this review. The A2000 will be the recommended choice to upgrade your existing storage solution with marginally better performance, if it can hit the suggested price.
*You can get the A2000 at $39.99 USD for 250 GB and $59.99 USD for 500 GB, which are both at their MSRP and are in great value.
You can purchase the SSD from your local/online resellers or the links below from Amazon and Newegg.
Thanks Kingston for providing us the SSD for review. (Review Sample)
Feel free to leave comments below, if you have any opinion about this website. Share the website around if you enjoy reading it. Subscribe to our Newsletter or follow our Twitter, Facebook and Instagram.
Support this website simply by shopping in Amazon and Newegg. It will give us small kickbacks, if you use the above affiliate links to make any purchases, which will help us grow.