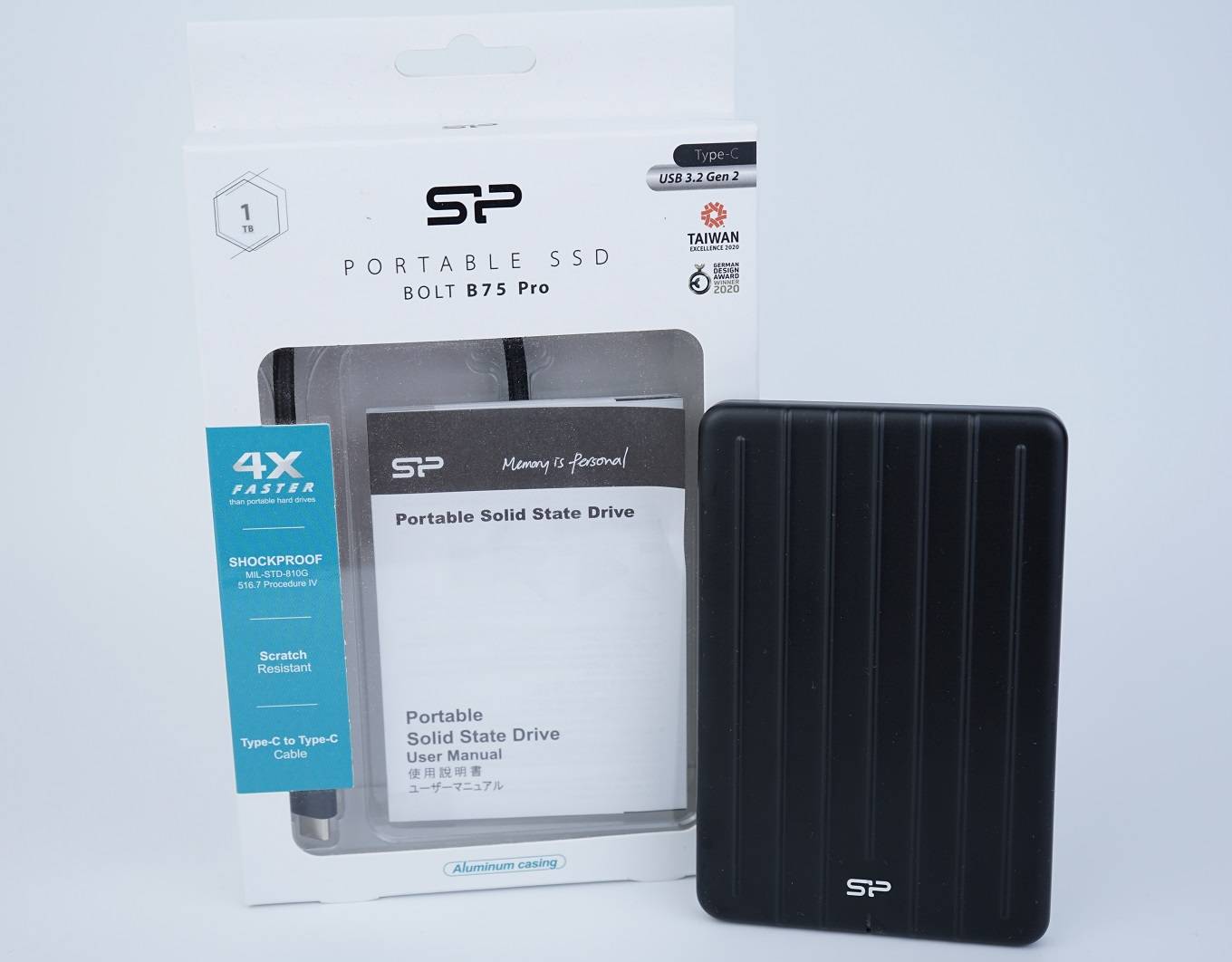 The Bolt B75 Pro is an external solid-state drive released by Silicon Power in 2019. The company claims it to be stylish, durable and fast at the same time. It is fitted with a USB 3.2 Gen 2 port (10 Gbps).
Specifications
[table id=439 /]
Our particular sample is the 1 TB model of the Bolt B75 Pro (SP010TBPSD75PSCK). You can choose to have storage capacity from 256 GB to 2 TB. The SSD sends and receives data via the USB 3.2 Gen 2 or USB 3.1 Gen 2 interface. It is advertised to reach sequential read/write speeds at up to 520 MB/s and 420 MB/s respectively. There is no MTBF or write endurance data (TBW) available for the SSD. All models are provided with a 3-year warranty.
The Bolt B75 Pro is also certified with MIL-STD-810G specification, which is a standard commonly-used to test equipment against the environment. The drive is rated to withstand shocks from 1.22-meter drops.
Unboxing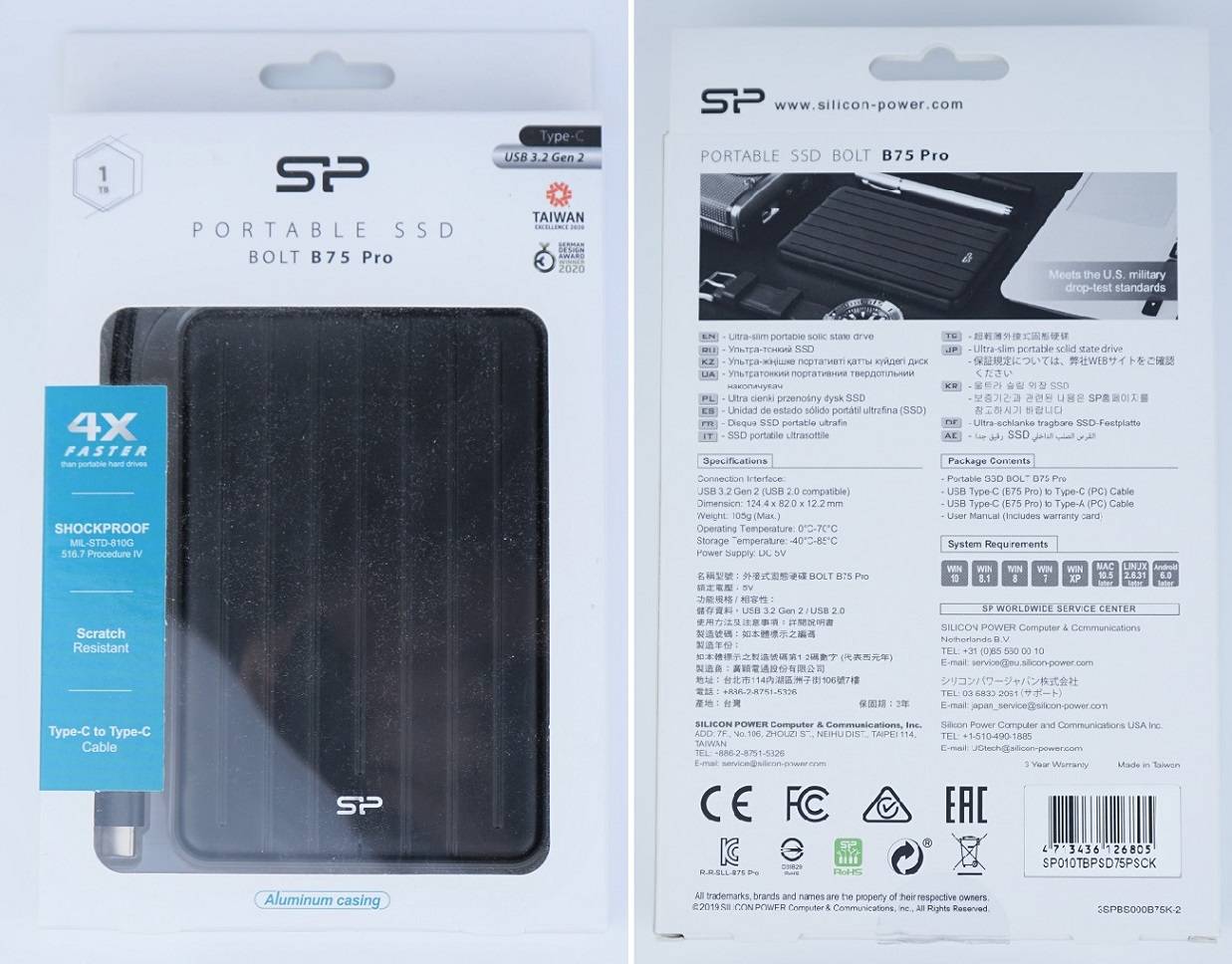 The Bolt B75 Pro is shipped in a white cardboard box. The actual drive is shown at the front plastic window. Technical specifications and Silicon Power's contact information are listed at the back.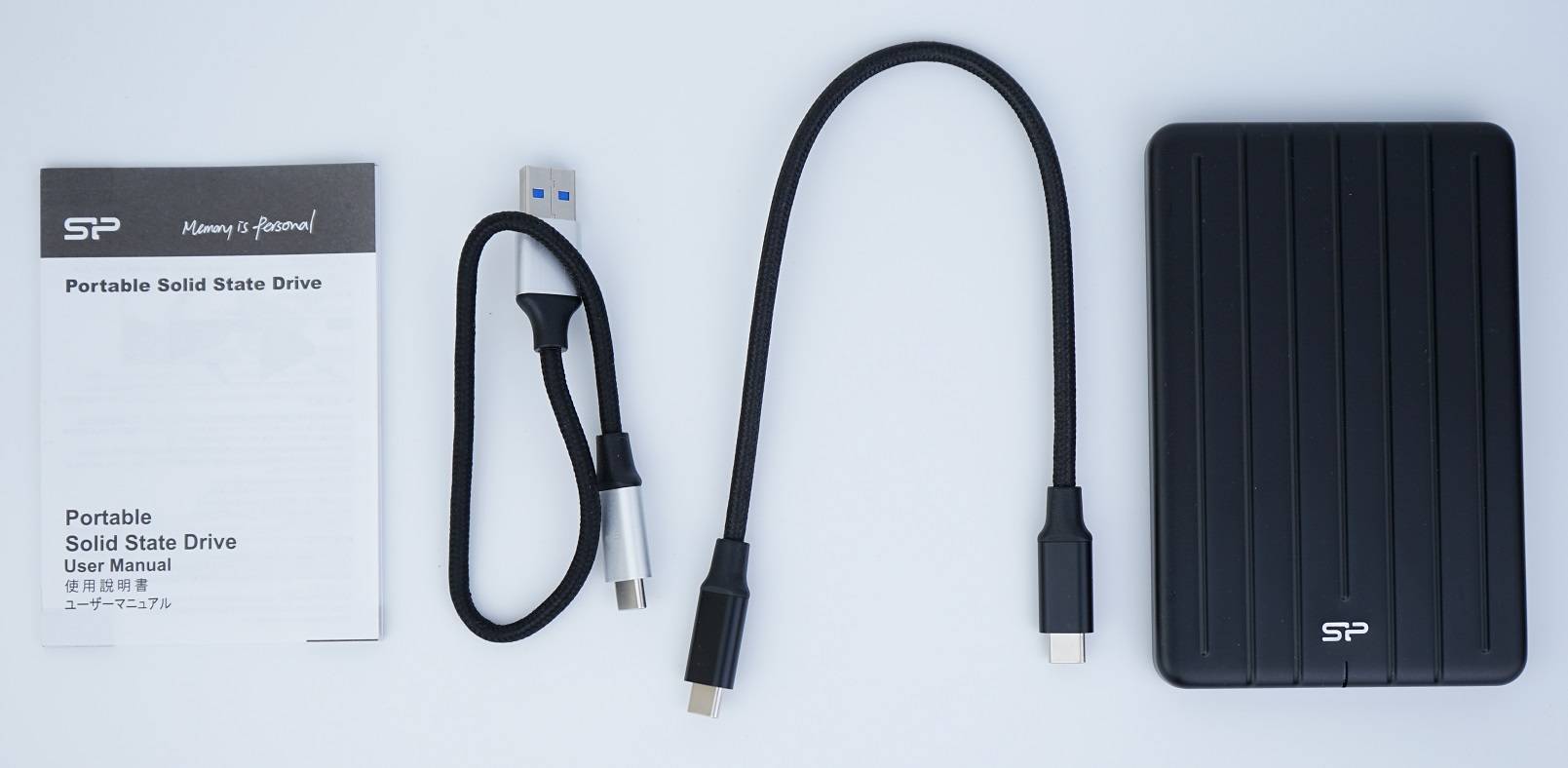 Inside the box are a user manual, one USB Type-A to Type-C cable and one USB Type-C to Type-C cable. Both cables are 30 cm long.
Silicon Power Bolt B75 Pro External SSD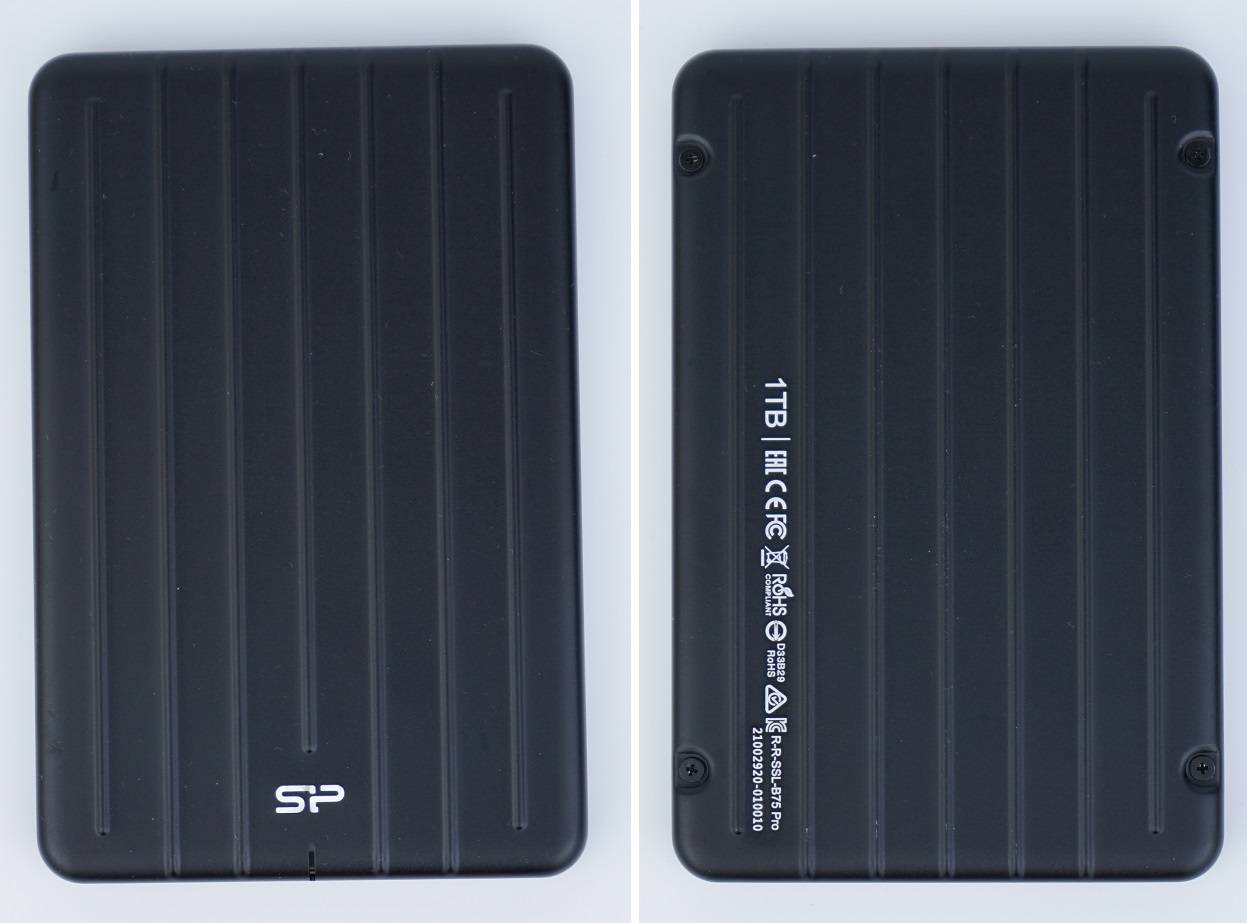 The Bolt B75 Pro's enclosure is made from aluminium alloy, painted in black. The top and bottom panels have some raised ridges, similar to those found in metal suitcases. According to Silicon Power, the design is inspired by the Junkers F.13, which is the world's first all-metal transport plane.
Removing the exterior casing, the Bolt B75 Pro is essentially a standard 2.5-inch SATA SSD plugged into an adapter board (PCB) to allow USB connectivity. It is equipped with a Silicon Motion SM2258XT memory controller and 64-Layer 3D TLC NAND flash from Intel/Micron (IMFT). No onboard DRAM cache is available. An ASMedia ASM235CM chip is used as the SATA to USB bridge controller.
The drive has a physical dimensions of 124.4 mm x 82.0 mm x 12.2 mm. It is a bit shorter, wider and thicker than a normal smartphone.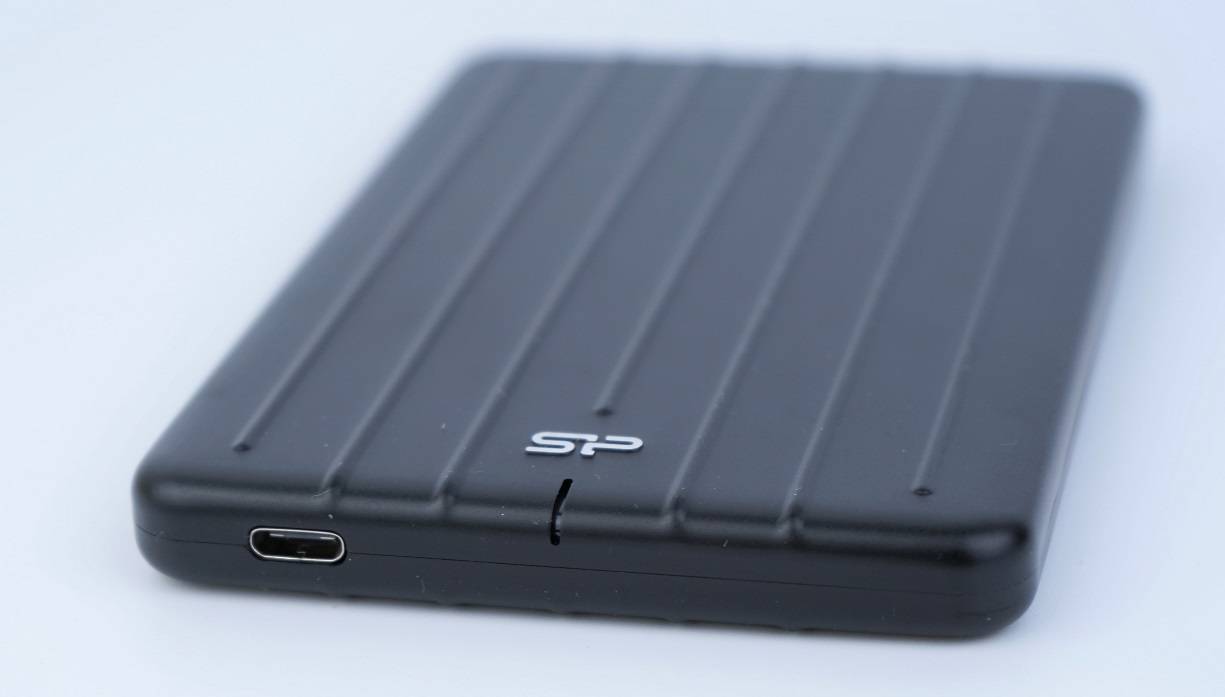 A white activity LED is located on the bottom edge of the front panel, near the SP logo. The USB Type-C port supports USB 3.2 Gen 2 standard, with a theoretical bandwidth of 10 Gbps or around 1250 MB/s.
Review
Testing Methodology
To test the performance of the solid-state drive, we use four well-established storage benchmarking software. They are CrystalDiskMark, ATTO Disk Benchmark, AS SSD Benchmark, as well as HD Tune Pro.
CrystalDiskMark can measure both sequential and random 4KB read/write speeds with a queue depth of 32. ATTO Disk Benchmark can test how the drive performs across different transfer block sizes, mostly in a sequential environment. AS SSD Benchmark can provide both normal read/write speed and the IOPS performance of the drive. HD Tune Pro can be used to simulate a large file transfer of up to 100 GB.
We also recorded the time to copy three files of 10 GB, 500 MB and 250 MB from a RAM disk to the SSD, to simulate a real-world situation.
Performance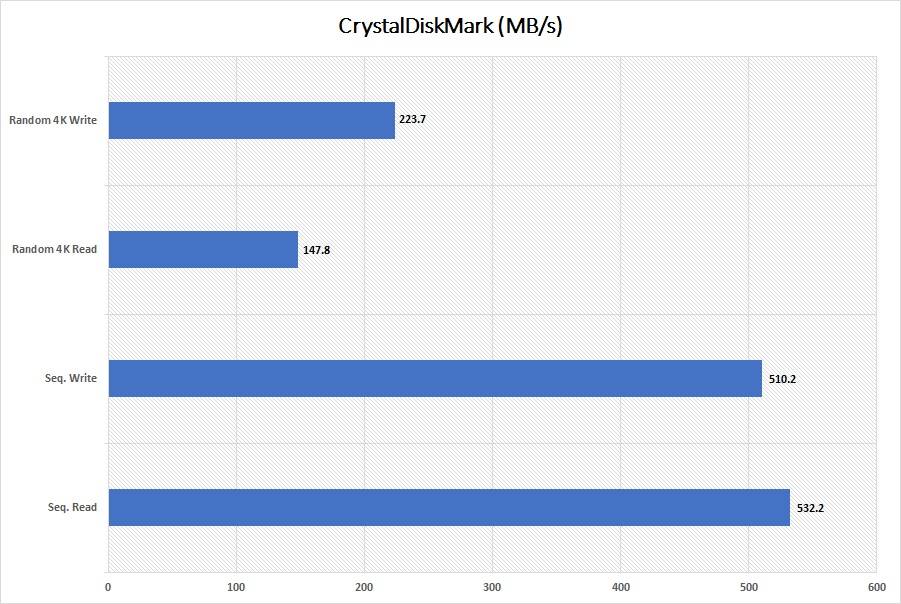 In CrystalDiskMark, the Bolt B75 Pro was able to get slightly above the advertised sequential read/write speeds at around 532 MB/s and 510 MB/s. Random 4K performance (QD32) dropped to 147 MB/s and 223 MB/s.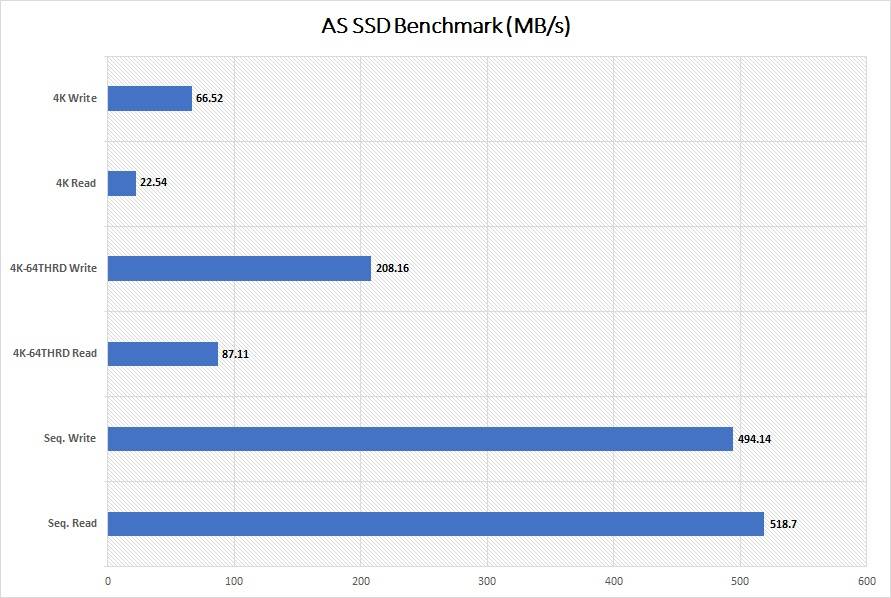 Sequential speeds slowed to 518 MB/s for read and 494 MB/s for write in AS SSD Benchmark. Raising the queue depth to 64 did not improve the random 4K results, which topped at 87 MB/s and 208 MB/s. The write speed is about 2.39 times faster than read.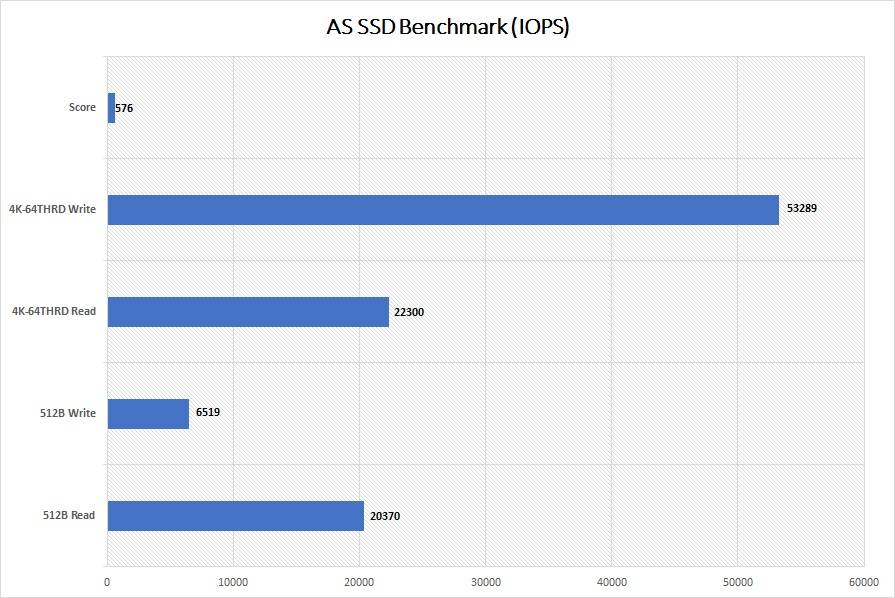 IOPS number represents how well a drive handles random input and output operations. The Bolt B75 Pro scored 576 in the benchmark. It achieved 22300 IOPS and 53289 IOPS for read/write.
In ATTO Disk Benchmark, the transfer speeds reached the peak at about 520 MB/s and 490 MB/s, when the test file size increased from 32 KB.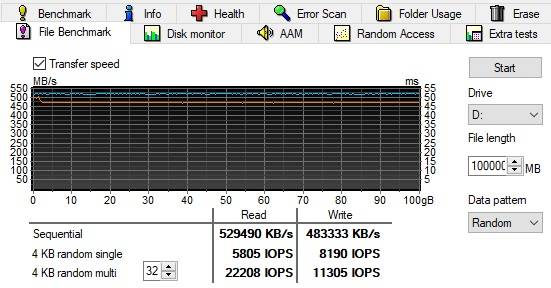 A 100 GB large file transfer is simulated using HD Tune Pro. Read speed is similar to those in previous tests at around 530 MB/s. We did not observe a dramatic decrease in write speed, which mostly stayed at 480 MB/s. For the Bolt B75 Pro, the raw write speed of the TLC NAND flash seems to be enough for the rated performance without pseudo-SLC cache.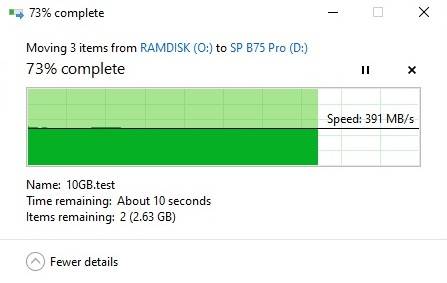 The Bolt B75 Pro completed the copy of three files, sized at about 15 GB, in about 27.41 seconds. The write speed hovered at around 390 MB/s throughout the process.
Comparison
[visualizer id="9024″]
[visualizer id="9022″]
[visualizer id="4796″]
Limited by the internal SATA-based SSD, the Bolt B75 Pro cannot fully utilize the bandwidth of the USB 3.2 Gen 2 interface. It was able to beat the PC60 by a small margin in most cases. However, the Sabrent Rocket Nano had almost 2 times faster sequential read/write speeds.
Conclusion
The Silicon Power Bolt B75 Pro is a stylish, sleek-looking external SSD, with acceptable performance. You can expect its read/write speeds to be on par with a traditional SATA-based SSD, maxing out at around 480 MB/s to 530 MB/s. The build quality of the metal enclosure is great and robust, which is also certified for MIL-STD-810G standard (shockproof).
The Bolt B75 Pro is priced at $109.99 USD (MSRP) for 1 TB, provided with a 3-year warranty. It is slightly cheaper than most USB 3.2 Gen 2-capable external SSDs in the market. For comparison, the Samsung T5, Seagate Barracuda Fast SSD and LaCie Portable SSD are on sale for $119.99 USD, $179.99 USD and $209.99 USD (MSRP) respectively, although all of them are considerably smaller and more portable than the Bolt B75 Pro.
You can purchase the SSD from your local/online resellers or the links below from Amazon and Newegg.
Thanks Silicon Power for providing us the SSD for review. (Review Sample)
Feel free to leave comments below, if you have any opinion about this website. Share the website around if you enjoy reading it. Subscribe to our Newsletter or follow our Twitter, Facebook and Instagram.
Support this website simply by shopping in Amazon and Newegg. It will give us small kickbacks, if you use the above affiliate links to make any purchases, which will help us grow.