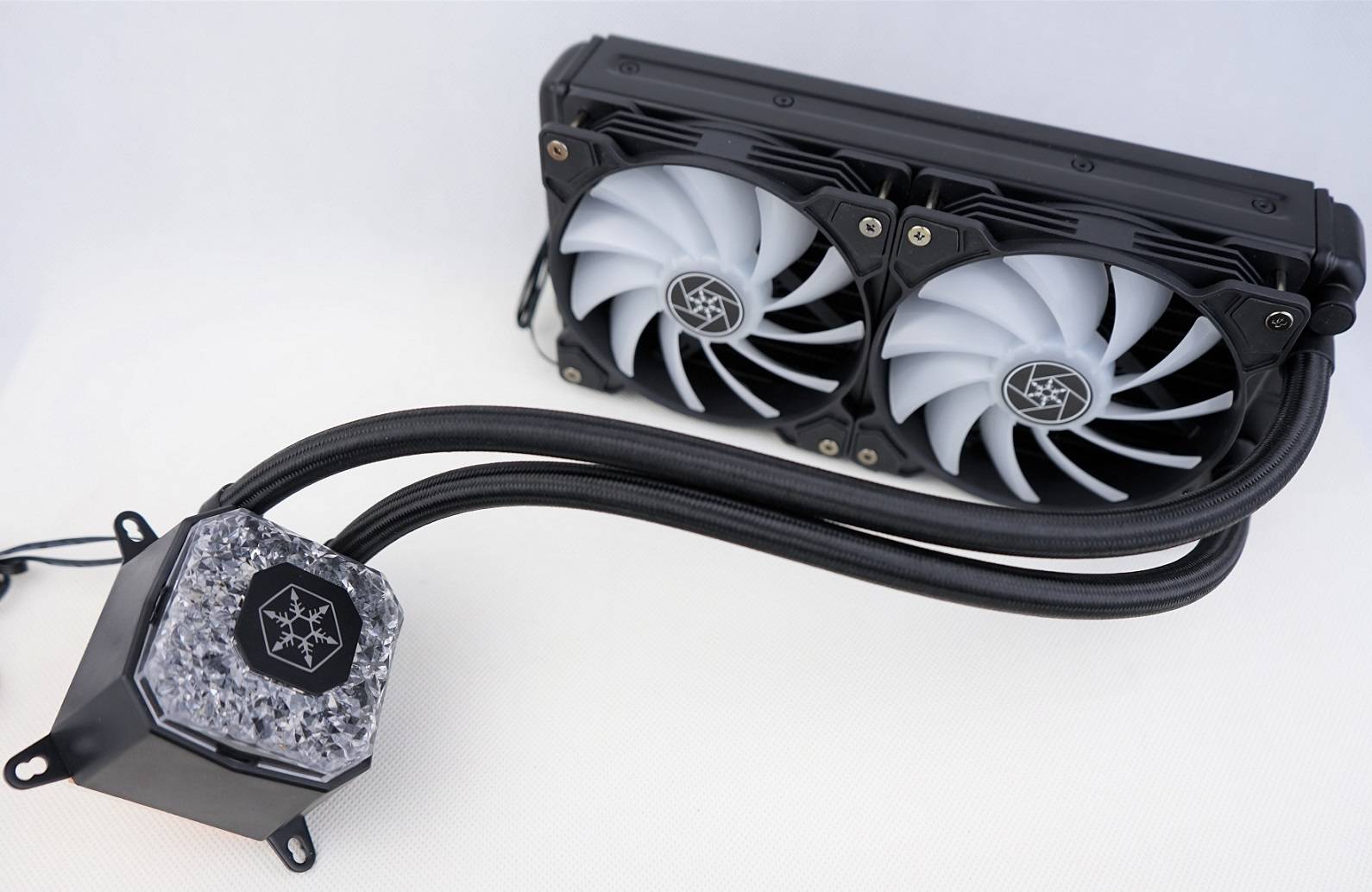 The Permafrost series, that we previously reviewed, is a great and affordable AIO CPU cooler from SilverStone. The company later released another models with bigger CPU contact base for HEDT processors, called the IceGem series.
Unboxing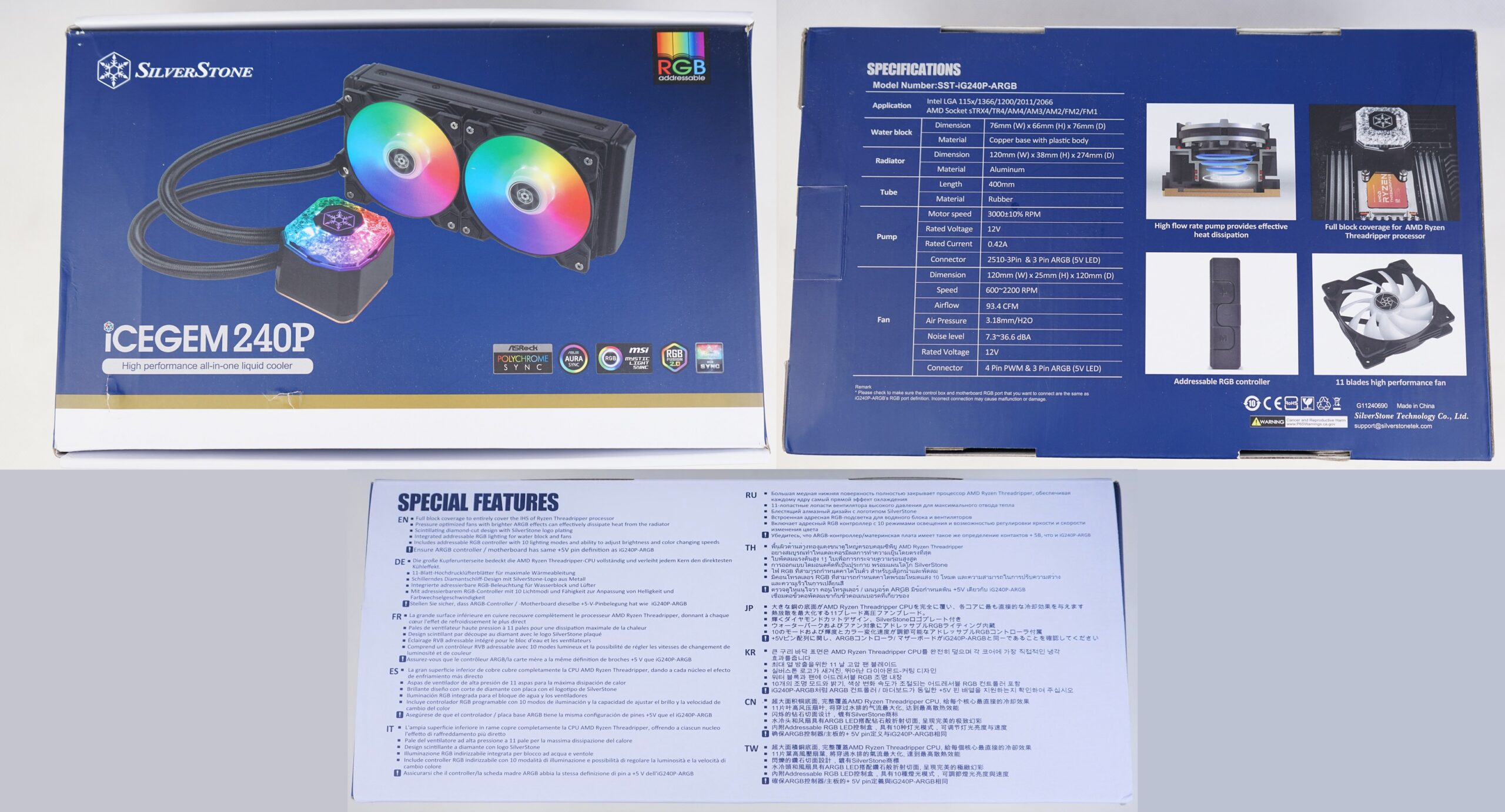 The IceGem series AIO CPU coolers are available in 240 mm, 280 mm and 360 mm. Our particular sample is the IceGem 240p (SST-iG240P-ARGB). The cooler is packed in a long blue and white cardboard box. Some features are highlighted in multi-lingual lists and pictures. Detailed specification list can also be found with information like physical dimensions and pump/fan speeds.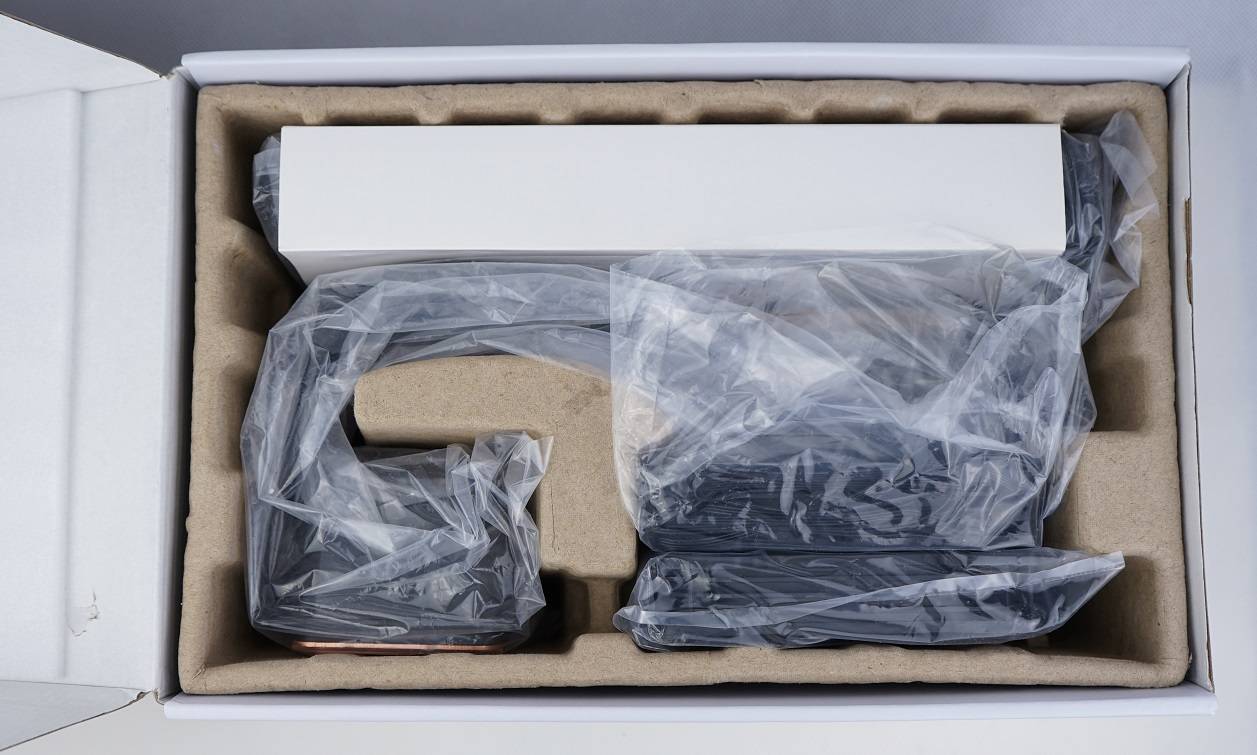 Putting everything into a recyclable cardboard tray is the industry standard for AIO liquid coolers. SilverStone puts a piece of thin Styrofoam on top and packs all the accessories into separate plastic bags for extra protection.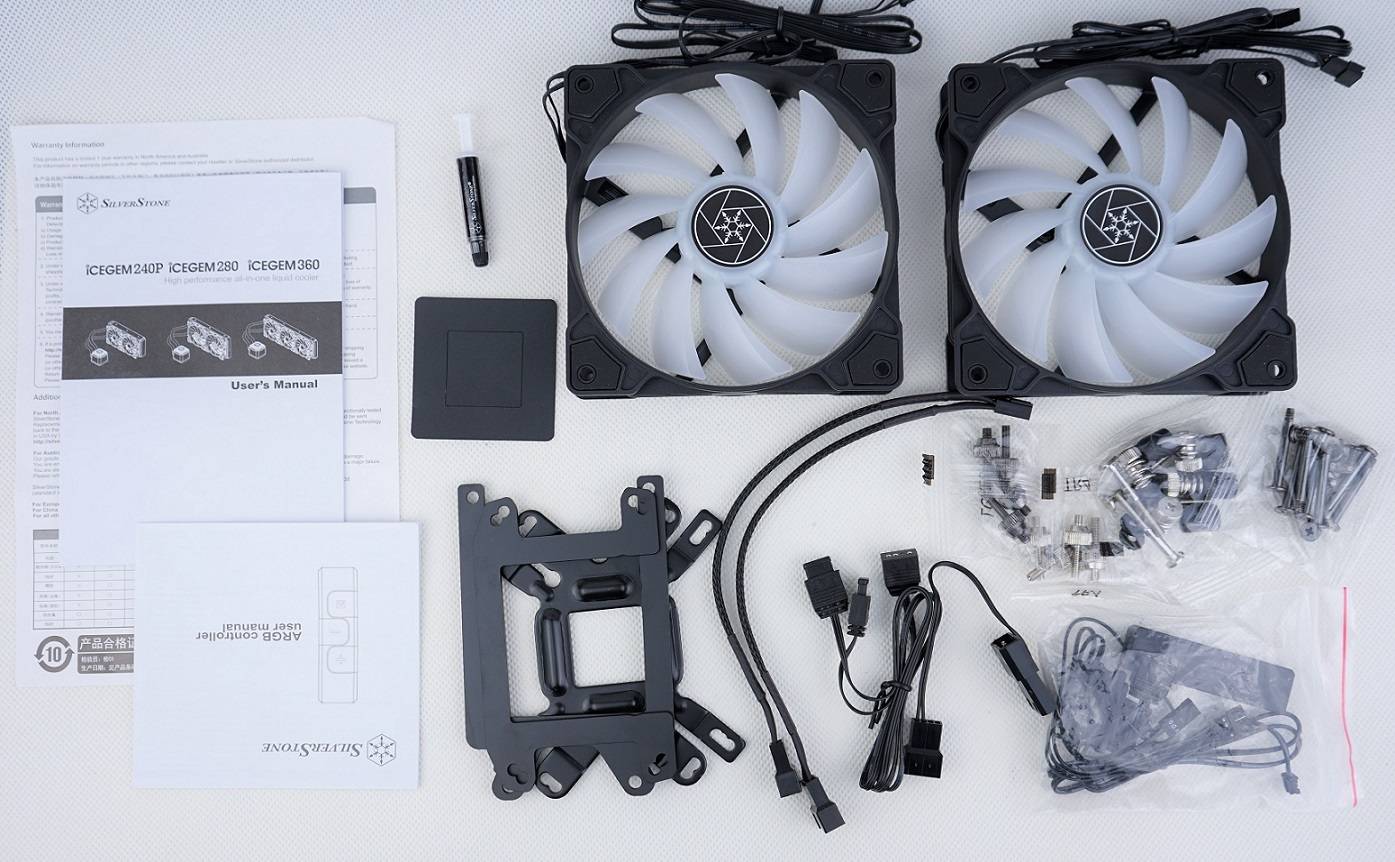 The box includes a couple user manuals, a small tube of thermal compound and two 120 mm cooling fans. There are a 4-pin PWM Y-cable, an ARGB controller and a few 3-pin ARGB cables. The IceGem 240P is compatible with latest CPU sockets from both AMD and Intel, such as AM4/sTRX4/TR4 and LGA 115x/1200/2066.
SilverStone IceGem 240P AIO CPU Cooler
As the name suggests, the IceGem 240P sports a very interesting-looking CPU block design. The block has a plastic gem-like or diamond-like top plate, which allows the integrated addressable RGB LEDs to shine through. The water pump uses the same three-phase, six-pole motor as the PF240-ARGB, that can help reduce operation noise and increase power efficiency. It is rated to spin up to 3000 RPM, and spun at around 2800 RPM in our benchmarks.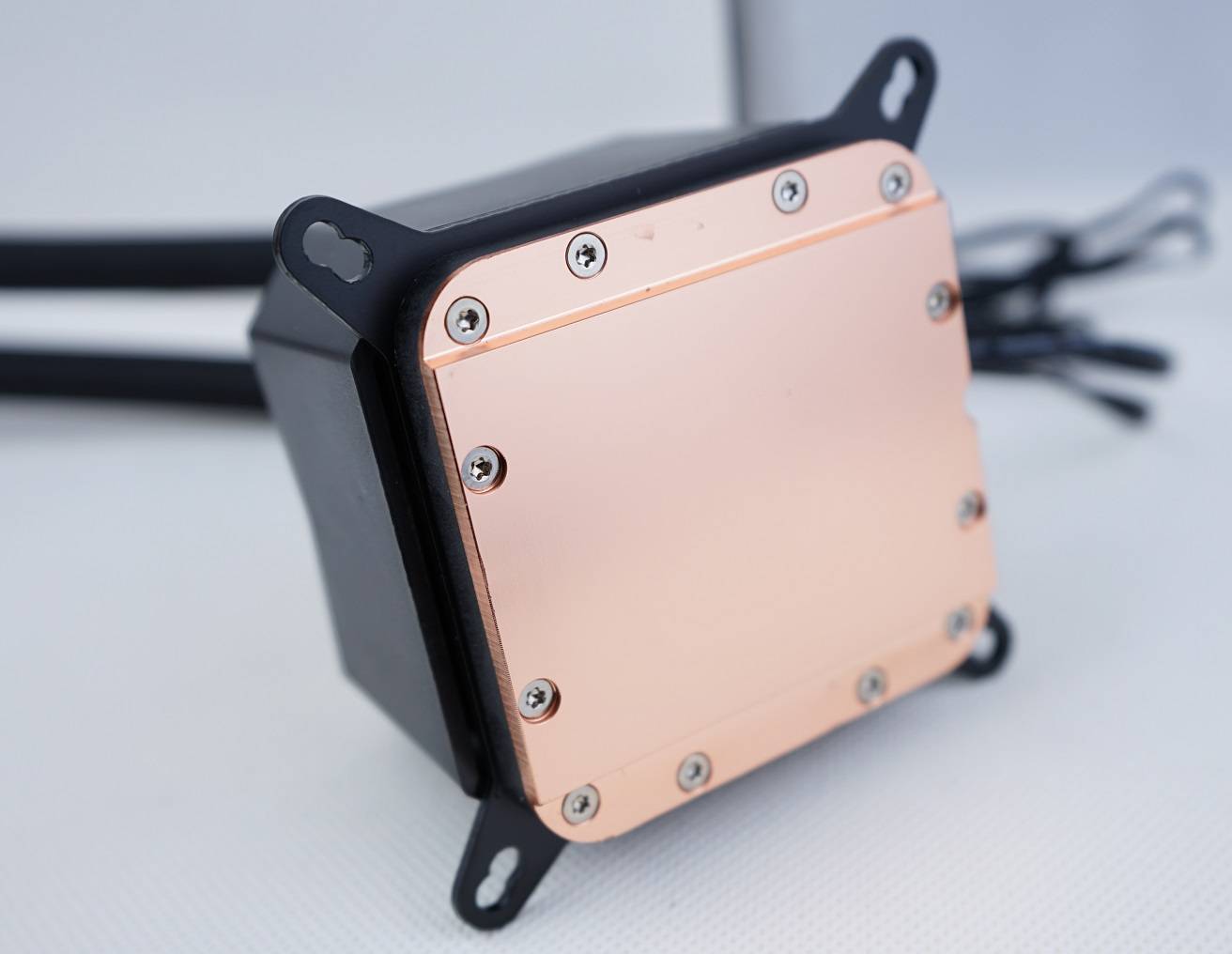 The IceGem 240P has a slightly-polished and non-nickel-plated copper CPU contact base, which is 70 mm long and 53 mm wide. Little machining marks are still visible on the surface. This base is specifically designed to fully cover the larger integrated heat spreader (IHS) of High-End Desktop (HEDT) processors from AMD's SP3/sTRX4/TR4 and Intel's LGA 2011/2066 sockets.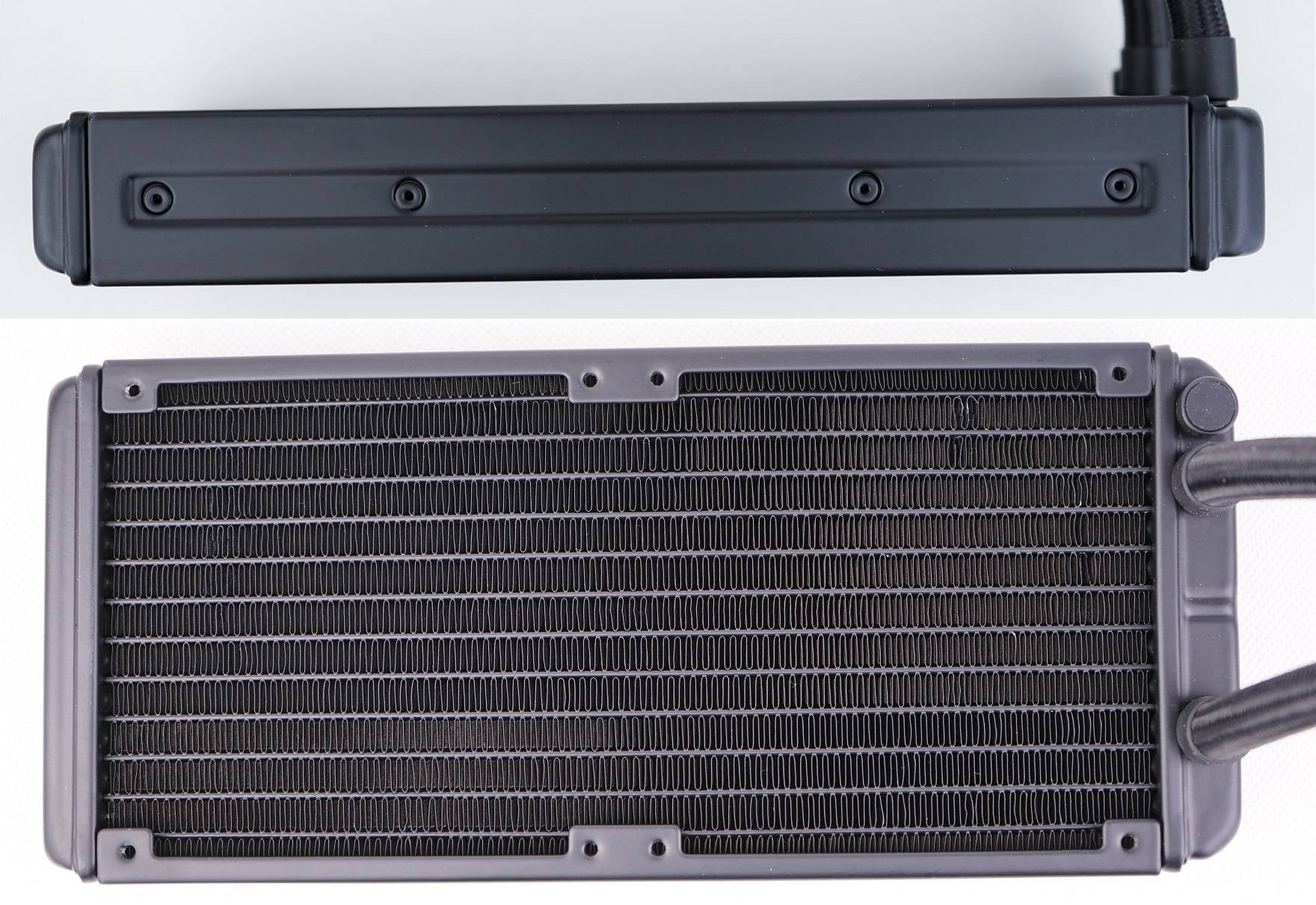 The IceGem 240P has a special 240 mm thick aluminium radiator for more cooling capacity. The 273 mm long, 120 mm wide and 38 mm thick enclosure houses 13 rows of cooling fins, which its fin density is at around 20 to 21 fins per inch (FPI).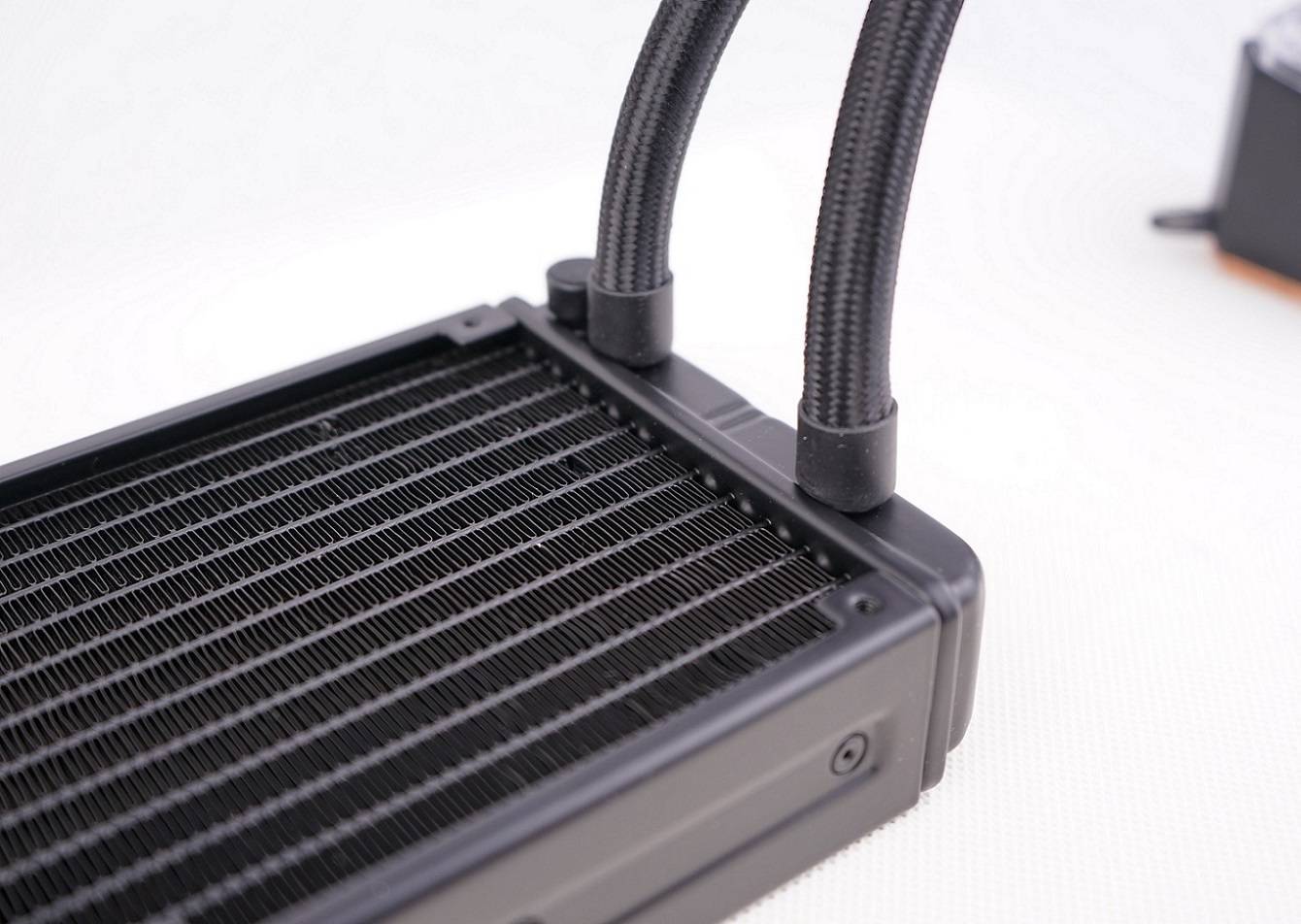 The braided EPDM (ethylene propylene diene monomer) rubber tubing has a length of about 400 mm and a diameter of 13 mm, which is flexible and long enough to fit in most PC cases.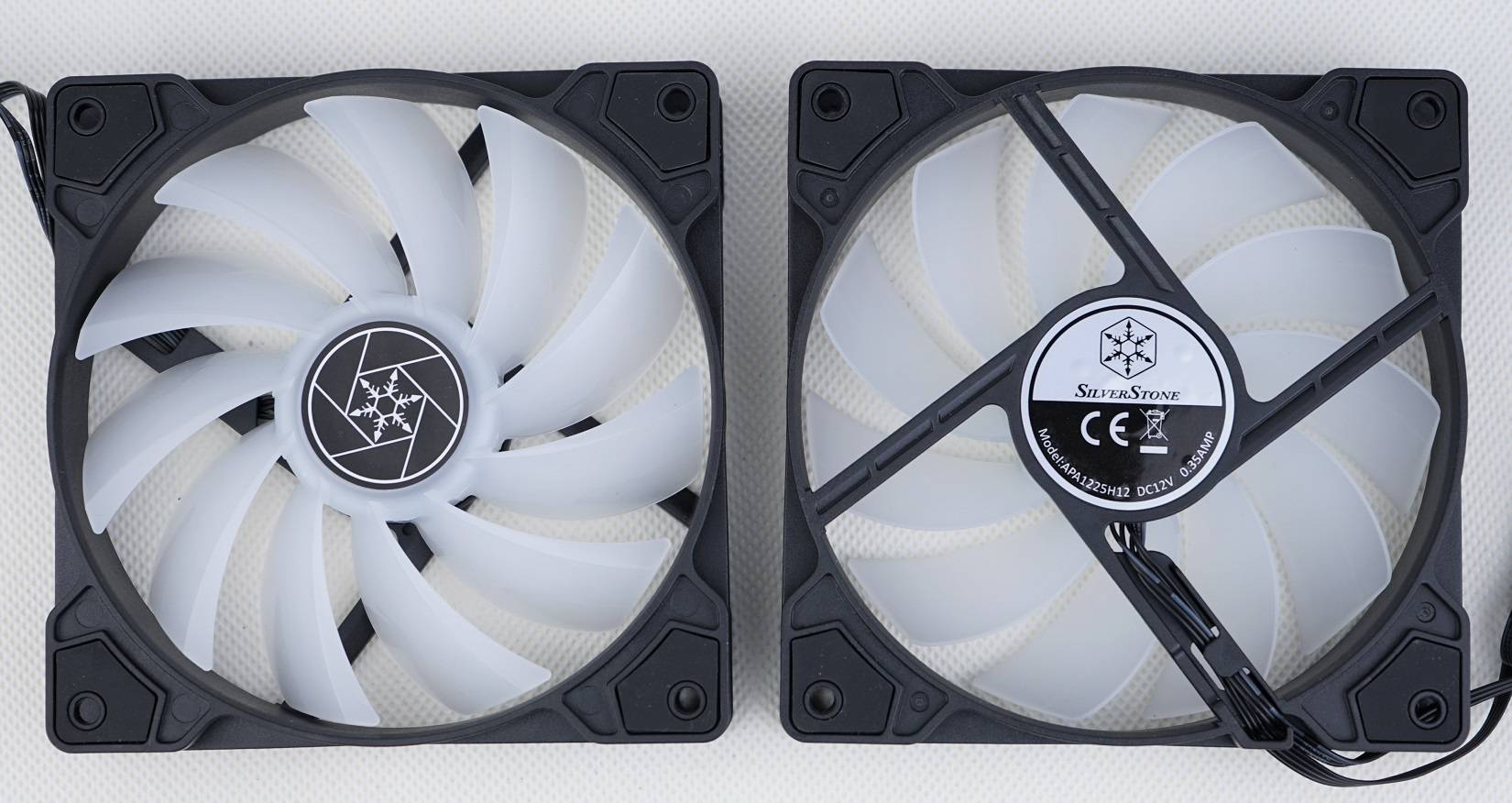 The IceGem 240P is paired with two 120 mm fans (APA1225H12) for cooling. They have more fan blades (11 vs 9) and a more squarish frame than the Air Blazer 120R, despite sharing the same model number. The fan is equipped with a hydro bearing with a MTBF of 40,000 hours. It can spin from 600 RPM to 2200 RPM, which can generate up to 93.4 CFM of airflow and 3.18 mmH2O of air pressure. There are anti-vibration rubber pads on each corner. Eight ARGB LEDs are installed around the motor hub.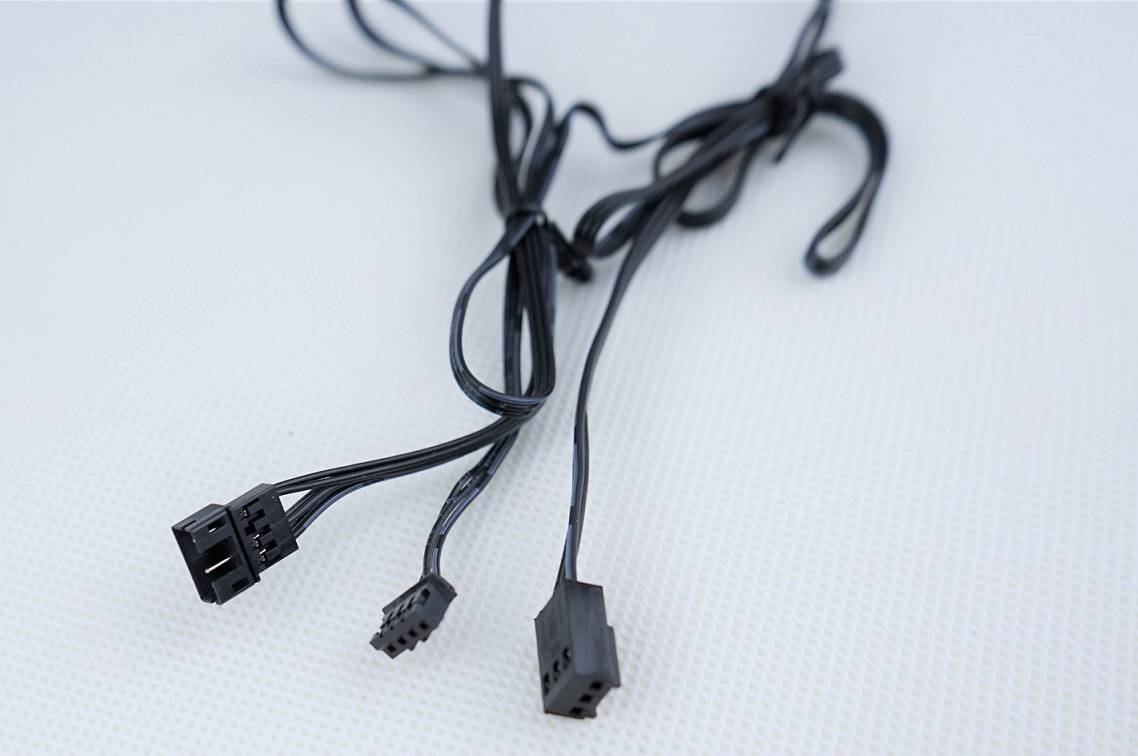 There are three cables coming out from the CPU block. The 3-pin connector is to provide power to the water pump. The other two cables are to the controller and fans for the RGB lighting.
The diamond-cut top plate of the IceGem 240P's CPU block creates a shiny and unique look, which bounces and reflects the RGB lighting. The translucent fan blades are also evenly-lit and -diffused. There are little to none lighting hotspots. The transitions between effects are fluent.
Review
We have updated our CPU cooler tests to more reflect real-world cooling performance of coolers.
Testing Methodology
To find out how the cooler performs, a total of three benchmarks are included. AIDA64 is used to run a CPU stress test. CPU, FPU and system cache are all stressed to create as much heat output as possible. Also, Cinebench R15 and Cinebench R20 are used to simulate real-world CPU load (like video-editing or rendering). It will be run continuously for three times. Ambient temperature is around 25°C.
Results will be taken at a 50% and 100% fan speed, controlled via the motherboard CPU PWM header. Stress test will run for at least 15 minutes. Once the CPU has reached the equilibrium temperature, we will record both the average and highest temperatures of the CPU package/hottest core with HWiNFO in the next 5 minutes.
Performance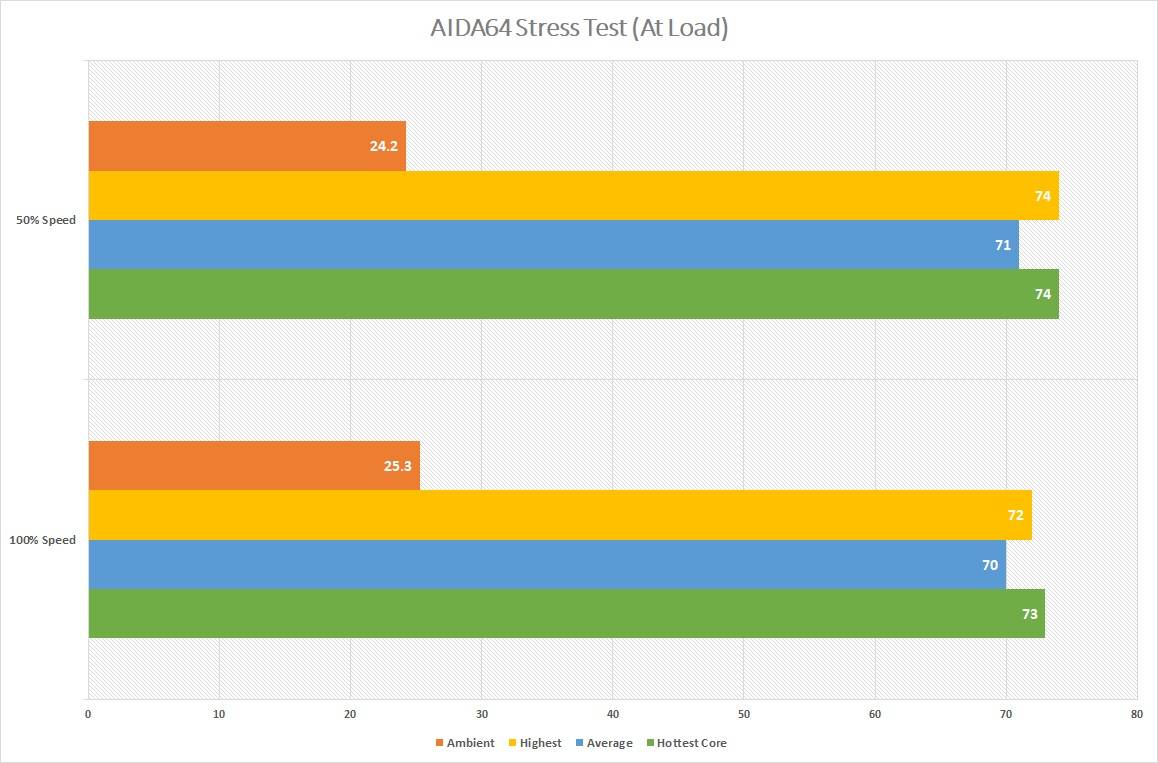 Ambient temperature was around 25°C during the benchmarks. The IceGem 240P was able to keep the CPU temperature around mid-70s °C. At 100% fan speed (~1900 RPM), the average temp of the CPU package was 70°C, maxed out at 72°C. Lowering the fans to 50% PWM speed (~1300 RPM) resulted in a 1°C to 2°C increase on the three measurements. No thermal throttling was observed.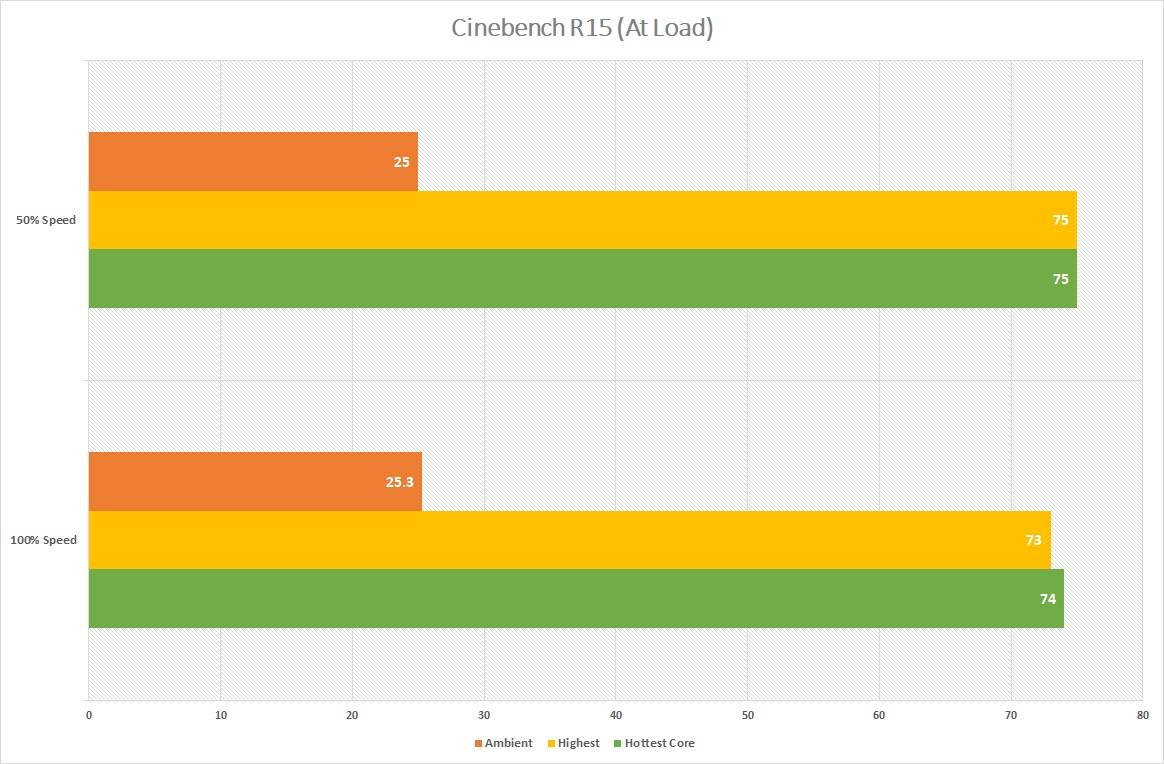 We got similar outcomes in Cinebench R15. The highest CPU package temperature was at 75°C, and dropped by 2°C to 73°C when running the fans at full speed.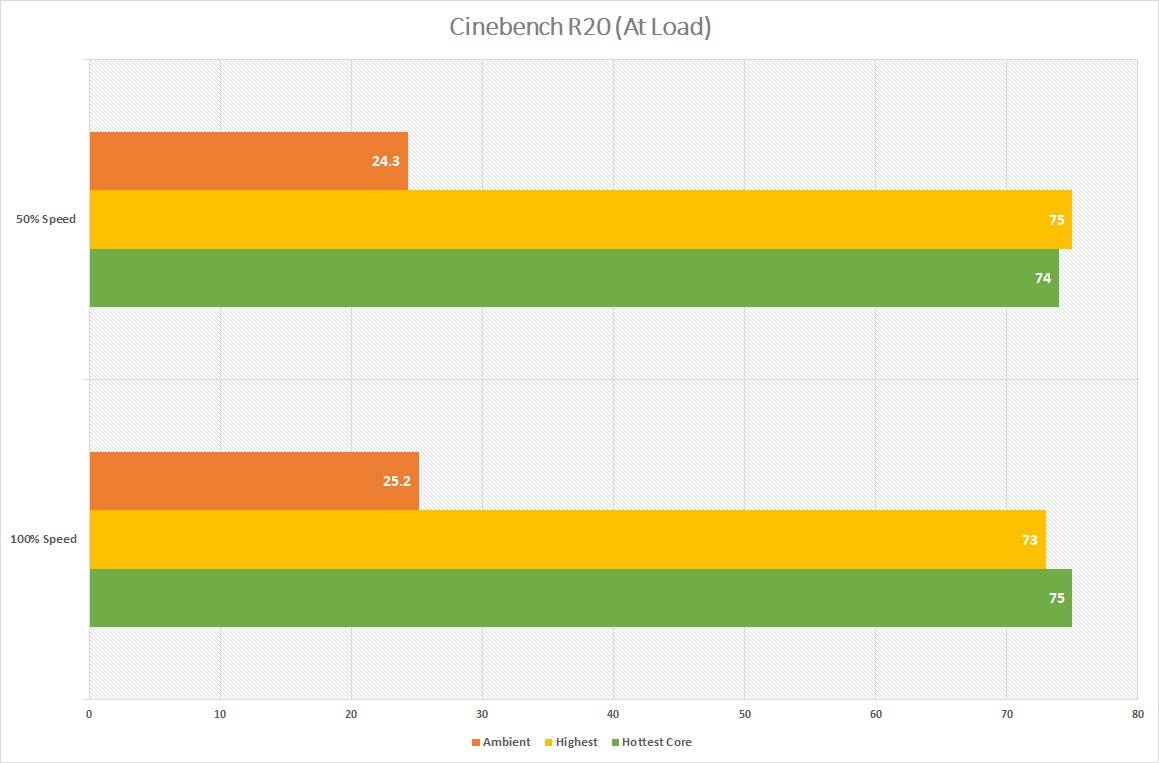 In Cinebench R20, the temperatures under load reached up to 75°C and 74°C at 50% PWM speed. Faster fans yielded a 2°C decrease for the CPU package temp.
Comparison
[visualizer id="8645″ lazy="no" class=""]
[visualizer id="10498″ lazy="no" class=""]
As you can see in the above charts, the IceGem 240P trailed behind the PF240-ARGB by 1°C to 2°C among our three benchmarks. It went back and forth against 140 mm single-tower air coolers, like the Noctua NH-U14S and CRYORIG R5.
We originally thought that our sample was defective, and immediately contacted SilverStone. According to the company, IceGem 240P's larger contact base is optimized for bigger processors, such as AMD Ryzen Threadripper and Intel Core X-Series. The heat is concentrated to only part of the baseplate and cannot be transferred away as efficiently, if tested with a smaller CPU (like our Intel Core i7-9700K), causing the load temperature to increase.
Update: During our previous testing, we were not aware of the oversized copper plate of the IceGem 240P was interfering with the motherboard's capacitors around the CPU socket. This led to uneven or not enough mounting pressure for the cooler, and worse than expected thermal performance. We have now redone the benchmarks to show the updated results.
Conclusion
Due to us lacking a larger processor for the IceGem 240P to test, the cooler's performance could not be clearly and justifiably represented in our benchmarks. This is not SilverStone's or the product's fault, but I do think the company can put a small notice on the product page or packaging to better inform the customers and avoid undesirable user experience. Its cooling performance was slightly behind the more optimized (for LGA 115x platform) PF240-ARGB. Overall, the cooler is solidly-built with a distinctive CPU block design. RGB lighting is bright and vibrant.
The IceGem 240P is priced at $139.99 USD (MSRP) with a 3-year warranty. There is only a handful of AIO liquid coolers in the market, that are specifically designed for Threadripper CPUs with a full-cover block/baseplate. It is about $20 USD more expensive than the Enermax LIQTECH TR4 II at $119.99 USD (MSRP), which only supports AMD SP3/sTRX4/TR4 CPU sockets exclusively, does not include addressable RGB cooling fans and a thicker radiator. If you do not own a HEDT processor, I would strongly suggest you getting the PF240-ARGB. Otherwise, the IceGem 240P can still be a decent option to consider, especially if you have plans to upgrade from the mainstream platform soon.
*The 280 mm and 360 mm versions are priced at $159.99 USD and $169.99 USD (MSRP) respectively.
You can purchase the fans from your local/online resellers or the links below from Amazon or Newegg.
Thanks SilverStone for providing us the enclosure for review. (Review Sample)
Feel free to leave comments below, if you have any opinion about this website. Share the website around if you enjoy reading it. Subscribe to our Newsletter or follow our Twitter, Facebook and Instagram.
Support this website simply by shopping in Amazon and Newegg. It will give us small kickbacks, if you use the above affiliate links to make any purchases, which will help us grow.