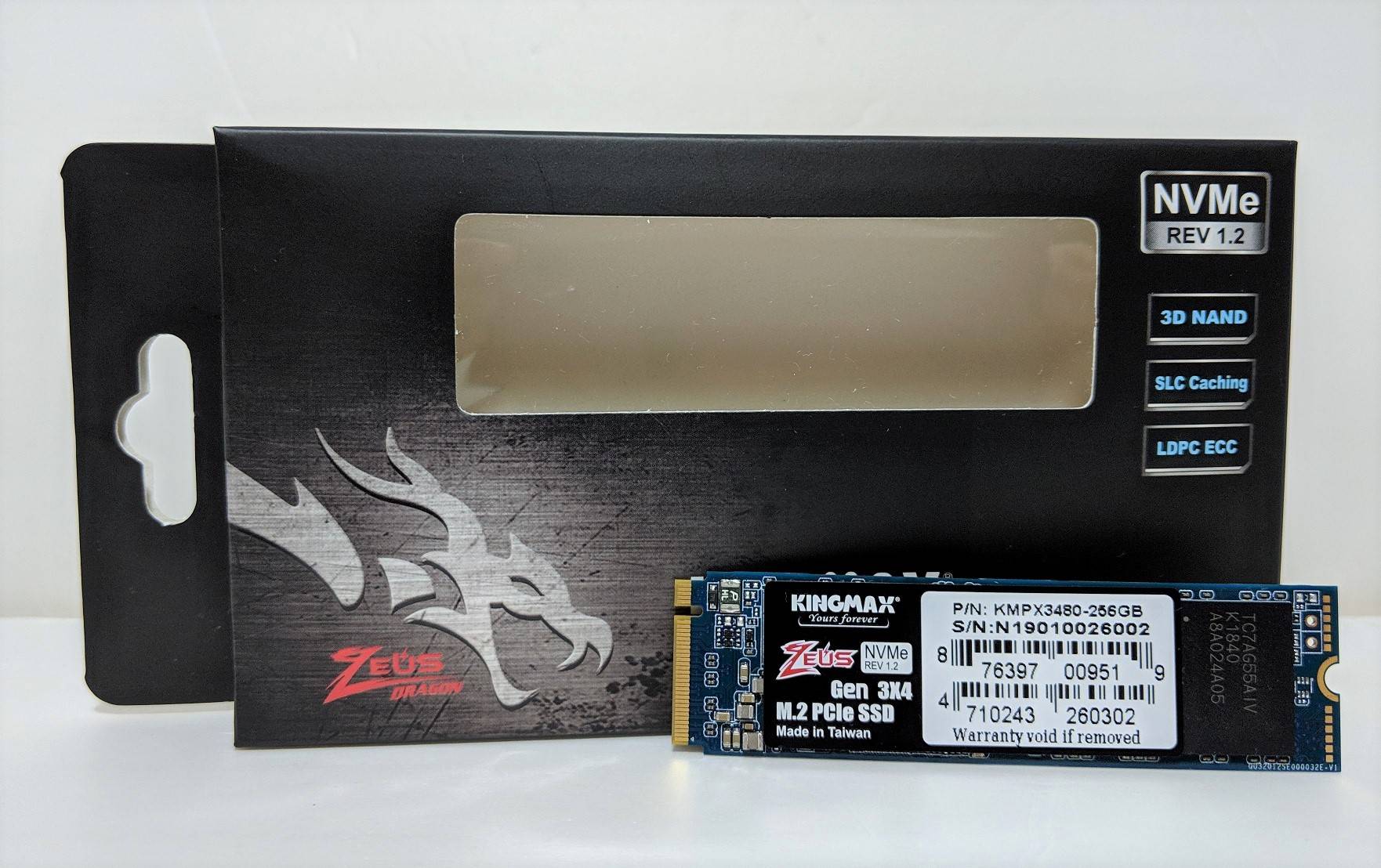 Ultra-fast PCIe NVMe SSDs have becoming more widespread and affordable, as technologies mature over time. KINGMAX launched the PX3480 SSD for its Zeus Dragon Gaming lineup in December 2018.
Specifications
[table id=204 /]
The KINGMAX Zeus Dragon PX3480 SSD uses a PCIe 3.0×4 interface and NVMe protocol version 1.2 to transfer data. It is available in three capacities, from 256 GB up to 1TB, only in M.2 2280 form factor.
The drive is advertised to have maximum sequential read/write speeds at 3400 MB/s and 3000 MB/s respectively. Our 256 GB review sample is slower, which can read up to 3000 MB/s and write up to 1000 MB/s. A 3-year warranty is provided, and the SSD has a MTBF of about 2,000,000 hours.
Unboxing
The packaging of the PX3480 SSD is extremely minimal and simple, with no accessories and user manual. Most information is printed right on top of the black cardboard. You get the "KINGMAX" and "Zeus Dragon" brandings, as well as a plastic window showing the actual drive, at the front. Detail specifications about the SSD's capacities, rated speeds and IOPS are also shown.
KINGMAX has two other entry-level NVMe SSDs running on slower PCIe 3.0×2 interface, the PJ3280 and PX3280.
KINGMAX Zeus Dragon PX3480 PCIe NVMe SSD
The Zeus Dragon PX3480 SSD uses a single-sided printed circuit board (PCB), colored in blue. A sticker, containing the model name and serial number, is covering the Phison PS5012-E12 controller and 3D TLC NAND flash underneath. The back side of the PCB does not have any component, except for the warranty void sticker.
The PX3480 SSD utilizes a PCIe 3.0×4 interface via the M.2 connector (M key), which has a theoretical bandwidth of 32 GT/s or 3.94 GB/s.
Review
Testing Methodology
To test the performance of the solid-state drive, we use four well-established storage benchmarking software. They are CrystalDiskMark, ATTO Disk Benchmark, AS SSD Benchmark, as well as HD Tune Pro.
CrystalDiskMark can measure both sequential and random 4KB read/write speeds with a queue depth of 32. ATTO Disk Benchmark can test how the drive performs across different transfer block sizes, mostly in a sequential environment. AS SSD Benchmark can provide both normal read/write speed and the IOPS performance of the drive. HD Tune Pro can be used to simulate a large file transfer of up to 100 GB.
We also recorded the time to copy three files of 10 GB, 500 MB and 250 MB from a RAM disk to the SSD, to simulate a real-world situation.
Performance
The PX3480 surpassed its advertised sequential read/write performance in CrystalDiskMark 6.0.2, reaching speeds at over 3100 MB/s and 1050 MB/s respectively. Random 4K operations (queue depth at 32) were great with read at 397 MB/s and write at 350 MB/s. Standard SATA-based SSDs often sits at under 300 MB/s.
Sequential read/write performance were slightly slower in AS SSD Benchmark, topped at 2605 MB/s and 989 MB/s respectively. When the queue depth of 4K operations increased to 64, the read and write speeds raised to 1063 MB/s and 980 MB/s.
IOPS number represents how well a drive handles random input and output operations. The PX3480 got a score of 3256 in the test. It achieved 272169 IOPS and 250887 IOPS in random 4K read/write.
In ATTO Disk Benchmark, read and write speeds settled down at around 3300 MB/s and 1050 MB/s, when the file sizes increased from 128 KB.
When simulating a 100 GB file transfer with HD Tune Pro, the read speed topped at around 2750 MB/s and maintained at 2500 MB/s most of the time. The write speeds reached 1000 MB/s for the first 5 GB to 6 GB of data. It dropped significantly to 330 MB/s afterwards, as the internal SLC and DRAM cache were saturated. The data was written directly to the 3D TLC NAND flash.
Transferring three files of about 15 GB in size, the PX3480 SSD took a total of 10.40 seconds to complete. The writing speed stabilized at around 980 MB/s, which was similar to the rated sequential write speed of around 1000 MB/s. The internal SLC and DRAM cache were still functioning.
Comparison
[visualizer id="2840″]
[visualizer id="2842″]
The PX3480 outperformed any SATA-based SSDs by a very large margin in both sequential and random 4K operations, due to its PCIe 3.0×4 interface. The Kingston A1000 SSD (its review here) came close in write performance, but was severely limited by the slower PCIe 3.0×2 interface.
Conclusion
The KINGMAX Zeus Dragon PX3480 performed remarkably, which is expected for a NVMe SSD using the Phison PS5012-E12 controller and a PCIe 3.0×4 interface. The write speed was mainly limited to our sample drive's smaller capacity. Compared to any SATA-based SSDs, the PX3480 surpassed them by 2 to 3 times without any issues.
The drive comes with a 3-year warranty and has a rated MTBF of 2,000,000 hours, which is pretty standard. It should be more than enough and capable of normal gaming or office use.
It would be quite difficult to get the PX3480, if you are living in North America or Europe. Not a lot of online stores have the drive in stock. I cannot find any information about its current pricing, though KINGMAX claims the PX3480 as an affordable SSD. At the time of this review, a 1 TB NVMe SSD with the identical Phison memory controller costs around $140 USD to $160 USD.
Thanks KINGMAX for sending us the memory for review. (Review Sample)
Feel free to leave comments below, if you have any opinion about this website. Share the website around if you enjoy reading it. Subscribe to our Newsletter or follow our Twitter, Facebook and Instagram.
Support this website simply by shopping in Amazon and Newegg. It will give us small kickbacks, if you use the above affiliate links to make any purchases, which will help us grow.