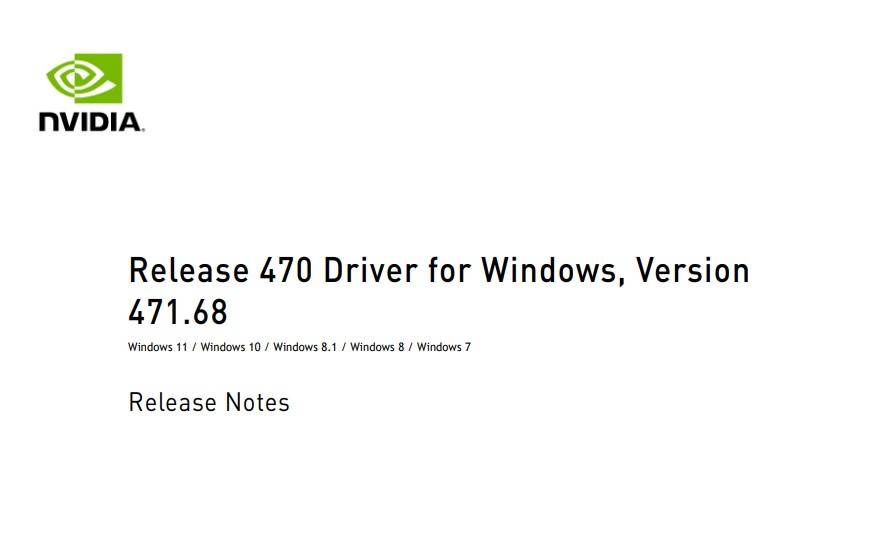 NVIDIA today (August 10th) released a new Game Ready GPU drivers update at version 471.68 for the company's GeForce graphics cards. The drivers will provide support and optimization to three recently-launched games, which are the Naraka: Bladepoint, Back 4 Blood Open Beta and Psychonauts 2. Apart from that, seven G-SYNC Compatible displays are validated and added to the support list.
We have attached the official release notes for the software below:
Game Ready for Naraka: Bladepoint

This new Game Ready Driver provides support for Naraka: Bladepoint, which utilizes NVIDIA DLSS and NVIDIA Reflex to boost performance by up to 60% at 4K and make you more competitive through the reduction of system latency. Additionally, this release also provides optimal support for the Back 4 Blood Open Beta and Psychonauts 2 and includes support for 7 new G-SYNC Compatible displays.

Fixed Issues in this Release

[Batman Arkham Knight][GeForce 10 Series]: The game may crash when turbulence smoke is used. [3202250]
[Hitman 3]: The game may display random flickering when V-SYNC is disabled. [200742415]
[Monster Hunter World]: The game displays flashing glitches after extended gameplay. [3336071]
[Assassin's Creed Odyssey]: Drops in frame rate occur during gameplay and when running the benchmark. [3345840]
[Topaz Video Enhance AI]: The application fails to process video with driver TDR error. [200725519]
[D5 Render]: Black corruption overlay occurs with NVIDIA DLSS ON. [200724612]
Rendering artifacts appear on the desktop when using NVIDIA SDR deep color (10pbc). [3340917]
[PLA Benchmark][PhysX]: The NVIDIA GPU is not used for PhysX when running the benchmark. [3099182]

Windows 10 Issues

[YouTube]: Video playback stutters while scrolling down the YouTube page. [3129705]
Tom Clancy's The Division 2 may display graphical artifacts. [200754013]
Sonic & All-Stars Racing Transformed may crash on courses where players drive through water. [3338967]
DPC latency is higher when color mode is set to 8-bit color compared to 10-bit color. [3316424] To work around, disable MPO using the registry key found in the KB article: https://nvidia.custhelp.com/app/answers/detail/a_id/5157/.
Unable to detect supported display modes for the Samsung Odyssey G9 display. [3332327]
You can download the GeForce GPU Drivers version 471.68 at NVIDIA's website.
Feel free to leave comments below, if you have any opinion about this website. Share the website around if you enjoy reading it. Subscribe to our Newsletter or follow our Twitter, Facebook and Instagram.
Support this website simply by shopping in Amazon and Newegg. It will give us small kickbacks, if you use the above affiliate links to make any purchases, which will help us grow.