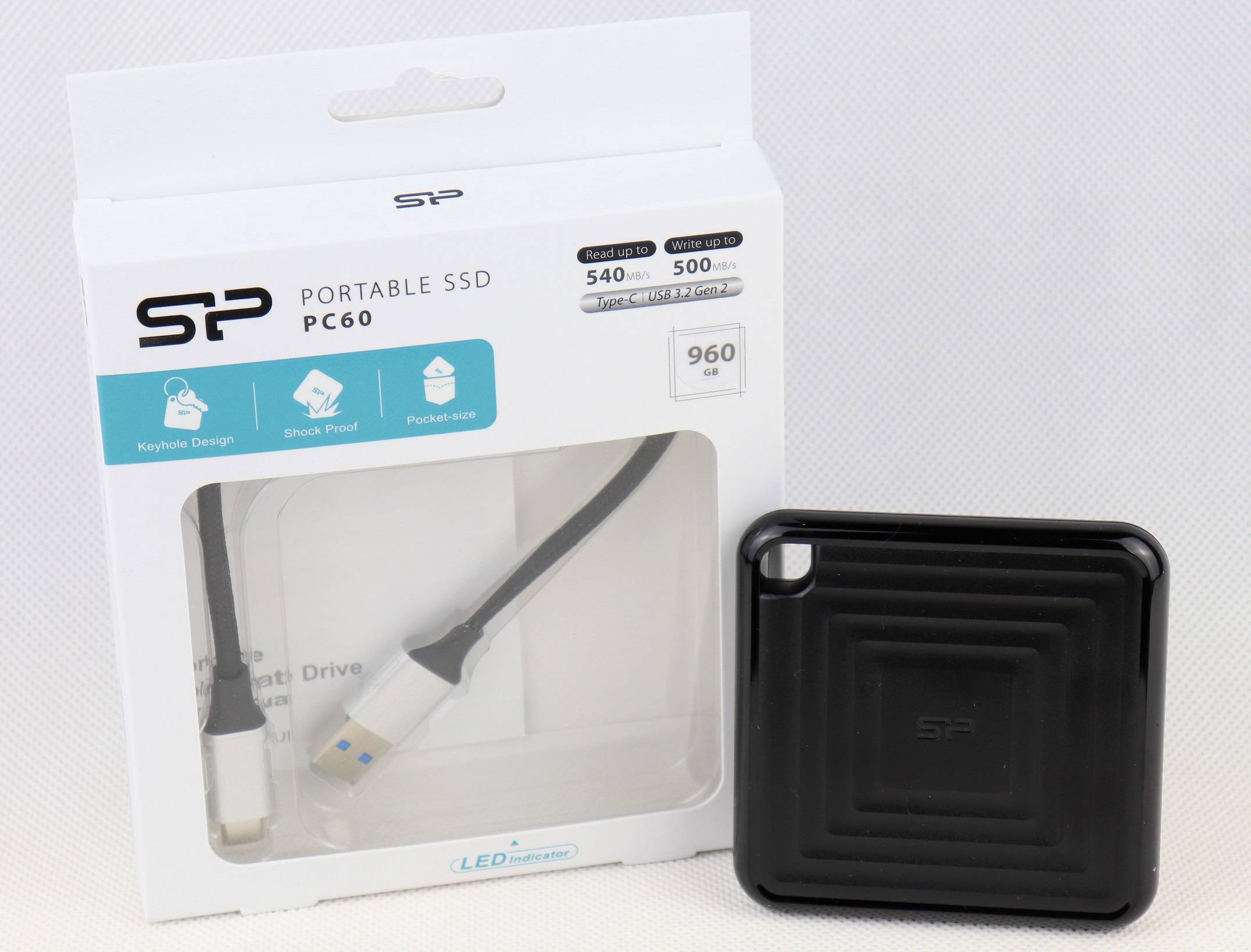 Silicon Power recently released the most compact external SSD in their lineup, named the PC60. It is designed to be easily carried around by users, while having excellent read/write performance.
Specifications
[table id=319 /]
The Silicon Power PC60 is available in four storage capacities, from 240 GB to 1.92 TB. Our particular sample is the 960 GB version (SP960GBPSDPC60CK). The SSD utilizes the USB 3.2 Gen 2 or USB 3.1 Gen 2 interface, via a USB Type-C port, for data transfer. It has an advertised maximum sequential read/write speeds of 540 MB/s and 500 MB/s.
The rate MTBF and endurance numbers (TBW) are not disclosed, but all models will be provided with a 3-year warranty.
Unboxing
The PC60 is packaged in a white cardboard box, which has a front plastic window showing the actual drive. Lists of the SSD's specifications and compatible operating system are printed at the back, along with contact information of Silicon Power's tech support.
Inside the box is a short USB Type-A to Type-C cable and a user manual.
Silicon Power PC60 External SSD
The PC60 has a black square-shaped plastic body, with physical dimensions of 80 mm x 80 mm x 11.2 mm (Length x Width x Thickness). It weighs in at around 46 grams (~XX grams in our scale) without the USB cable. The top of the SSD gets a wave-like texture, while the bottom is smooth. A keyhole is there to quickly attach the drive to bags or keychains.
The SSD is equipped with Silicon Motion SM2259XT memory controller, and 3D TLC NAND flash. There is no DRAM cache onboard.
The single USB Type-C port supports the USB 3.2 Gen 2 standard, which has a theoretical bandwidth of 10 Gbps or about 1250 MB/s. It can work with older USB standards as well. A hidden white activity LED can be found next to the USB port.
Review
Testing Methodology
To test the performance of the solid-state drive, we use four well-established storage benchmarking software. They are CrystalDiskMark, ATTO Disk Benchmark, AS SSD Benchmark, as well as HD Tune Pro.
CrystalDiskMark can measure both sequential and random 4KB read/write speeds with a queue depth of 32. ATTO Disk Benchmark can test how the drive performs across different transfer block sizes, mostly in a sequential environment. AS SSD Benchmark can provide both normal read/write speed and the IOPS performance of the drive. HD Tune Pro can be used to simulate a large file transfer of up to 100 GB.
We also recorded the time to copy three files of 10 GB, 500 MB and 250 MB from a RAM disk to the SSD, to simulate a real-world situation.
Performance
In CrystalDiskMark, the PC60 had lower sequential read and higher write speeds than advertised, at 488 MB/s and 511 MB/s. For random 4K operations at queue depth 32, they decreased to 147 MB/s and 169 MB/s.
We observed slower numbers in AS SSD Benchmark, with sequential read/write speeds dropped to 460 MB/s and 486 MB/s. Surprisingly, the PC60 improved drastically for its random 4K write speed at queue depth 64, at 629 MB/s. We had retested the drive multiple times and still got the same results.
IOPS number represents how well a drive handles random input and output operations. The PC60 got a score of 995, with 22138 IOPS and 161234 IOPS for random 4K performance.
Once the test file sizes were increased to 32 KB, the PC60 achieved the maximum sequential read/write speeds at about 510 MB/s and 490 MB/s in ATTO Disk Benchmark.
A huge 100 GB file transfer is simulated in HD Tune Pro. Read speed was able to maintain at around 450 MB/s throughout the whole period. But the write speed dropped from 500 MB/s to 100 MB/s after the first 30 GB of data, possibly saturating the internal SLC cache.
It took the PC60 approximately 27.43 seconds to copy the three files, sized at around 15 GB. It reached speeds at 380 MB/s, which was a bit slower than standard SATA-based SSDs.
Comparison
[visualizer id="9024″]
[visualizer id="9022″]
[visualizer id="4796″]
Overall, the PC60 performed similarly in sequential speeds, if not slightly worse than a normal SATA SSD in our tests. It lagged behind when transferring larger-sized data in HD Tune Pro, dipping to only around 120 MB/s. Random 4K operations were on par with other external SSDs, like the HyperX Savage EXO and KINGMAX KE31B.
Conclusion
The Silicon Power PC60 is a decent external SSD with reasonable read/write performance, at 480 MB/s to 510 MB/s. It can operate much faster and more responsive than traditional external HDDs. Portability is awesome with the thin 11 mm profile and keyhole design. Build quality can be better, as the plastic casing feels a bit flimsy.
The PC60 is priced at $97.99 USD (MSRP) for the 960 GB model, with a 3-year warranty. The SanDisk Extreme and RAVPower Mini, having similar advertised speeds, costs around $150 USD to $170 USD. The PC60 is one of the cheapest external SSDs in the market and worth considering as your next purchase.
*The 480 GB version of the PC60 is on sale for $58.99 (MSRP).
You can purchase the SSD from your local/online resellers or the links below from Amazon.
Thanks Silicon Power for providing us the SSD for review. (Review Sample)
Feel free to leave comments below, if you have any opinion about this website. Share the website around if you enjoy reading it. Subscribe to our Newsletter or follow our Twitter, Facebook and Instagram.
Support this website simply by shopping in Amazon and Newegg. It will give us small kickbacks, if you use the above affiliate links to make any purchases, which will help us grow.