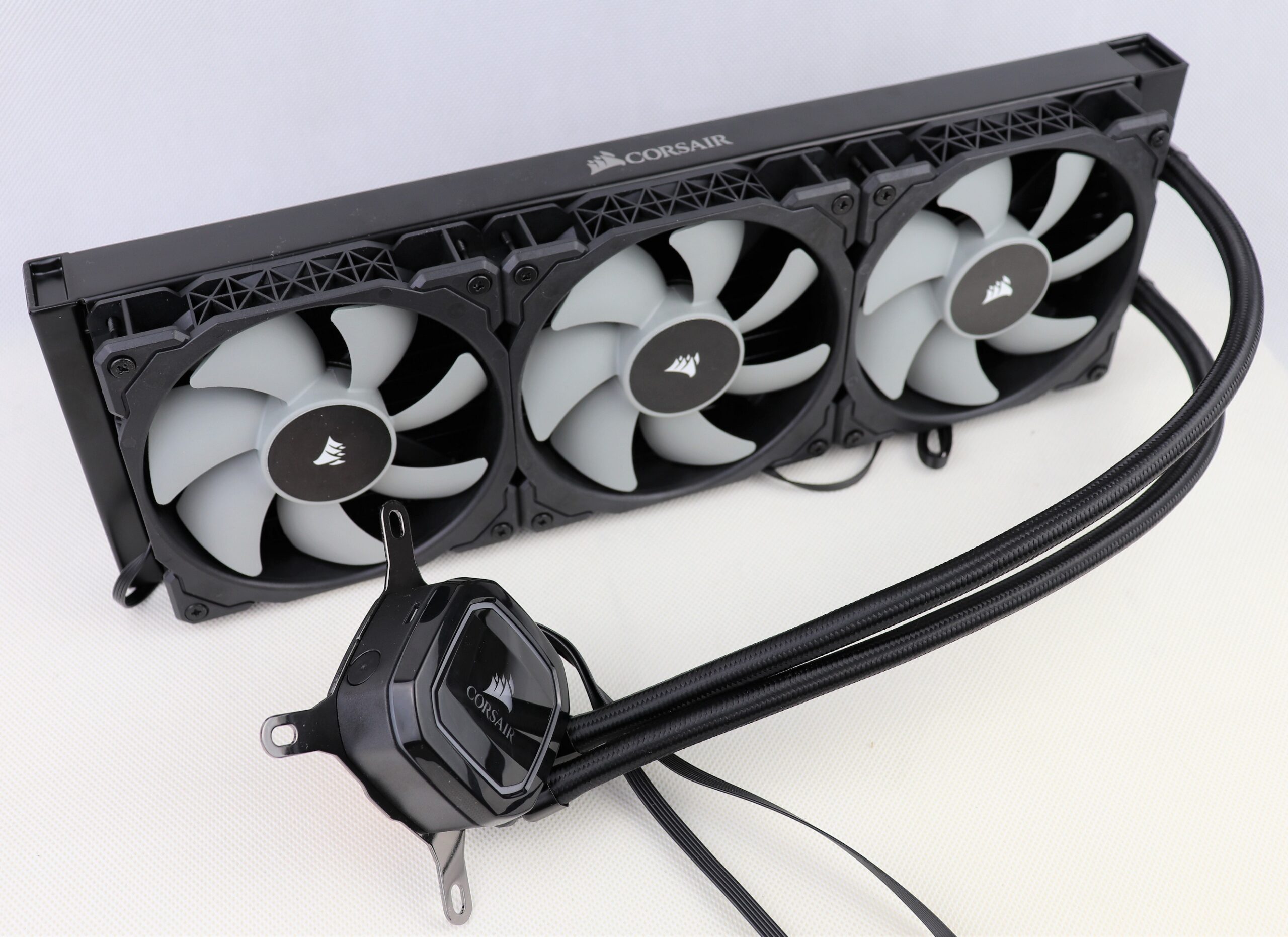 First debuted with the A500 (its review here) in CES 2020, the H150i RGB PRO XT is the latest high-performance All-in-One liquid CPU cooler from Corsair. The massive 360 mm radiator and three ML series fans are here to cool even the most powerful and hottest processors. Let's see how it fares in our benchmarks.
Unboxing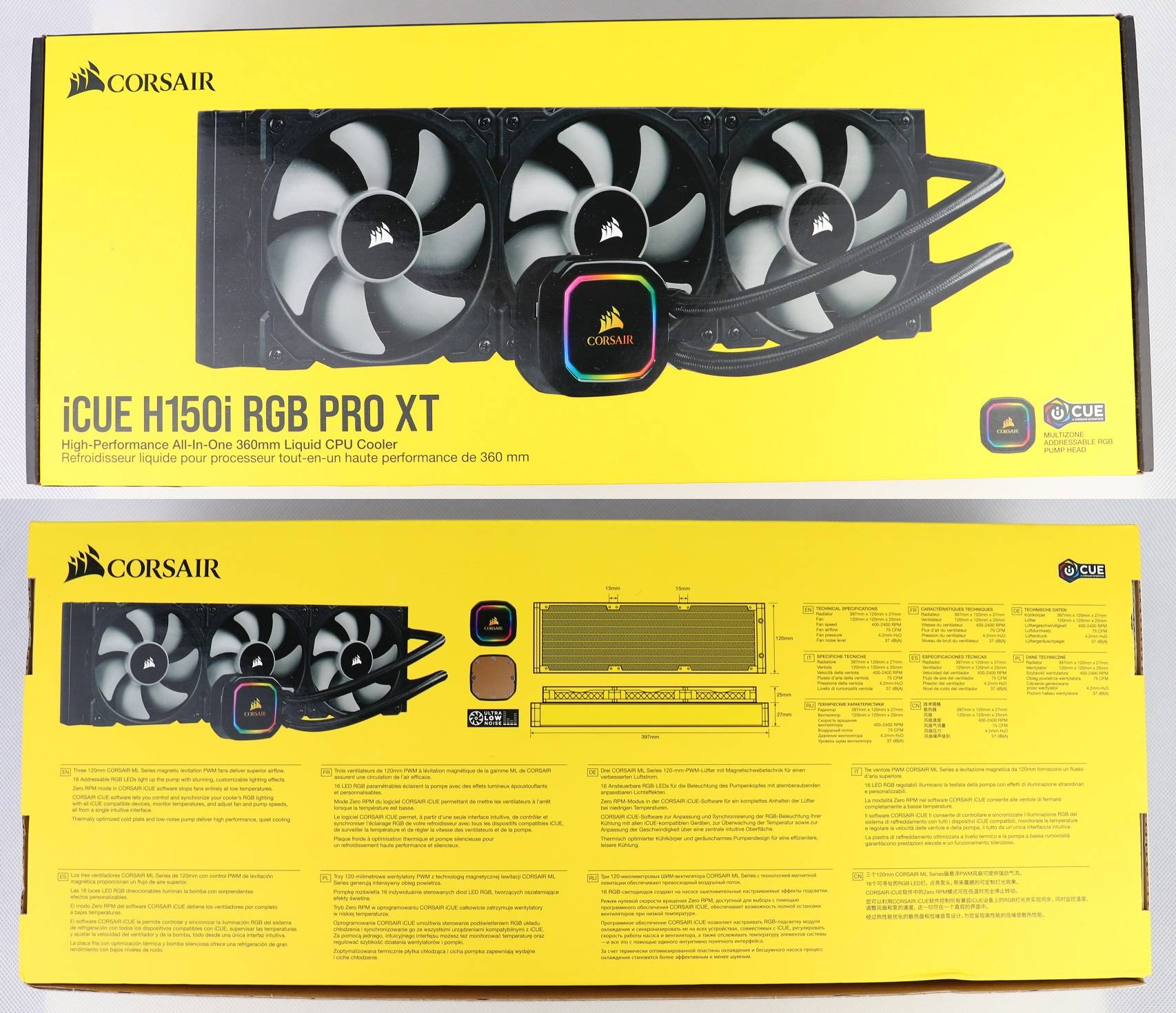 The H150i RGB PRO XT cooler is packaged in a large cardboard box in the usual Corsair's yellow and black colors. Most useful information, like the hardware specifications and features, is located in the bottom, translated into eight different languages.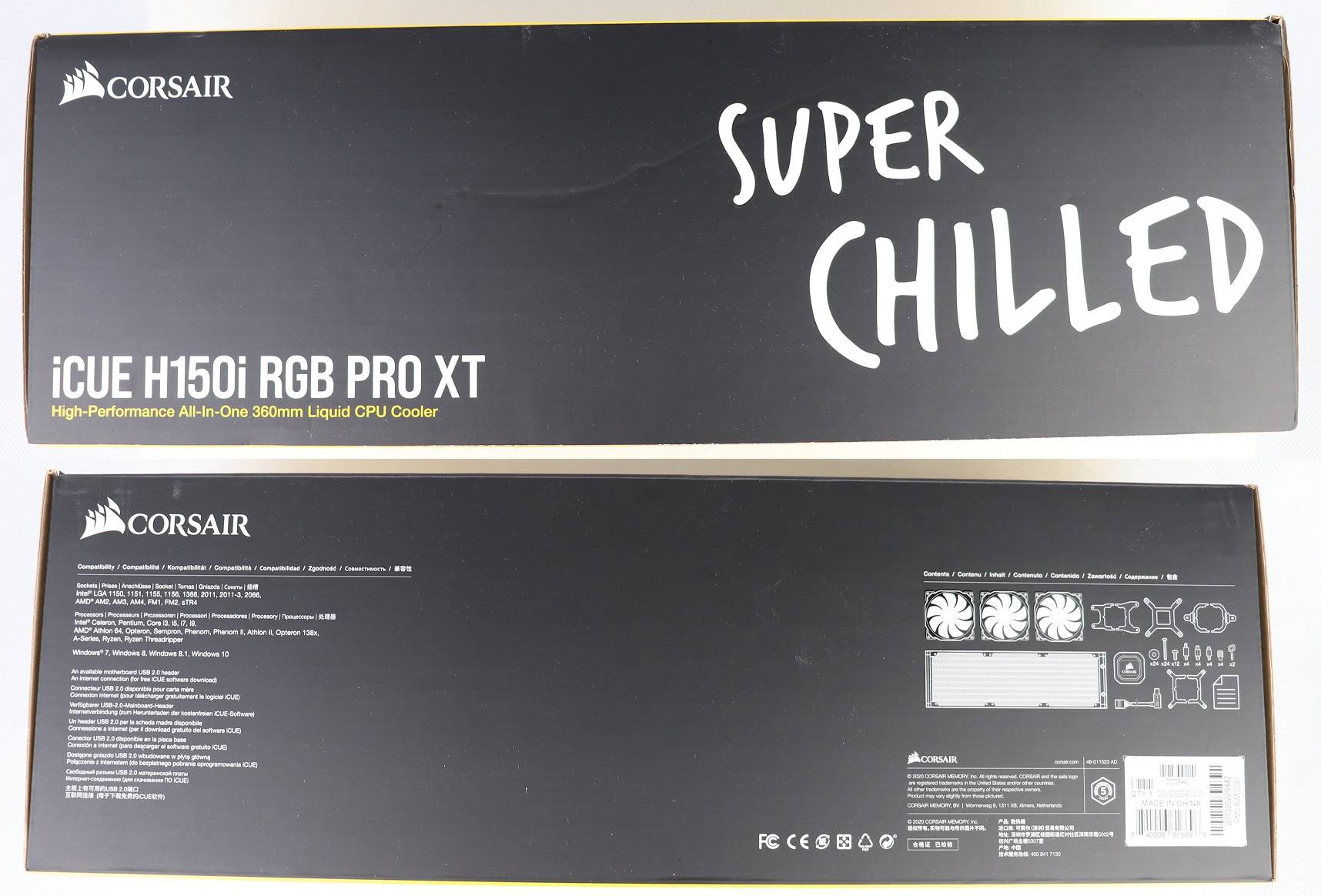 The "SUPER CHILLED" motto for Corsair's cooling products is clearly printed on one side, while there is a list of compatible CPU sockets on the other.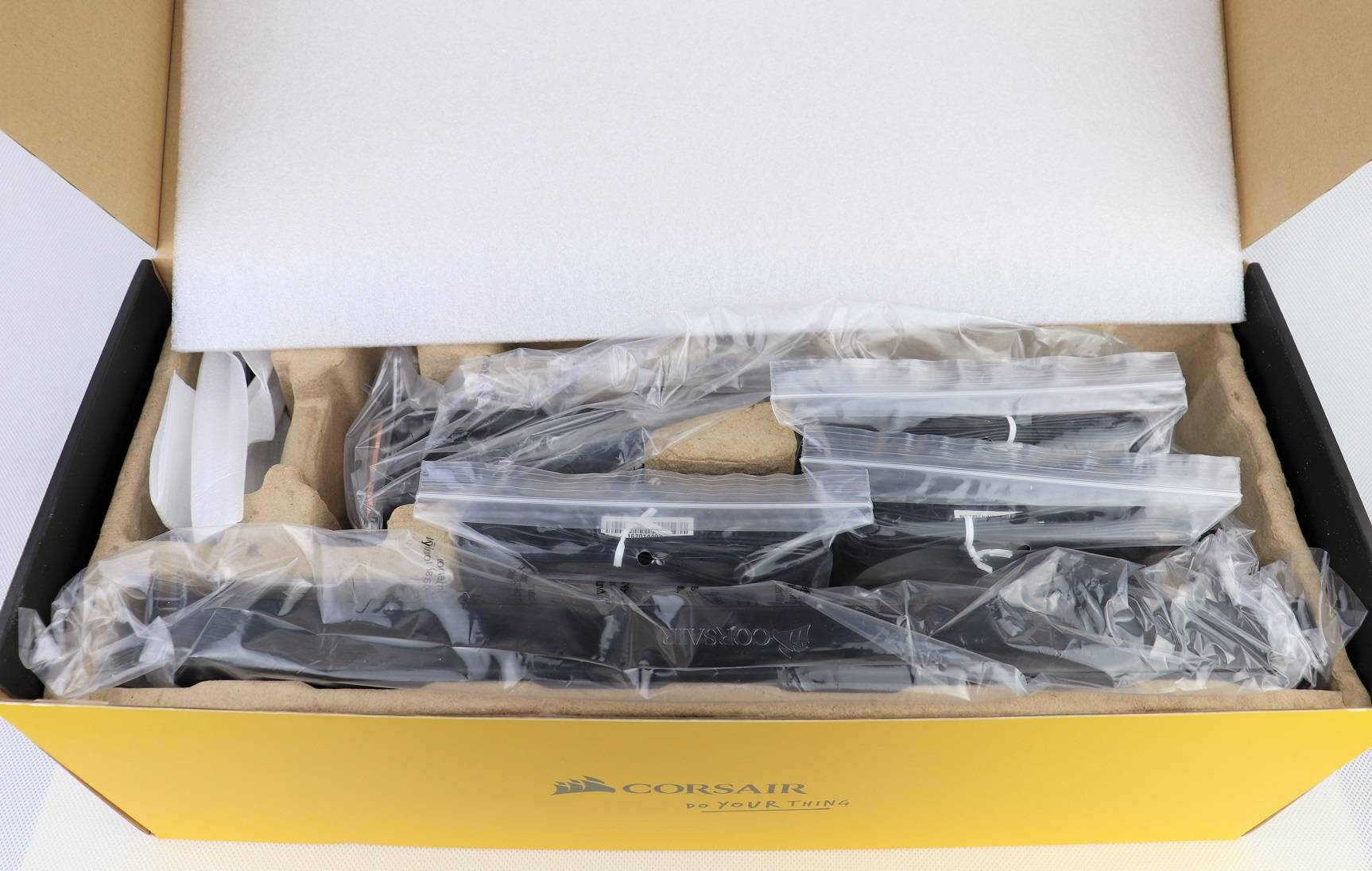 Similar to most AIO liquid coolers, the H150i RGB PRO XT and its accessories are put inside a recyclable cardboard tray. The extra plastic bags and the piece of thin styrofoam on top should provide some additional protections.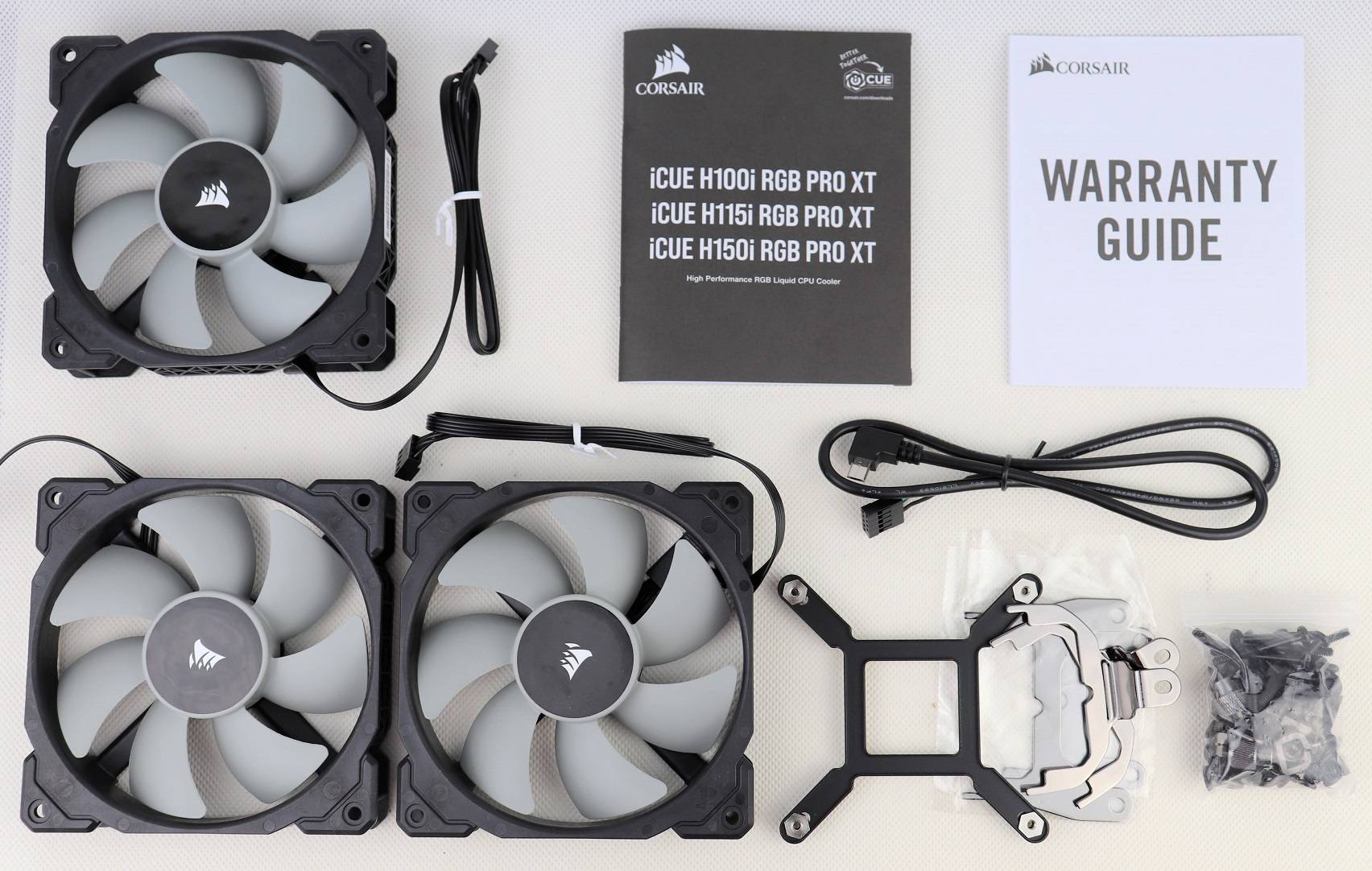 There are three ML series cooling fans for the 360 mm radiator. The mounting brackets and screws support almost all recent CPU sockets. You can use the cooler on Intel's latest LGA 1200 and LGA 2066 platforms, as well as AMD's AM4 and sTR4. It is nice for Corsair to include a total of 24 fan screws, which is perfect for installing six fans for push-pull configuration.
A special Micro USB to 8-pin USB 2.0 cable can also be found inside, which is used to connect the CPU cooler to your computer for the iCUE software integration.
Corsair H150i RGB PRO XT AIO CPU Cooler

The H150i RGB PRO XT has a very compact and slick-looking CPU block, which houses the CoolIT-designed water pump inside. The pump motor spins up to 2650 RPM in our benchmarks. The surface is constructed from black glossy plastic with the "CORSAIR" logo in the center. LED rings are placed on both the top and the sides (360 degrees). The dedicated micro USB port is used to allow the iCUE software to control the pump, fans and RGB lighting.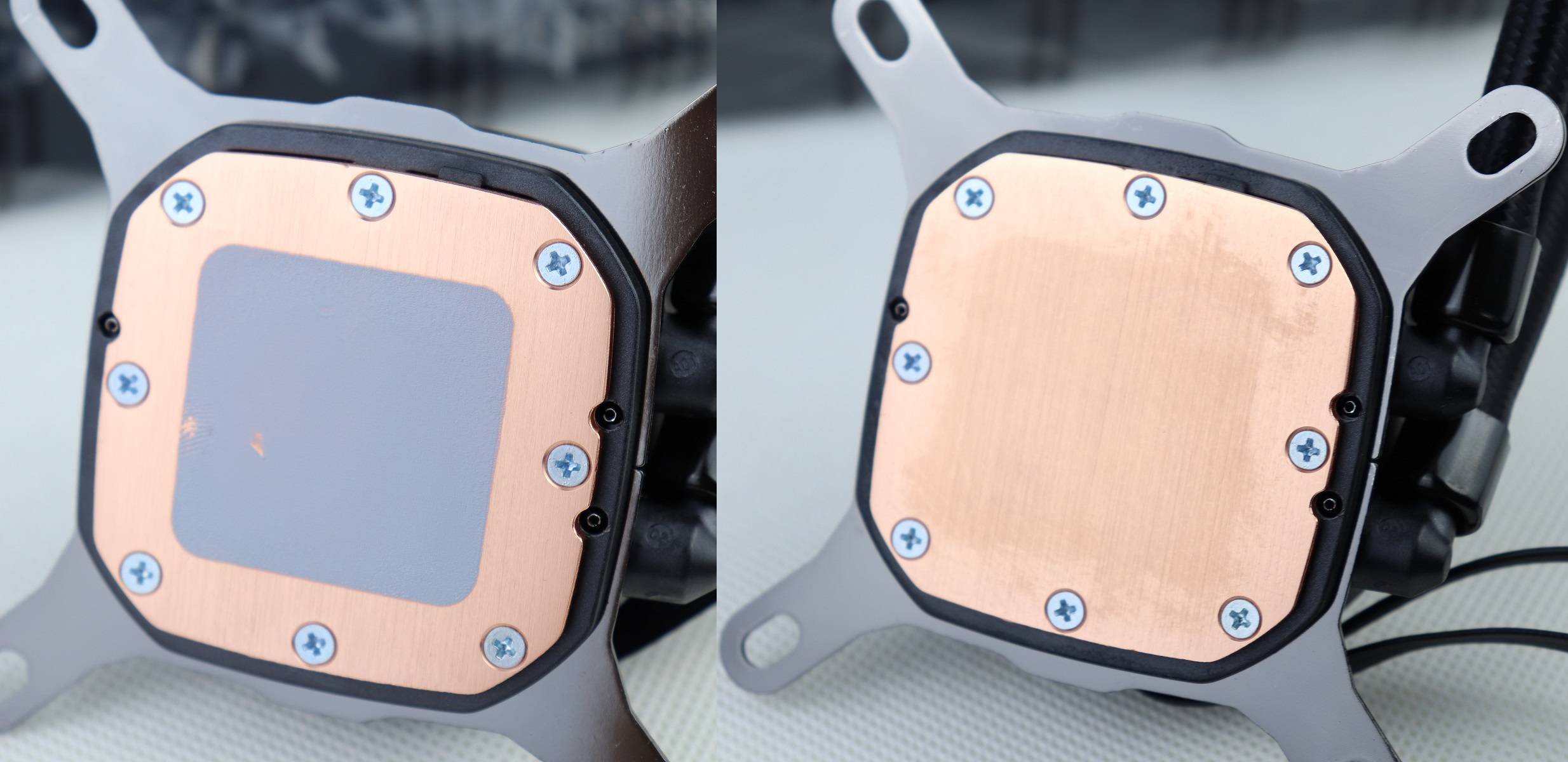 The cooler uses a non-nickel-plated, but polished copper CPU contact base. Corsair does not specify how tiny their micro-channels, which are designed to increase the surface area for more efficient heat transfer. It has pre-applied thermal paste, which we will have replaced it with Noctua NT-H1 for benchmark consistency.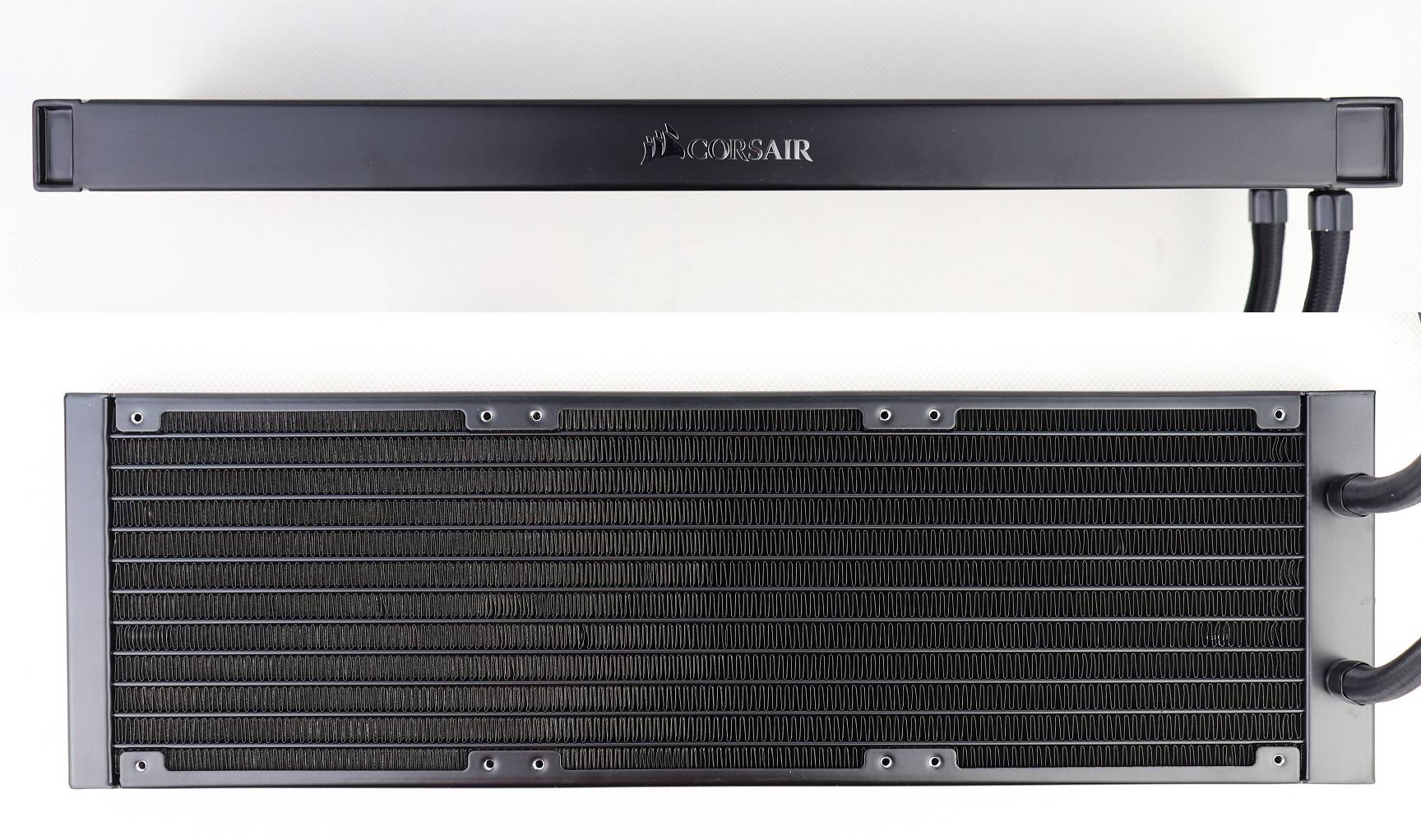 The H150i RGB PRO XT has a 360 mm thin radiator with aluminium fins and enclosure. It is 397 mm long, 120 mm wide and 27 mm thick. There are a total of 12 rows of cooling fins, which the fin density sits at roughly 19 to 20 fins per inch (FPI).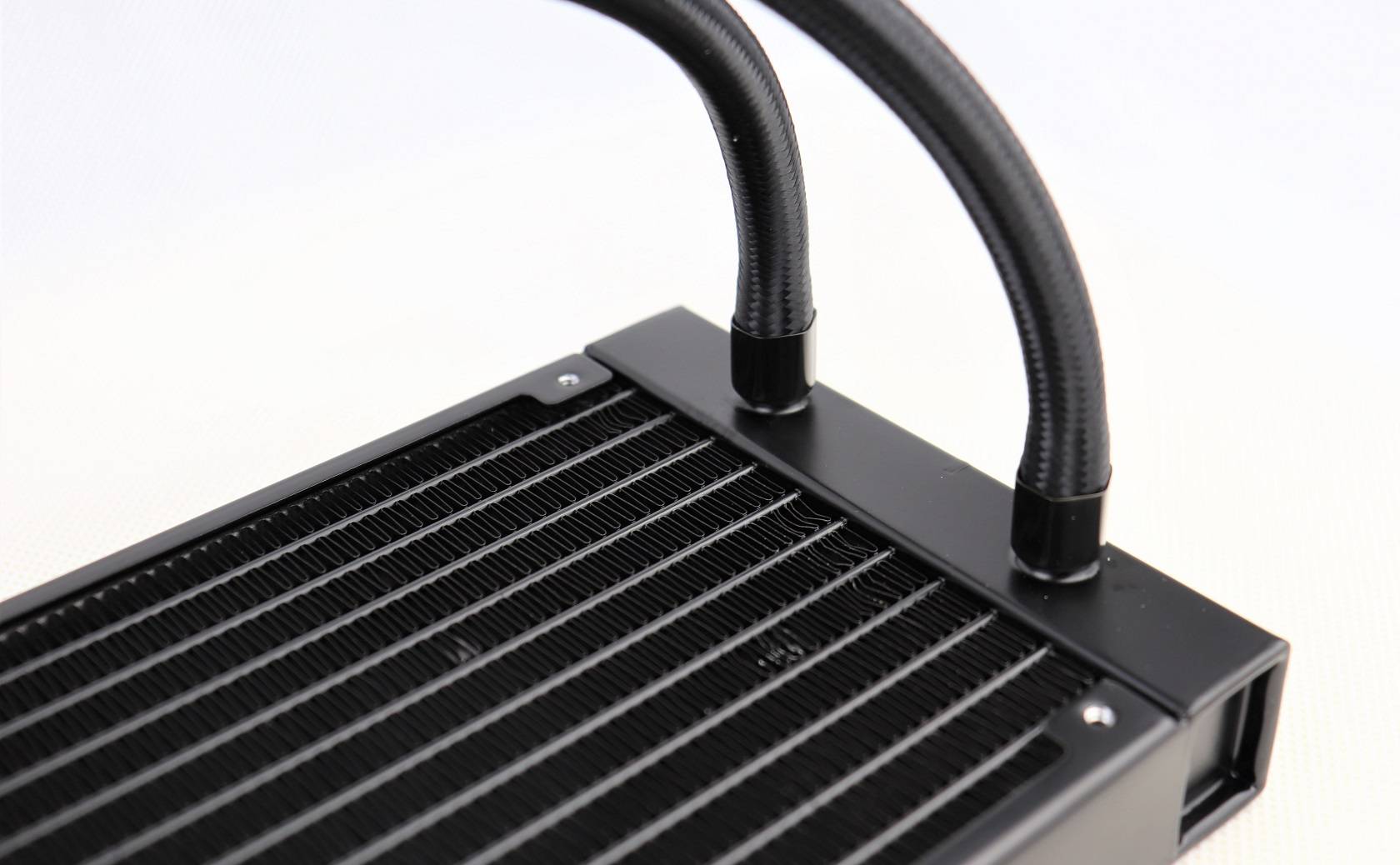 The cooler is fitted with around 390 mm of braided EPDM (ethylene propylene diene monomer) rubber tubing, which has enough length and flexibility to install on different positions.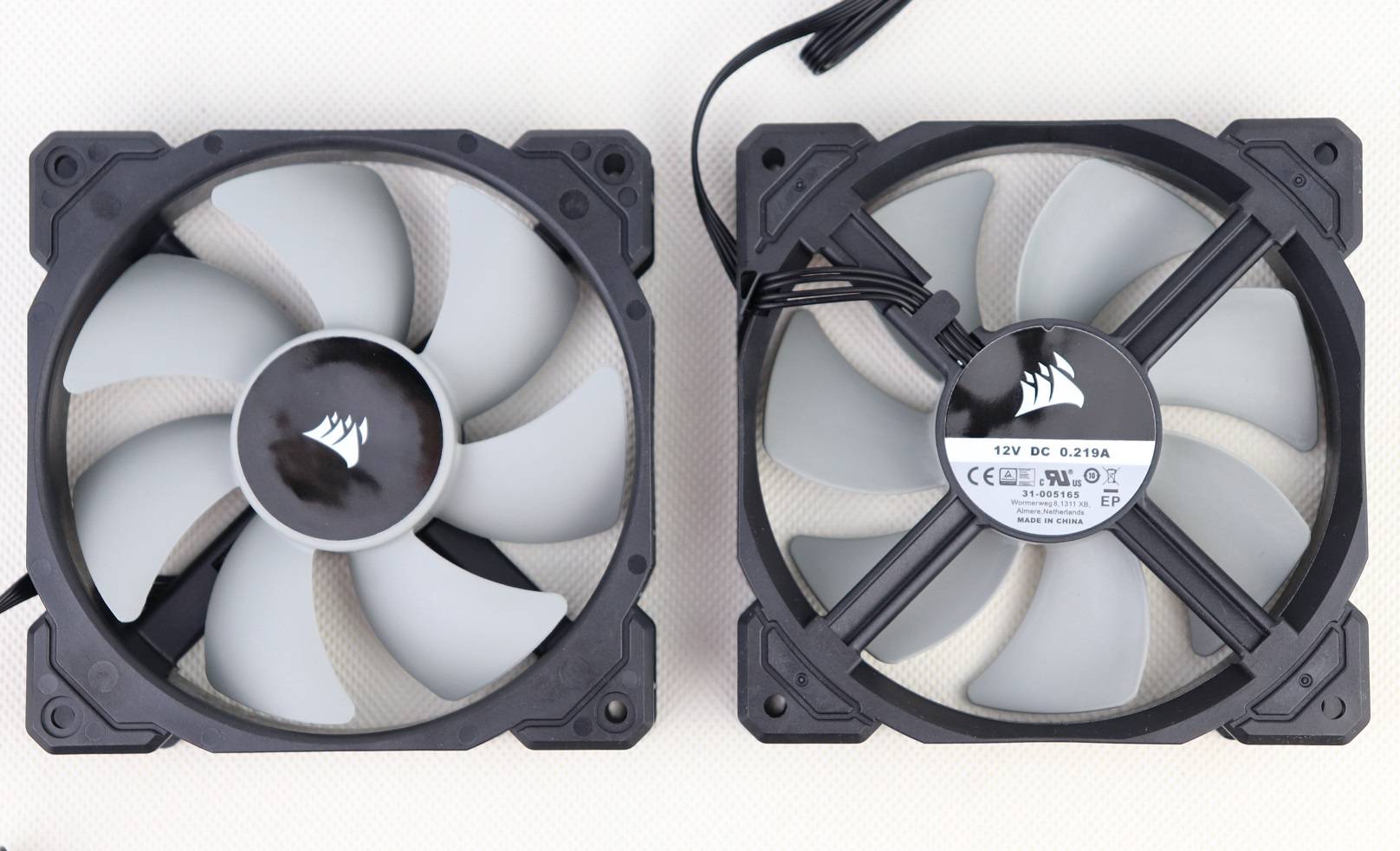 Corsair has matched the H150i RGB PRO XT with the same ML series fans from the A500 air cooler. The ML120 fan (31-005165) is equipped with a magnetic levitation bearing for lower friction and longer lifespan. It can spin from 400 RPM to 2400 RPM, which can create up to 75 CFM of airflow and 4.2 mmH2O of air pressure. There is no anti-vibration pad on the corners.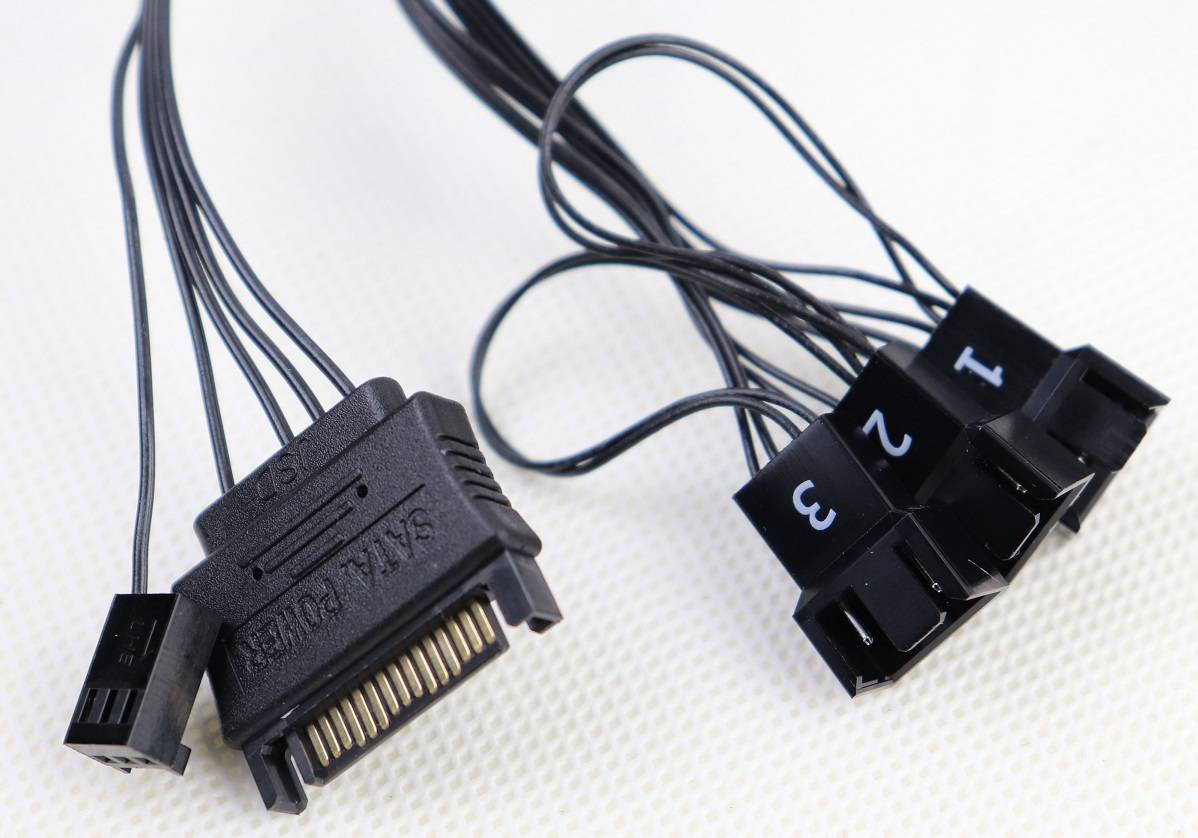 Coming out from the CPU block are a 3-pin pump connector, three 4-pin PWM fan splitters and a SATA power connector for additional power.
Review
We have updated our CPU cooler tests to more reflect real-world cooling performance of coolers.
Testing Methodology
To find out how the cooler performs, a total of three benchmarks are included. AIDA64 is used to run a CPU stress test. CPU, FPU and system cache are all stressed to create as much heat output as possible. Also, Cinebench R15 and Cinebench R20 are used to simulate real-world CPU load (like video-editing or rendering). It will be run continuously for three times. The highest CPU package temperatures are recorded. Ambient temperature is around 24°C.
Results will be taken at a 50% fan speed and 100% speed, controlled via the motherboard CPU PWM fan header. Both single-fan and dual-fan configuration of the cooler will be tested.
Performance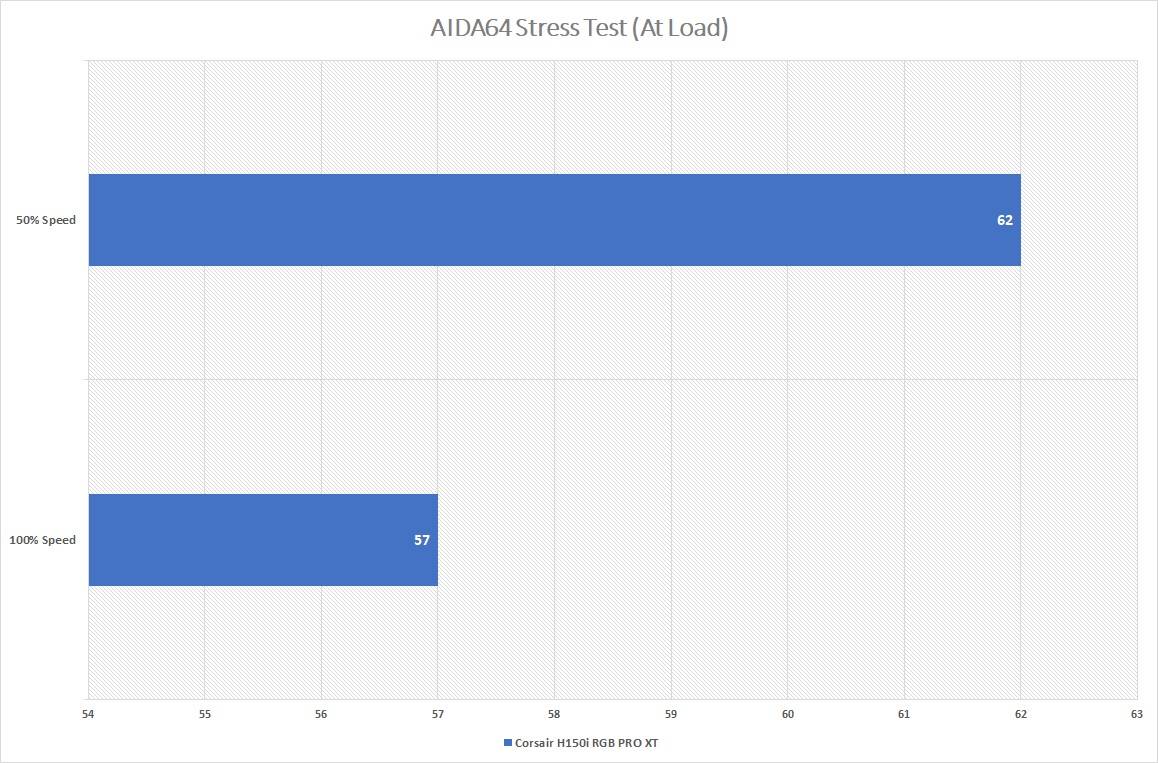 At idle, the CPU package temperature sat at around 30°C. The H150i RGB PRO XT managed to keep the temp under 60°C with the ML120 fans running at full speed in the AIDA64 stress test. Lower the RPM to around 1300 lead to a 5°C increase.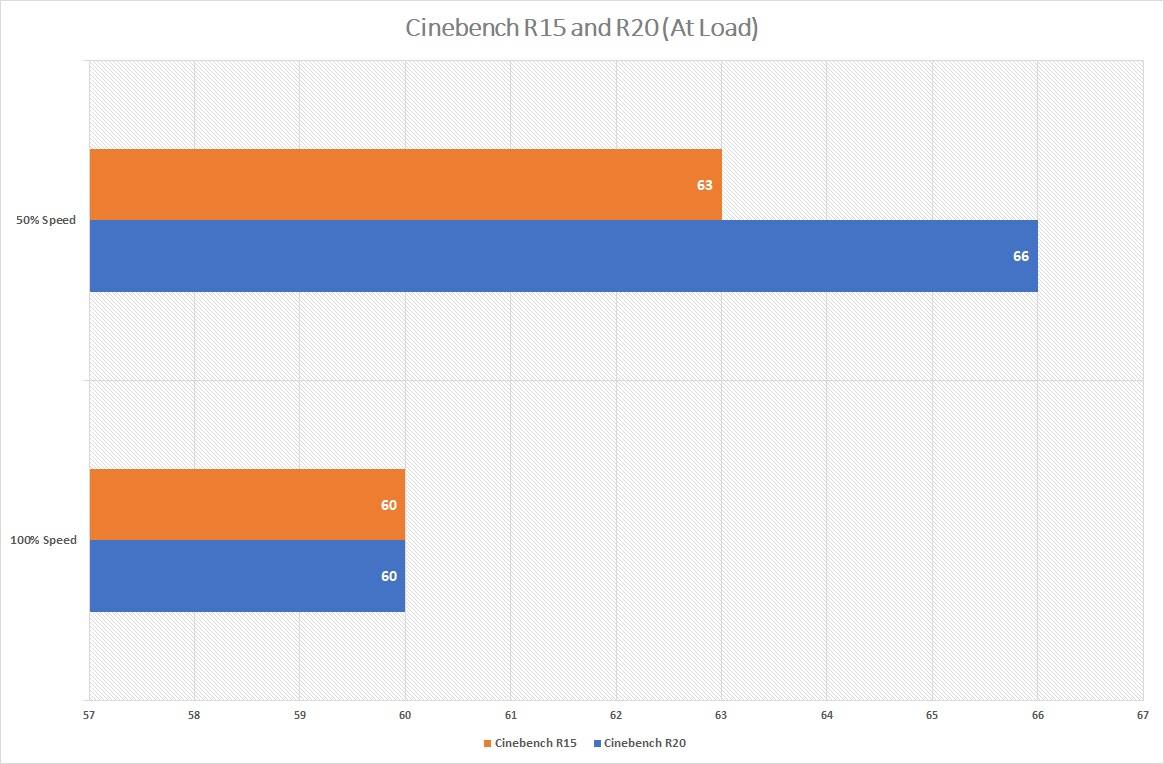 The temperature both stayed at 60°C in Cinebench R15 and R20, when ramping up the fan to 100%. The highest recorded temp was at 66°C in Cinebench R20, which is 3°C greater than in R15.
Comparison
[visualizer id="5998″]
[visualizer id="6155″]
The H150i RGB PRO XT performed respectably as a 360 mm AIO liquid cooler, which beat the Thermalright Turbo Right 240 and 360 C in two out of three benchmarks.
Software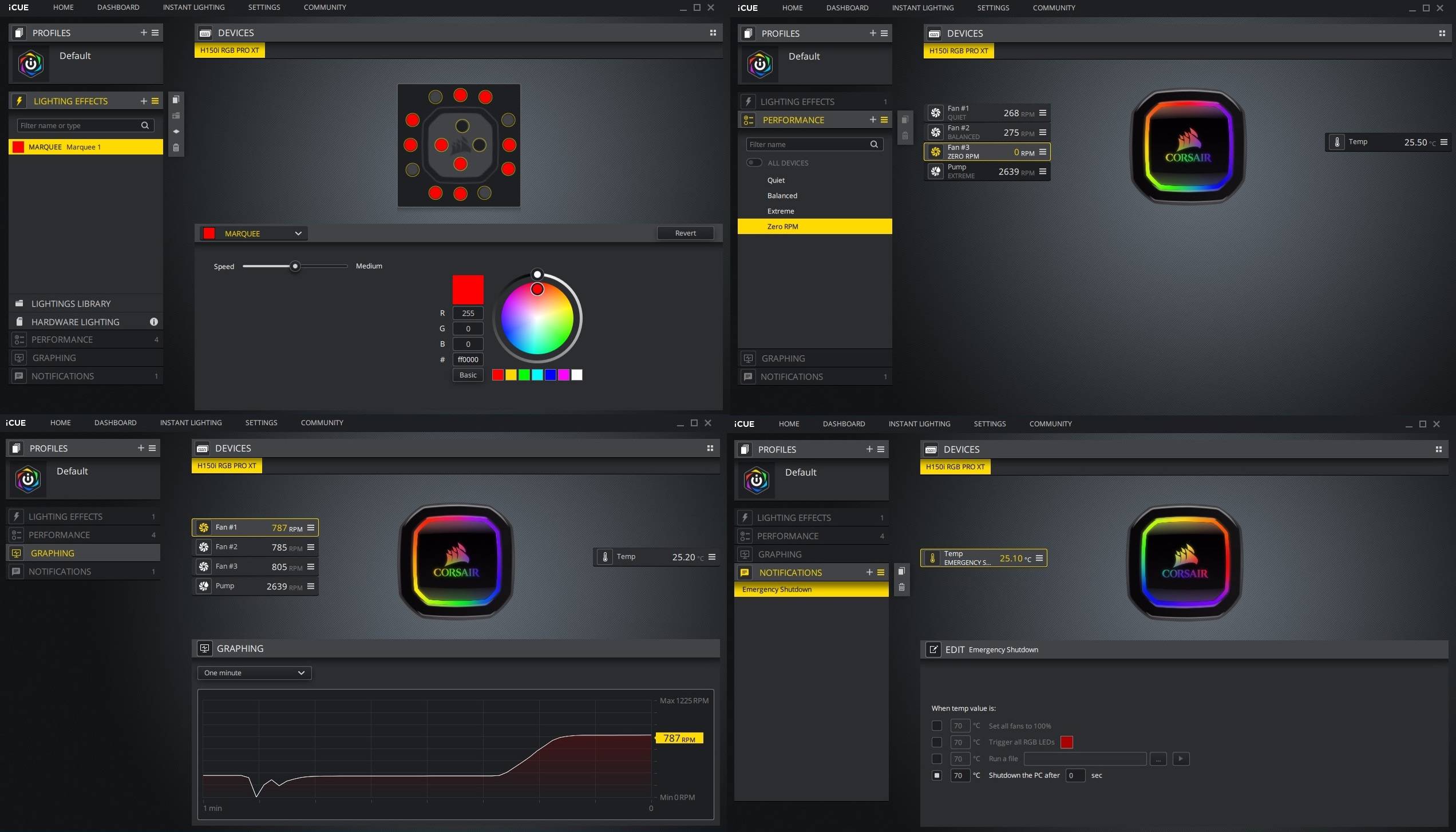 The H150i RGB PRO XT can be customized via the iCUE software. The RGB LEDs can be adjusted with pre-defined lighting effects, such as Rainbow, Wave and Marquee. They can be stored into the onboard memory, if you do not want to left the software to run in the background. The Notification section allows the software to perform actions, once certain parameters are met. For example, the LED will show different colors based on the CPU temperature. Or even safely shutting down the computer, if high temp is detected.
You can change the water pump and fans' speeds into four settings: Quiet, Balanced, Extreme and Zero RPM. They will determine aggressiveness of the fan curves and noise levels.
There are 16 individually-addressable RGB lighting zones on the CPU block. Light is bright and vivid, which is diffused beautifully through the translucent plastic. Effects' transitions are smooth.
Conclusion
The Corsair H150i RGB PRO XT is an upgrade to the older PRO version, which has a different water pump and faster ML series fans. The build quality is great for both the CPU block and radiator. Cooling performance is decent, which was better than the all-copper Turbo Right 360 C. The iCUE software is comprehensive and heavily-customizable, but is required to continuously run in the background.
The ML120 fans create a generous amount of airflow through the radiator. The overall noise level remains reasonable, unless pushing the fan speed above 70%.
The H150i RGB PRO XT is priced $159.99 USD (MSRP), along with a 5-year warranty. It is not an affordable CPU cooler by all means, and probably overkill for an average consumer. For comparison, the NZXT Kraken X73 and Fractal Design Celsius+ S36 Primsa cost $179.99 USD and $199 USD respectively. If you want plenty of cooling potential for an overclocked processor, I think you definitely need to consider the H150i RGB PRO XT.
There are the 240 mm and 280 mm versions, named H100i and H115i RGB Pro XT, which are $40 USD and $20 USD cheaper.
You can purchase the cooler from your local/online resellers or the links below from Amazon and Newegg.
Thanks Corsair for providing us the cooler for review. (Review Sample)
Feel free to leave comments below, if you have any opinion about this website. Share the website around if you enjoy reading it. Subscribe to our Newsletter or follow our Twitter, Facebook and Instagram.
Support this website simply by shopping in Amazon and Newegg. It will give us small kickbacks, if you use the above affiliate links to make any purchases, which will help us grow.