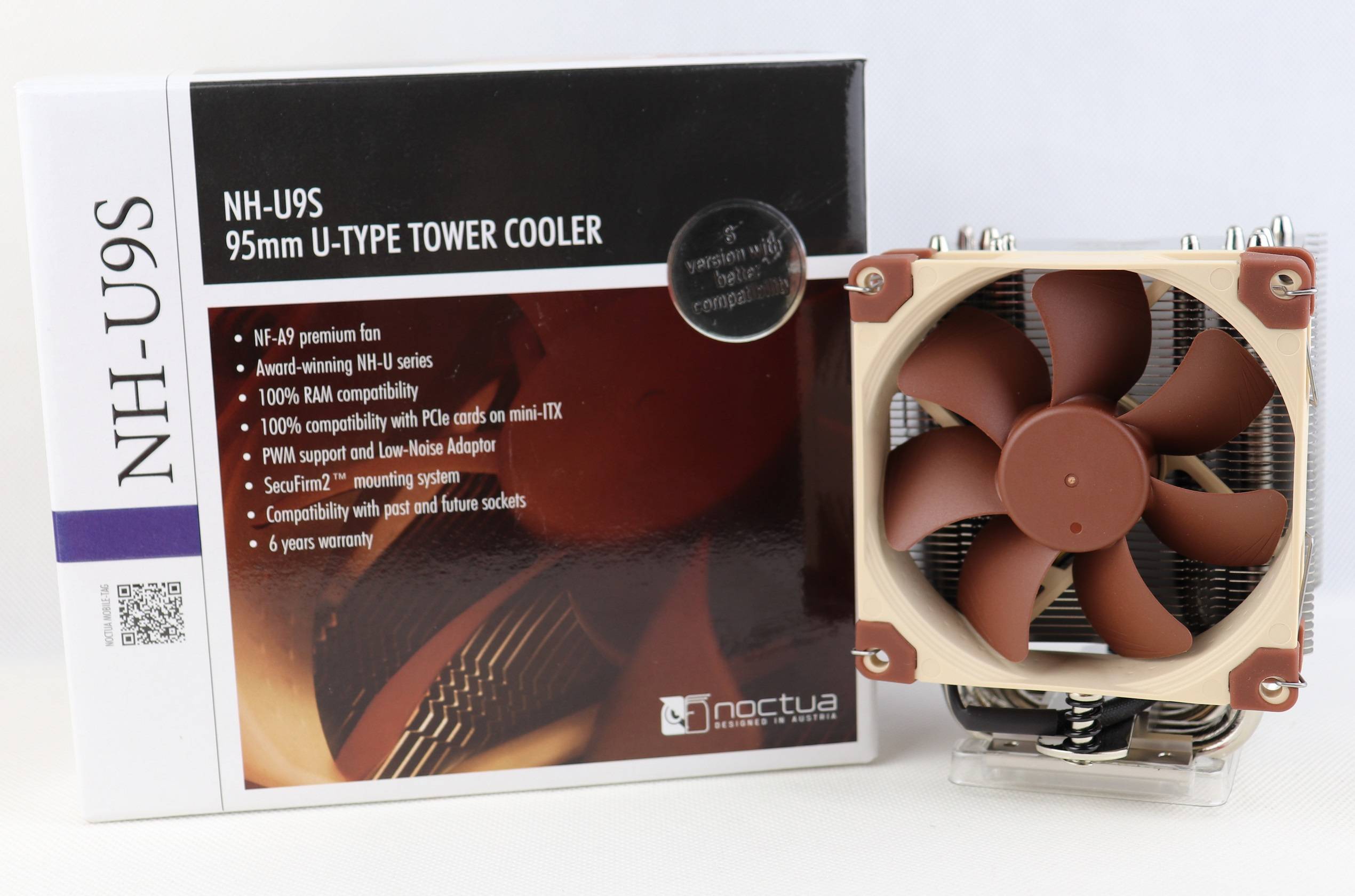 If your PC/server case is too tiny to fit a standard 120 mm CPU cooler, like the Noctua NH-U12S, the NH-U9S we are reviewing in this article may be a great alternative. It is a more compact single-tower cooler with a 92 mm cooling fan.
Unboxing
The NH-U9S remains the same packaging design as other Noctua coolers, with the same signature brown color. The model name, Noctua logo and key features are printed on the front, while there are descriptions in 8 different languages on the back.
You can find two specification lists about the cooler heatsink and included fan, with information like dimensions and weight. The NH-U9S is advertised to be 100% compatible with RAM and PCIe expansion cards on mini-ITX motherboards.
Noctua uses cardboard boxes to securely pack and protect the CPU cooler and its accessories during shipping.
The Noctua NH-U9S supports most modern CPU sockets from both AMD and Intel with the SecuFirm 2 mounting system. It will work on AMD AM2 to AM4 and FM1 to FM2+, Intel LGA115x, LGA2011 and LGA2066 sockets. Three separate user manuals are provided with a long screwdriver.
The NT-H1 thermal compound and a Noctua case badge are included. There is also an extra set of fan clips to allow users to add another 92 mm cooling fan.
Noctua NH-U9S CPU Cooler
The NH-U9S cooler has a height of 125 mm, width of 95 mm and depth of 68 mm without the fan. It is 33 mm shorter and 30 mm narrower than the NH-U12S (its review here), which should not interfere with most RAM and PCIe expansion card installations. The whole heatsink is also shifted to one side for increased compatibility.
The five 6 mm nickel-plated copper heatpipes are spread across the aluminium fin stack to better transfer heat from the base plate to the heatsink. A "Noctua" logo is embossed on the top of the heatsink.
The CPU contact base is nickel-plated and further polished to a mirror-like finish.
Noctua includes the NF-A9 PWM as the cooling fan for the NH-U9S. It is a 92 mm fan with a standard thickness of 25 mm. It is capable of running from 400 RPM to 2000 RPM, controlled via a 4-pin PWM connector. Anti-vibration rubber pads are located on each corner to reduce noises. The NF-A9 PWM has the same rated MTBF as all Noctua fans, at over 150,000 hours.
Review
We have updated our CPU cooler tests to more reflect real-world cooling performance of coolers.
Testing Methodology
To find out how the cooler performs, a total of three benchmarks are included. AIDA64 is used to run a CPU stress test. CPU, FPU and system cache are all stressed to create as much heat output as possible. Also, Cinebench R15 and Cinebench R20 are used to simulate real-world CPU load (like video-editing or rendering). It will be run continuously for three times. The highest CPU package temperatures are recorded. Ambient temperature is around 25°C.
Results will be taken at a 50% fan speed and 100% speed, controlled via the motherboard CPU PWM fan header. Both single-fan and dual-fan configuration of the cooler will be tested.
Performance
The CPU sat at around 28°C to 33°C at idle, with ambient temperature at around 25°C. In AIDA64 stress test, the NH-U9S managed to keep the temp under 62°C with 50% speed on its 92 mm fan. Pushing the fan to its maximum RPM, the load temperature decreased to 54°C, which is a 12.9% improvement.
The difference in temperature shrunk by 2°C in Cinebench R15, which the highest CPU package temperature dropped to 58°C. It reduced further to 52°C when the fan was spinning faster.
Cinebench R20 produces more heat than the older R15. CPU temperature rose up to 63°C under load.
Comparison
[visualizer id="2873″]
The NH-U9S's performance sits in the middle of the chart, slightly worse than the larger NH-U12S and GELID Phantom. The cooler did reasonably well in both AIDA64 and Cinebench R15, with temperature delta of around 27°C to 29°C. Due to the smaller 92 mm cooling fan and heatsink, the NH-U9S could not compete with 120 mm and 140 mm coolers as expected.
Conclusion
The NH-U9S is another great CPU cooler from Noctua, which is solidly built and designed. It performed decently as a 92-mm grade air cooler. The smaller size makes it fit in small PC cases and 4U server chassis, perfect for mini-ITX PC builds. The RAM and PCIe expansion cards compatibility is outstanding as well.
The included NF-A9 PWM fan ran smoothly with acceptable noise level at most RPM ranges. The smaller diameter does slightly limit its cooling capability. It will have to spin a bit faster to produce similar airflow.
The NH-U9S is provided with a reputable 6-year warranty, and costs $64.99 USD (MSRP). At the moment of this review, it is on sale for $59.95 USD, identical to the Noctua NH-U12S. If you need a premium compact cooler and not planning on overclocking the CPU, the NH-U9S is still an awesome choice to consider.
You can purchase the cooler from your local/online resellers or the links below from Amazon and Newegg.
Thanks Noctua for providing us the NH-U9S for review. (Review Sample)
Feel free to leave comments below, if you have any opinion about this website. Share the website around if you enjoy reading it. Subscribe to our Newsletter or follow our Twitter, Facebook and Instagram.
Support this website simply by shopping in Amazon and Newegg. It will give us small kickbacks, if you use the above affiliate links to make any purchases, which will help us grow.