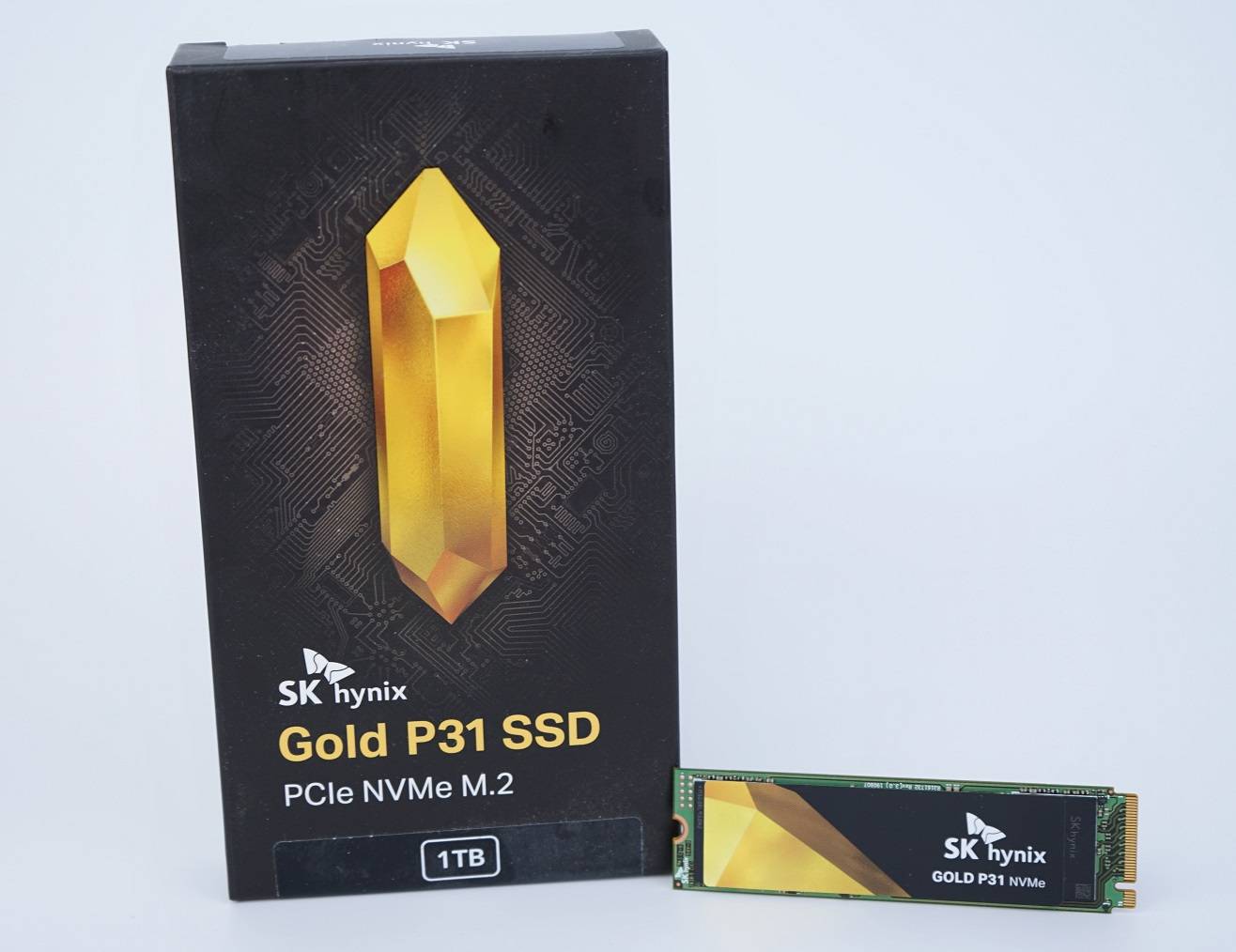 About 1 year after the release of the Gold S31, SK hynix launched another solid-state drive to the market, this time with a considerably-faster PCIe 3.0 interface. The company named it the Gold P31.
Specifications
[table id=441 /]
The Gold P31 SSD is available only in M.2 2280 form factor. When it was first introduced in 2020, the storage capacity options are limited to 500 GB and 1 TB, but later expanded to have up to 2 TB. Via the PCIe 3.0×4 interface, the drive is advertised to reach sequential read/write speeds up to 3500 MB/s and 3200 MB/s. All models have a standard 5-year warranty. MTBF and write endurance are rated at around 1.5 million hours and from 500 TBW to 1200 TBW respectively.
Unboxing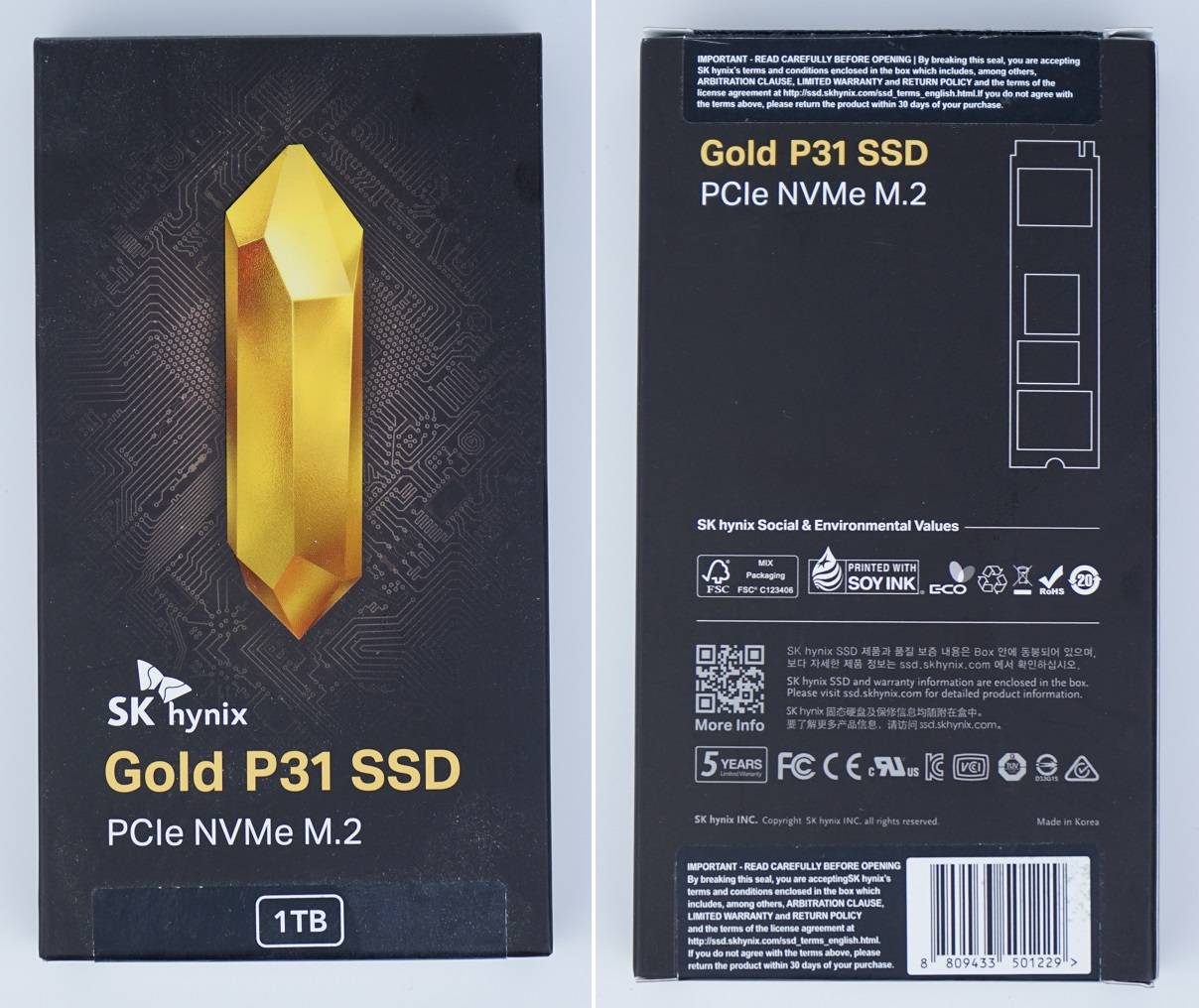 The Gold P31 sports the same style of packaging design as the Gold S31. Not much information is provided on the cardboard box, except for the model name and regulatory labels.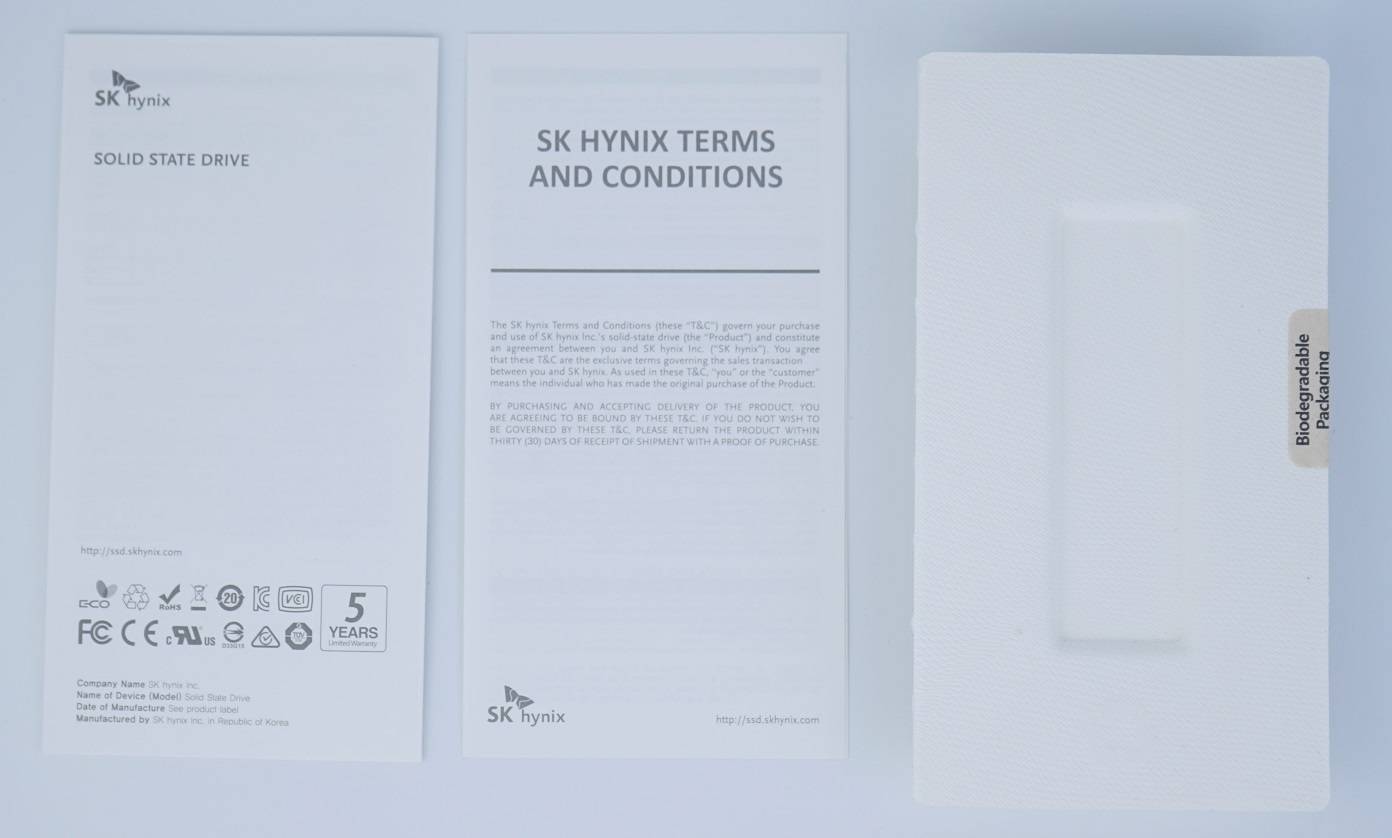 There are the usual sets of paperwork, while the actual drive is securely-placed inside an anti-static bag and on a biodegradable paper-like tray.
SK hynix Gold P31 PCIe NVMe SSD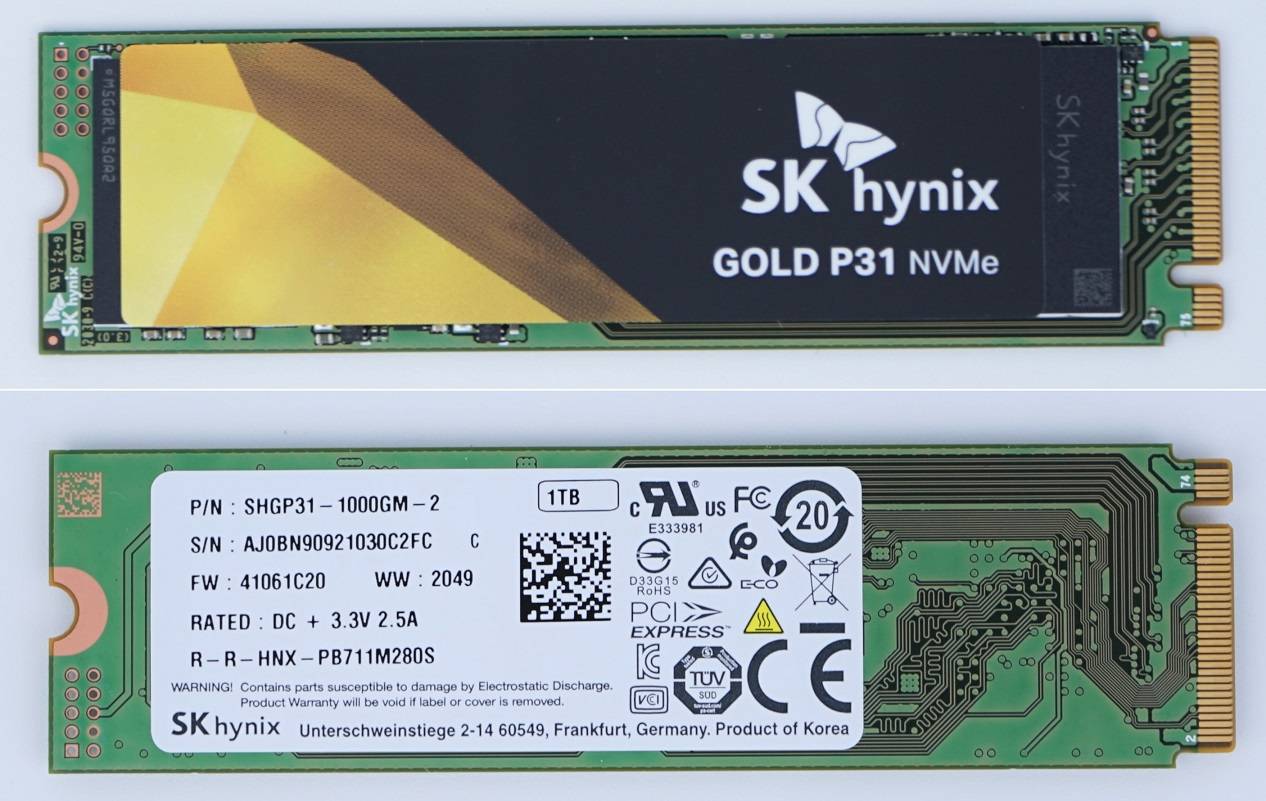 Our particular 1 TB sample (SHGP31-1000GM-2) uses a single-sided design, where all the chips are located only on the top of the green printed circuit board (PCB). The white sticker at the back has information, like the serial number and out-of-factory firmware version (41061C20).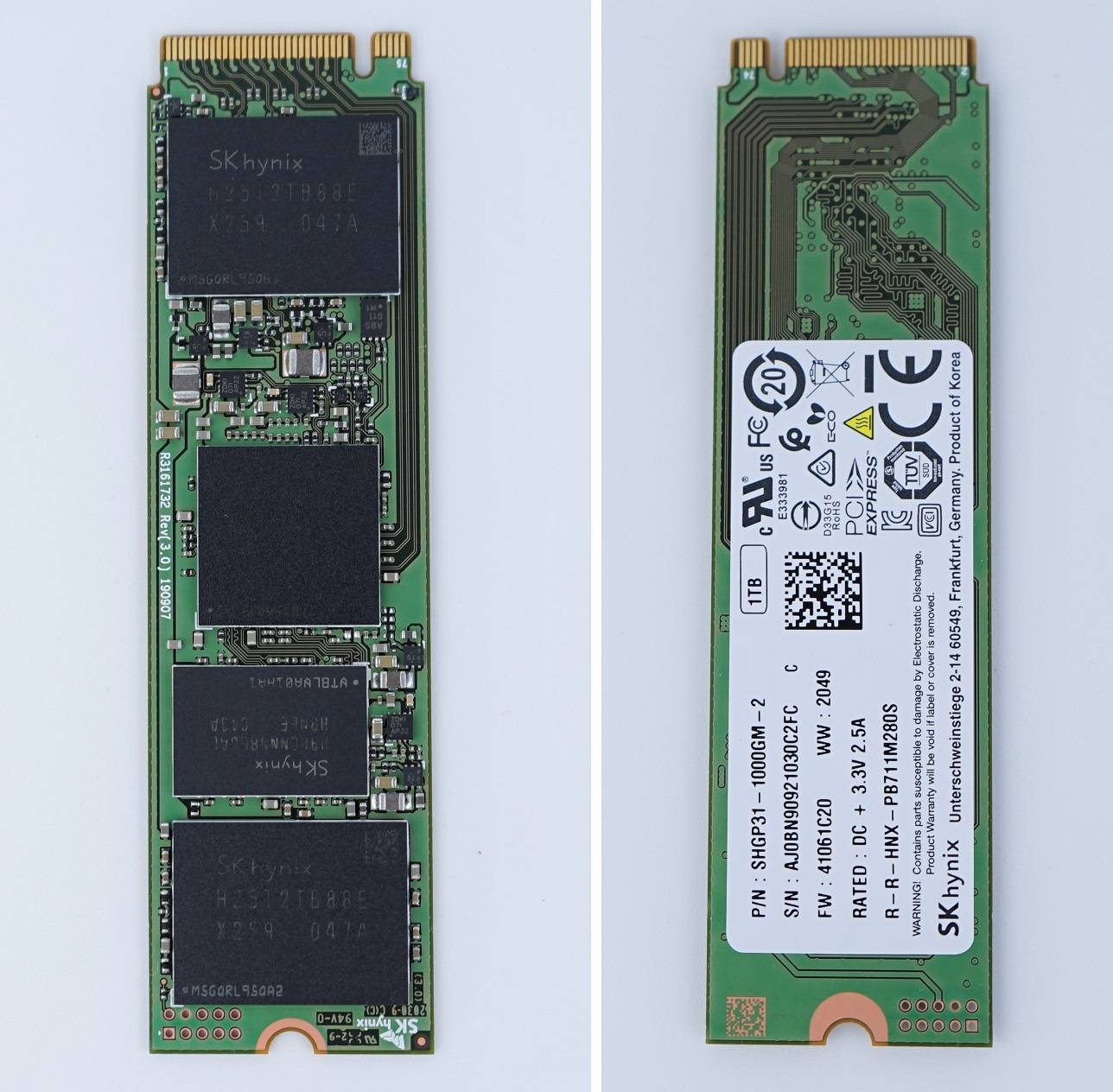 Again, all the components on the Gold P31 are designed and manufactured in-house by SK hynix, one of the largest semiconductor company in the world. It is equipped with a custom memory controller (ACNT038), codenamed Cepheus. It features two modules of the denser 128-Layer 3D TLC NAND flash (H25T2TB88E), as well as a single (8 Gb/1 GB) LPDDR4 DRAM chip (H9HCNNN8GUAL) for caching.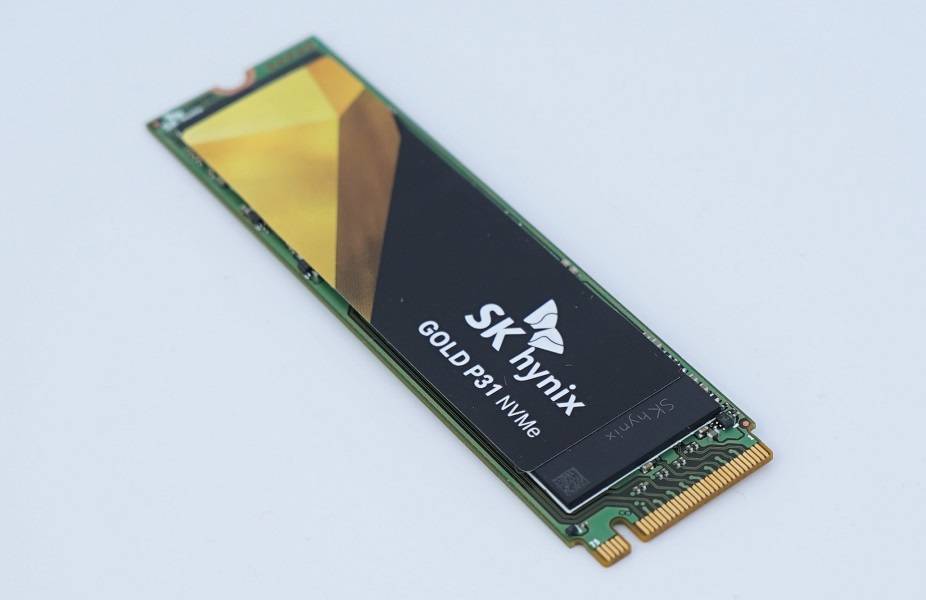 The maximum theoretical bandwidth for the PCIe 3.0×4 interface is at 32 GT/s or 3.94 GB/s, through the M.2 (M-key) connector.
Review
Testing Methodology
To test the performance of the solid-state drive, we use four well-established storage benchmarking software. They are CrystalDiskMark, ATTO Disk Benchmark, AS SSD Benchmark, as well as HD Tune Pro.
CrystalDiskMark can measure both sequential and random 4KB read/write speeds with a queue depth of 32. ATTO Disk Benchmark can test how the drive performs across different transfer block sizes, mostly in a sequential environment. AS SSD Benchmark can provide both normal read/write speed and the IOPS performance of the drive. HD Tune Pro can be used to simulate a large file transfer of up to 100 GB.
We also recorded the time to copy three files of 10 GB, 500 MB and 250 MB from a RAM disk to the SSD, to simulate a real-world situation.
Performance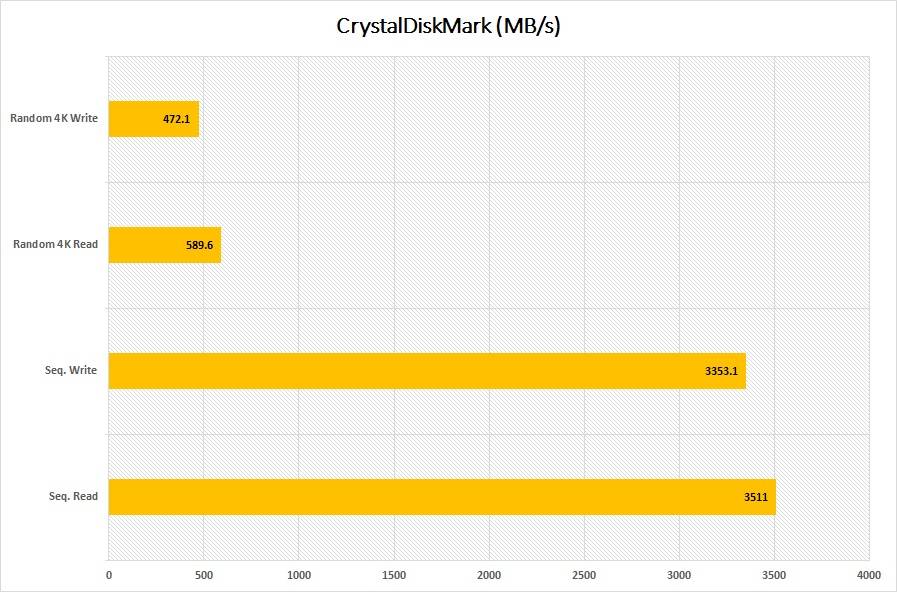 The Gold P31 was able to meet the claimed sequential read/write speeds at around 3510 MB/s and 3350 MB/s in CrystalDiskMark. Random 4K performance dropped to 590 MB/s and 470 MB/s respectively at queue depth 32.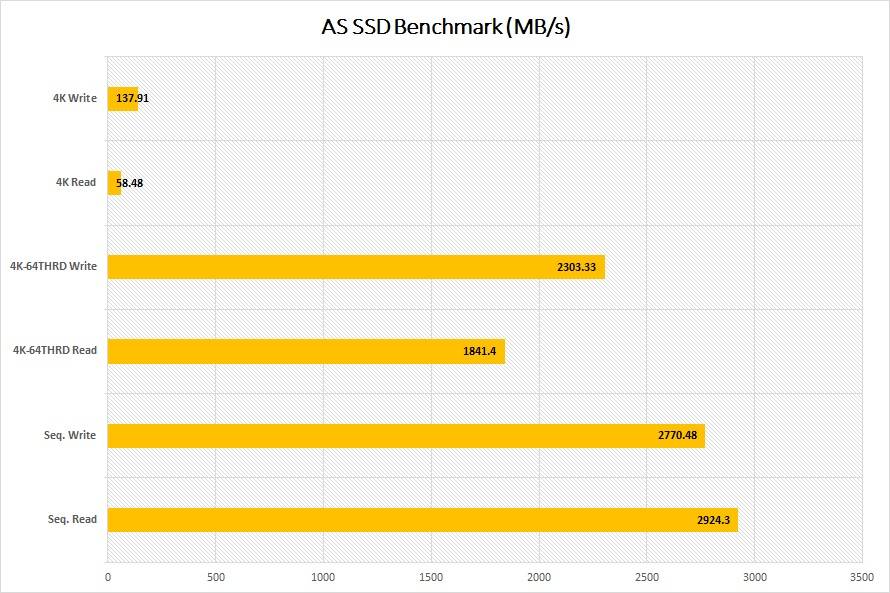 Results are slower in AS SSD Benchmark. Sequential read/write speeds decreased to 2920 MB/s and 2770 MB/s. Larger queue depth at 64 improved the random 4K speeds to 1840 MB/s and 2300 MB/s.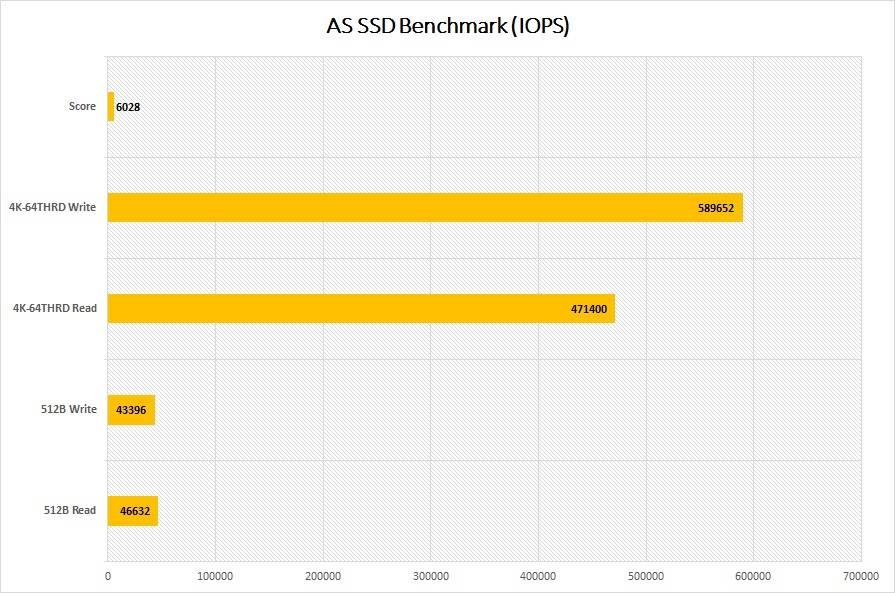 IOPS number represents how well a drive handles random input and output operations. The Gold P31 got a score of 6028 in the benchmark. It achieved 471400 IOPS for read and 589652 IOPS for write.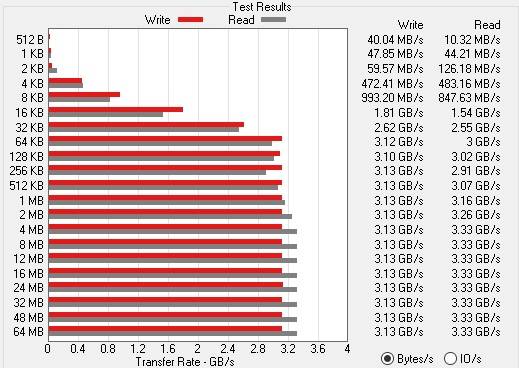 Read/write speeds began to stabilize and max out at about 3.33 GB/s and 3.13 GB/s, once the test file sizes increased from 64 KB in ATTO Disk Benchmark.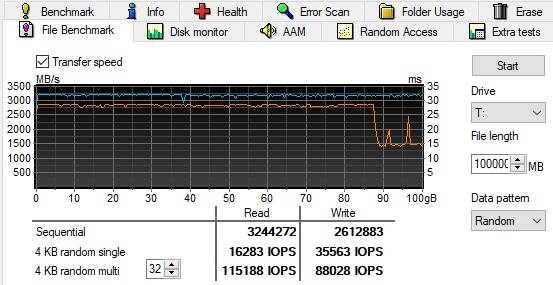 We used HD Tune Pro to simulate a huge 100 GB file transfer. The Gold P31 did really well maintaining slightly over 2610 MB/s of write speed most of the time. The drive has a pseudo-SLC cache size of about 90 GB, which the data needed to copy directly to the TLC NAND flash after it was saturated, causing the speed to drop to around 1500 MB/s.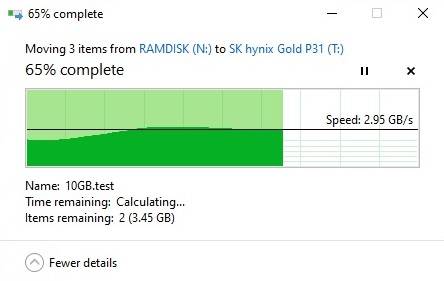 It took the SSD approximately 4.62 seconds to finish copying three files (sized about 15 GB) from a RAM disk. Transfer rate hovered at around 2.95 GB/s in the process.
Comparison
[visualizer id="2840″]
[visualizer id="2842″]
[visualizer id="4796″]
The Gold P31 is one of our best-performing NVMe SSDs, in terms of sequential read/write speeds. It topped the charts in CrystalDiskMark and HD Tune Pro, while remaining within the top five spots in AS SSD Benchmark. It could also write large files at a very respectable speed (over 2600 MB/s), only trailed behind both QLC-based Sabrent Rocket Q and Silicon Power UD70, because of their insanely-big (>180 GB) SLC cache. The custom Cepheus (ACNT038) memory controller looks to be more optimized for sequential operations, when compared to the Phison PS0512-E12S and Silicon Motion SM2262EN.
Conclusion
The SK hynix Gold P31, as a PCIe Gen 3 NVMe SSD, did reasonably-well in our benchmarks, especially its sequential read/write performance at over 3200 MB/s to 3500 MB/s. The bigger than usual (~90 GB vs ~30 GB) SLC cache also helped the drive to sustain a relatively-high write speed with large-sized files.
The Gold P31 costs $134.99 USD (MSRP) for the 1 TB model, along with a 5-year warranty. It sits right in the middle of the market for pricing. For comparison, the Samsung 980, Crucial P5 and Silicon Power P34A80 (its review here) are currently priced at $139.99 USD, $119.99 USD and $105.99 USD (MSRP). At the time of this review, you can apply a $10 USD to $15 USD coupon on Amazon US (Back to School discounts) to further reduce the price for the Gold P31, which makes the drive a very affordable and well-rounded choice for fast NVMe storage.
The 500 GB and 2 TB versions of the Gold P31 are priced at $74.99 USD and $279.99 USD (MSRP). Solid-state drives' prices fluctuates a lot, depends on the demand and supply. Remember to check the latest pricing before making any purchasing decision.
You can purchase the SSD from your local/online retailers or the links below from Amazon and Newegg.
Thanks SK hynix for providing the SSD for review. (Review Sample)
Feel free to leave comments below, if you have any opinion about this website. Share the website around if you enjoy reading it. Subscribe to our Newsletter or follow our Twitter, Facebook and Instagram.
Support this website simply by shopping in Amazon and Newegg. It will give us small kickbacks, if you use the above affiliate links to make any purchases, which will help us grow.